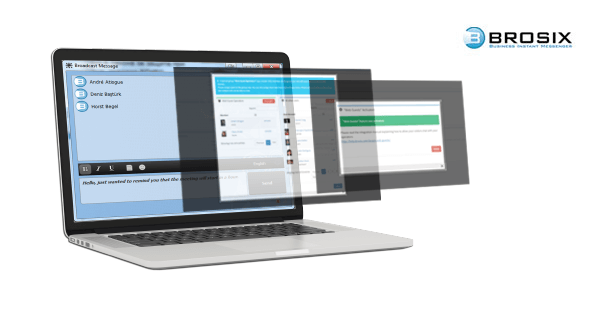 Why Should You Use a Brosix Screenshot Tool?
June 27, 2017 Instant Messaging



There are many reasons why companies continue to put more time, money, and resources into instant messaging communication. Above all else, this provides employees with access to a variety of high level features, such as a screen shot tool.

In continuing with our theme of how and when to use the Brosix tool kit, it's time to examine the screen shot tool. Training your staff on when to use this type of tool can go a long way in boosting productivity and efficiency.
Screen Shot
You can use the built in screen shot tool in Windows by clicking Print Screen and pasting the screen capture into a Word document or Outlook email message. But here's the big problem: those emails are around 2 MB! That can clog up an inbox or even an email server!
The Brosix screen shot tool allows you to skip the step of pasting, saving, and sending. Plus, the images are already compressed properly. This spares you from corporate email issues and/or long download times, all the while simplifying the process.
But When Does it Make Sense?
So, when should you use the screen shot tool as opposed to screen sharing or co-browsing? Error messages are a great example: since most of the information is already on the screen, there is no reason to screen share and troubleshoot. Instead, simply send the screen and you are done.
Another thing to think about is this: with the screen shot feature, you can send your image and move on. You don't have to wait for an immediate response from the other party, like you would with screen sharing or co-browsing. This goes a long way in saving time and making all parties more efficient.
Final Thoughts
Think about it this way: the screen shot tool is a "grab now, solve later" solution. Sometimes you need to move on and get other stuff done. With the screen shot tool, you can take action and then move on.