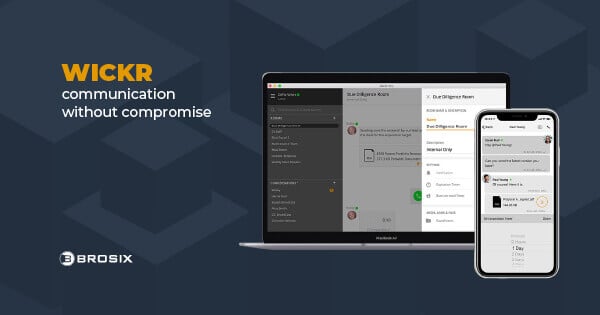 Amazon-Owned Wickr Shutting Down: Top 5 Encrypted Messaging App Alternatives
The end of an era! Wickr is shutting down at the end of 2023 for good.
Founded in 2012 by entrepreneur Nico Sell and acquired by Amazon in 2021, the end-to-end encrypted messaging app Wickr Me has been on the market for over a decade. It was free and focused on securing common consumer chats, allowing messages to stay away from prying eyes.
But what happened exactly?
When and why is the app being discontinued?
And what are the alternatives?
Let's find out.
When Is Wickr Shutting Down?
Wickr Me is planned to shut down on December 31, 2023. After that, the app will completely cease to work.
On December 31, 2022, Wickr stopped registering new users. Currently, the app is on its last legs, and existing users are given time to switch to a Wickr alternative.
The shutdown concerns only Wickr Me—the consumer-facing free version of the app. AWS Wickr and Wickr Enterprise, aimed at business and public sector clients, are unaffected and will continue to function as before.
Why Is Wickr Ме Shutting Down?
Wickr Ме is being discontinued due to child sex abuse material spread through the app. Apparently, the free Wickr version was the online gathering place for criminals with such inclinations.
As the app was free and encrypted, it unfortunately became an environment for the exchange of child sexual abuse images. According to an NBC News article reporting on court cases involving Wickr Ме misuse, Amazon has done little to stop this criminal behavior. The app was also a hub for drug dealers and extremists.
Wickr Me became popular among journalists and whistleblowers that needed to send auto-destructing encrypted communications. The other two Wickr products (Wickr Enterprise and AWS Wickr) continue to be used by organizations and military and government agencies. Amazon is currently working on a solution to allow AWS Wickr users to communicate safely with people outside of their internal network.
Best Wickr Alternatives: Secure Messaging Apps
Since Wickr Me is a thing of the past, we've prepared a list of the top 5 alternatives:
1. Brosix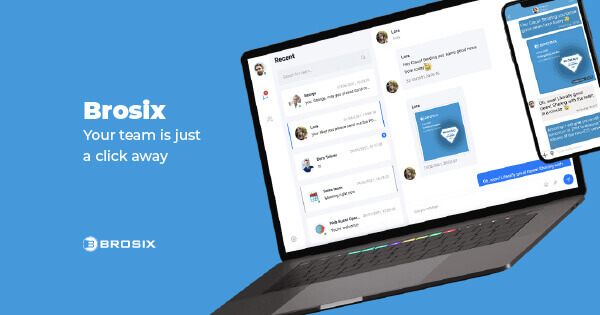 Brosix is an end-to-end encrypted messaging service suitable for team communication. It is hyperfocused on security and privacy. Set up is super easy and takes less than 60 seconds. It's the perfect solution for organizations that want to improve team collaboration and productivity while keeping sensitive business data safe.
With robust and intuitive administration features, you can easily create an encrypted private team network with chat rooms and users. Another slick Brosix feature is its built-in antivirus program that checks file transfers for viruses. What's more, you don't need a phone number to verify the installation. Brosix supports screen sharing, co-browsing, video calling, and spell-checking—much-needed features for business clients.
The Brosix instant messenger has a free startup plan for up to three users. Paid plans start at $4 per user.
The app also offers a 14-day free trial without the need to enter credit card data, so you can test Brosix with all of its functionalities.
Accessible on: iOS, Android, Web, macOS, Windows, and Linux.
2. Signal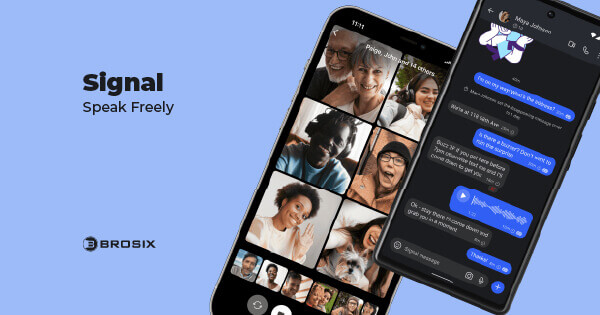 If you're conscious about security, Signal is a free end-to-end encryption messenger that uses its own protocol. In fact, its encryption protocol is crafted so securely that WhatsApp and Messenger use it as well. The Signal app is under the umbrella of a non-profit organization. It was created as an open-source project accessible to everyone.
An interesting fact about Signal: it's used by the privacy advocate Edward Snowden and US Senate representatives. It encrypts messages by default and hides data about the message sender and receiver even if the message itself was intercepted.
Signal has all the standard functionalities, such as text messaging, voice/video calling, and media/file sharing. It also offers a self-destruction option for messages. However, you're obligated to provide a phone number to use the app—one of Signal's major drawbacks.
Accessible on: Android, iOS, macOS, Windows, and Linux.
3. Telegram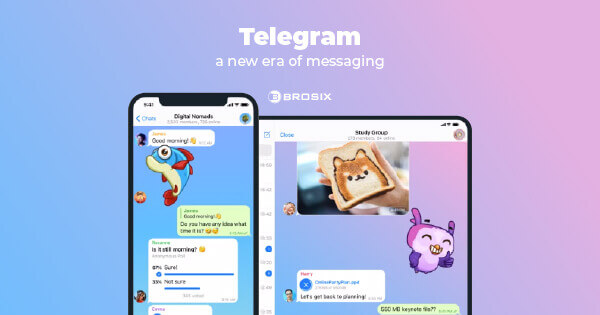 Telegram is another solid alternative to Wickr, and it's completely free. It allows users to send messages through client–server encryption for all standard chats. Telegram has also developed its own encryption protocol called MTProto. However, this homegrown encryption is not verified by experts so no one knows how secure it truly is. Moreover, the end-to-end encryption option is not a default setting—you have to enable a secret chat to access it, and it's only available for chats between two people.
With Telegram, you can send private messages, make video calls, join group chats, and share video clips, images, and documents. One of its advantages is the self-destruction setting for messages.
Telegram has also turned into a social media platform over the years. Millions of people can follow your account, and group chats can accommodate up to 200k members.
Accessible on: Android, iOS, Windows Phone, Windows, macOS, Linux, and Web.
4. Chatox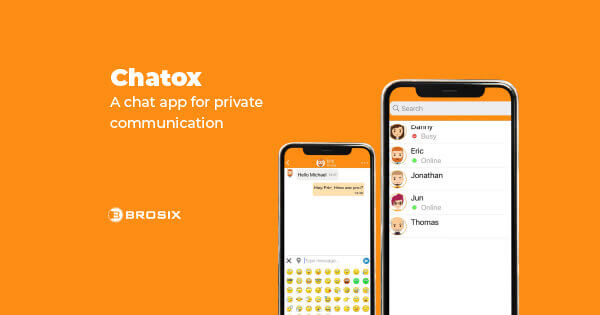 Chatox is a free peer-to-peer channel encryption application that provides high security for communication. It's a private chat app that doesn't show ads and doesn't store cached information. It's an excellent Wickr Me alternative as Chatox's main priority is providing secure communication across multiple devices.
All chats are encrypted by default so you don't have to worry about privacy and looking for this setting within the app. You can use it to message friends in real time, create group chats, and send unlimited-size files. There's also a built-in spell checker in different languages and an antivirus file scanning.
Furthermore, Chatox can be used to communicate with colleagues as it provides business features, such as whiteboards to share ideas, simultaneous browsing with other people, taking in-app screenshots, voice and video calls, etc.
Accessible on: iOS, Android, Windows, macOS, Web, and Linux.
5. WhatsApp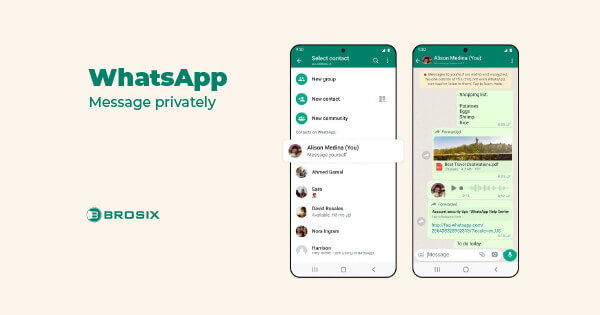 WhatsApp is another great substitute for Wickr Me. It's encrypted end-to-end and free. However, to be able to use it, you need a phone number. Unfortunately, there's no other way for activation. It started using Signal's reliable encryption protocol in 2016.
When WhatsApp was bought by Facebook (now Meta) in 2014, it was supposed to be an unmonetized app. However, Facebook broke that promise. As a result, the original WhatsApp founders left the partnership and developed Signal. WhatsApp started exchanging user data with Facebook, however, the messages themselves remain encrypted end-to-end.
WhatsApp has all the typical features a private chat app should have: individual and group chats; video and voice calling; document file transfers, and media sharing.
Accessible on: Windows Phone, Android, iOS, Web, Windows, and macOS.
Final Thoughts: Amazon's Wickr Shutting Down in 2023
It turns out that Wickr shutting down at the end of this year isn't the end of the world. In the land of encrypted messaging, there are plenty of alternatives. They are especially useful for security-conscious users demanding maximum privacy and peace of mind with their online communication. You never know, one of the suggestions above might even become your next go-to chat app. So why not give them a try for yourself, and pick whichever best suits your needs.
FAQ
Is Wickr owned by Amazon?
Yes. Wickr is an Amazon-owned messaging app.
When did Amazon announce the discontinuation of Wickr?
Amazon announced the Wickr discontinuation on November 18, 2022, in a blog post.
What does Wickr shutting down mean for its users?
Wickr shutting down means that the app will stop accepting new user registrations and will eventually cease to function.
Who are the main users of AWS Wickr?
AWS (Amazon Web Services) Wickr is used by both business and public sector customers as it prioritizes secure messaging.
What are some alternative messaging apps to Wickr?
Brosix, Signal, and Telegram are popular alternatives to Wickr for encrypted messaging.
What was the official reason for Wickr's closing?
Amazon has not provided specific details about the reason for the scheduled shutdown, but it mentioned a re-focus on securing business and public sector customers.