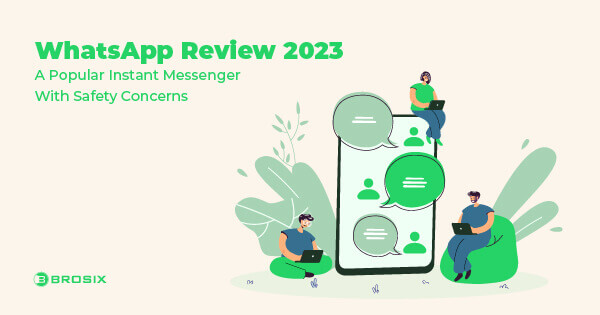 WhatsApp Review 2023: A Popular Instant Messenger With Safety Concerns
When you get a new smartphone, there are about three to five apps you install first. Facebook and Instagram are typically in the top three, closely followed by a free instant messenger app of your choice.
Which instant messenger you prefer will largely depend on where you live but there's a pretty good chance that it's WhatsApp, Viber, or WeChat.
One of the most popular messengers in the world, WhatsApp is a texting app that uses end-to-end encryption. Although owned by Facebook (which has had its share of privacy controversies), WhatsApp is considered safer and more protective of your data. It's highly intuitive to use and, most importantly, it's used by a lot of people – which is where the true power of an efficient instant messenger lies.
In this article, we will take a look at what made WhatsApp so popular and examine whether it's as safe as it claims to be.
About WhatsApp
Whatsapp Messenger is a cross-platform messaging application that can send texts, make audio and video calls, and share images, location, documents, and other media.
Founded in 2009 by Brian Acton and Jan Koum, WhatsApp soon achieved success and reached 250.000 monthly active users that same summer. By 2010, WhatsApp received several acquisition offers from Google which they rejected.
After a series of successful investments, WhatsApp was finally acquired by Facebook (now Meta) for US$19 billion, which remains Facebook's largest acquisition. Soon after, WhatsApp became the most popular messaging app in the world, reaching more than 600 million active users in 2014.
Since 2015, WhatsApp has continuously upgraded its platform to add file sharing features, develop apps for Windows and Mac, and release a small business app called WhatsApp Business to enable companies to communicate with WhatsApp users.
One of the most important innovations from that period is end-to-end encryption which was added to all forms of communication in 2018.
Getting Started With WhatsApp: Installation and Setup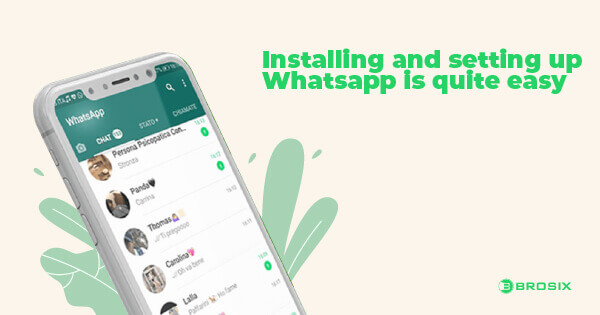 Installing and setting up WhatsApp is quite easy: you download it from the App Store or Google Play, launch the app, give needed permissions, and verify your phone number using a verification code. The last step is the reason some people switch away from WhatsApp – it only works with your phone number, so you have to give up that piece of information if you want to use the app.
After that, you can choose to import your contact list and set up your profile: choose a profile picture, change your name, and write a bio. Below your bio, you have the phone number field. You can change your number here, and the process is the same as during the initial setup: you will receive a code via SMS to verify your new number.
So, before trying to change to your new number, make sure you're able to send or receive messages and calls on the new phone.
User Interface
WhatsApp sports a typical instant messenger interface that makes it highly intuitive and easy to use.
When you first install WhatsApp, you won't have any active conversations, so you need to click the chat bubble icon on the bottom right to start your first chat. Once you have enough chats, you simply need to click the person's name and you'll enter the conversation – just like with almost any other messenger.
When it comes to design, you can choose between three themes: light, dark, and system default. That can be limited but we find the system default setting pretty well-designed. If you want to experiment with themes, you can go to Settings – Chats – Wallpapers and download a set of wallpapers.
This wallpaper pack contains backgrounds made of textures, landscapes, and similar designs that won't be too distracting.
If you want to customize your chatting experience even further, you can download WhatsApp Plus – an APK that can modify all sorts of things, from chat colors to hiding your profile picture and increasing your file upload size.
Team Chat and File Sharing
You can start a group conversation just like a regular one: click on the chat bubble icon and then select the "new group" option at the top of the next screen.
In the team chat, you can do all the standard stuff you can do in other group messengers, like mentioning people, muting notifications, responding to specific messages, and setting nicknames. You can also start group video and audio calls.
If you're looking for more advanced collaboration features like screen sharing or other presentation features, you won't find them on WhatsApp.
Furthermore, WhatsApp places a strict restriction on the size of your uploads – the maximum size for all media is 16 MB. This amounts to a short video of under three minutes, providing that you don't have a very high-resolution camera. The maximum allowed size for documents is 2 GB.
Messaging App Security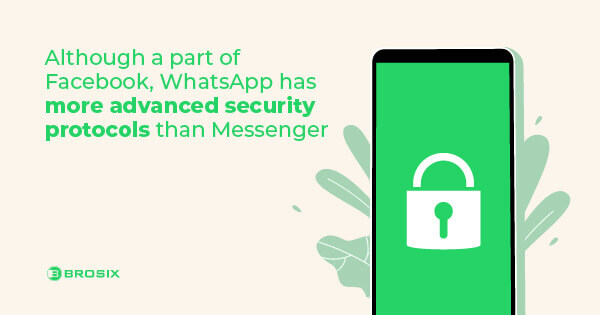 Although a part of Facebook, WhatsApp has more advanced security protocols than Messenger and markets itself as a safer alternative – an encrypted chat app.
One of these protocols is end-to-end encryption, which simply means that WhatsApp couldn't see your messages even if they wanted to. WhatsApp also stores very little information on their servers at the moment when you send a message like the phone numbers that have sent and received the message, as well as time and date stamps.
You can also turn on disappearing messages when you enter the chat with one of your contacts. You can choose how long the messages will be visible – 24 hours, 7 days, or 90 days.
Apart from these features, WhatsApp doesn't have too much to offer when it comes to security. Its code isn't open-source and it uses your phone number to create an account. It also collaborates with companies to give them advertising opportunities, which isn't the case with many safer alternatives.
WhatsApp Web and Desktop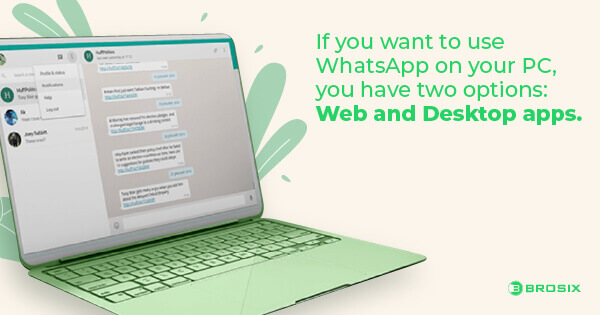 If you want to use WhatsApp on your PC, you have two options: web and desktop apps. Both of these are extensions of your smartphone app, with all your conversations available.
The difference between the two is the fact that you need to download the desktop app, while the web app can be used directly from your browser. All you need to do is scan the QR code on the screen using your phone to sync the two devices.
Using WhatsApp on your desktop makes some things much easier, as you can minimize the window, change its size, and move it around. On Windows, your messages will appear in the bottom right corner of the screen, and on Mac, you'll see notifications in the top right, just like with other Mac apps.
The downside of WhatsApp web is the lack of functionalities. While you can have normal conversations, you can't do things like deleting or forwarding messages. You also can't create new groups or leave groups you're already a member of.
Popularity vs. Competition
One of the most important factors when choosing a private messenger is the number of people who are currently using it. With WhatsApp, this won't be a problem, as it's currently the most popular messenger globally. As of January 2023, WhatsApp has two billion monthly active users.
Compared with alternative text messaging apps, WhatsApp is currently dominating the industry. For example, Signal, a popular secure messenger still counts its users in millions, while Telegram (hugely popular in Russia and Germany) has 700 million monthly active users.
So, if you're looking for popularity, WhatsApp is still the best choice. However, safer apps are usually less popular, so you need to weigh whether your privacy is a heavy price to pay to have a messenger app that's used by billions all over the world.
Brosix: A Safer Instant Messenger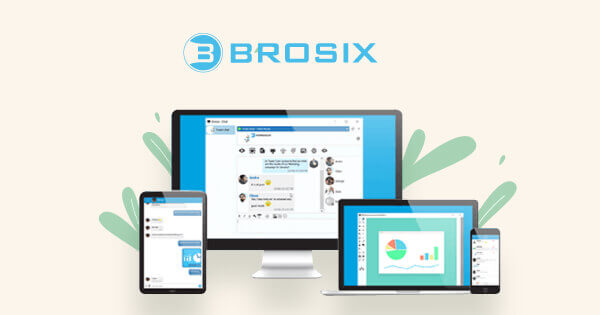 If you are looking for a more secure messaging app with advanced features, you might want to check out Brosix.
With features like screen sharing, video and audio call, and a web control panel, Brosix can provide you with a better experience and more tools for team collaboration.
It's all about control
Brosix achieves a high level of data security by giving you all the control you need. In addition to being secured with end-to-end encryption, Brosix helps you control your network and keep all channels secure.
Through the Web Control Panel, you can add and remove users, track all communication, set user-level permissions, and much more. You can also manage your team members' contact networks and coordinate who can communicate with whom.
Team collaboration on a new level
With Brosix, you get collaboration tools that go way beyond team chats and conferencing.
For example, you can send and receive files of unlimited size to anyone in your Brosix network. This opens direct channels between you and another user, so the file transfer can be extremely fast.
You can also use features like screen sharing, chat rooms, and whiteboards – all of which have been created to make team collaboration easier and more advanced.
Final Word
WhatsApp is the most popular instant messenger in the world. That, combined with a familiar feel and an intuitive design, is its key advantage. You can connect with your friends easily and sync your contacts for a seamless texting experience.
However, if you're looking for a messaging app that's more secure than the mainstream options, you'll have to look elsewhere.
If safety is a concern, feel free to try Brosix. It has all features you would ask from an instant messenger, with additional safety protocols and collaboration options that make it a great WhatsApp alternative.
Frequently Asked Questions About WhatsApp
We have selected some of the most popular questions about WhatsApp and researched the topics to give you answers.
How do I download WhatsApp?
To download WhatsApp, you visit the official website or install it from your mobile app store. It is available for both iOS and Android devices.
How to update WhatsApp?
It can sometimes happen that you receive a message on WhatsApp that can't be loaded because you don't have the latest version of the app. If that's the case, you'll need to update WhatsApp.
The update process is simple: you go to the App Store or Google Play Store, search for WhatsApp, and tap the "update" button next to the WhatsApp icon.
How to find and add someone on WhatsApp?
Since WhatsApp uses people's phone numbers as the foundation for all profiles, you can't "find" someone on WhatsApp if you don't have their phone number. If you have them in your contacts but you aren't sure they have a WhatsApp account, you can tap the "Chats" button on the bottom of the screen, then click the "Compose" button to send a message, and start typing their name. If they have the app, their name will show up.
When it comes to adding people, you can do it two ways: you can either add a contact in WhatsApp or use your default Contacts app. When you add a contact to your phone's address book, it will load in your WhatsApp contacts immediately if the person has a WhatsApp profile.
To add a contact through WhatsApp, you can click on the chat icon at the bottom of the screen and then select the "Add new contact" option at the top.
How to backup WhatsApp?
Your chat histories aren't saved on WhatsApp's servers, which means that you'll lose all your chats when you switch devices or delete the app.
You can save your chat histories by clicking on the three little dots in the upper right corner of your screen, and then going to Settings – Chats – Chat backup. On Android, it will automatically offer you to back up on Google Drive, and on iOS, your default option will be the iCloud.
Is WhatsApp safe?
People are often concerned about WhatsApp's safety.
While WhatsApp does put in the effort to make their app more secure than other mainstream messengers, it shouldn't be your top choice if security is the most important feature you're looking for.
It may be end-to-end encrypted but it still uses your phone number, allows advertisers to communicate with you, and it has very few additional safety features.
Does WhatsApp offer end-to-end encryption?
Yes. WhatsApp is end-to-end encrypted – that includes all messages, voice and video calls, and shared media. This ensures that only the sender and recipient can read or access the content.
Can I use WhatsApp on my computer?
Yes. You can use WhatsApp on your computer by downloading and installing the desktop app or using the web version.
How can I create a group chat on WhatsApp?
To create a group chat on WhatsApp, open the app and go to the Chats tab. Tap on the new chat icon and select New Group. Follow the prompts to add participants and give your group a name.
Is WhatsApp free to use?
Yes. WhatsApp is free to use. It uses an internet connection to send messages and make calls, so you may be charged for data usage by your mobile network provider.
Can I make voice or video calls on WhatsApp?
Yes. You can make voice and video calls on WhatsApp. Simply open a chat with the contact you want to call and tap on the phone or video icon at the top right corner of the screen.
How can I keep my security and privacy on WhatsApp?
To enhance your privacy and security on WhatsApp, you can enable two-step verification, avoid sharing sensitive information in chats, and regularly update your WhatsApp app to the latest version.
How many people can be on a WhatsApp group call?
WhatsApp allows up to 32 participants in a group voice or video call. This makes it a convenient option for small to medium size group discussions or virtual meetings.