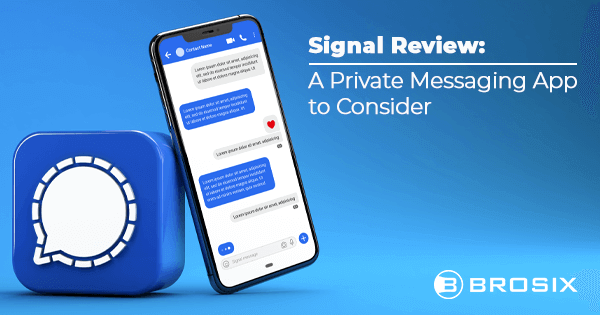 Signal Review: A Private Messaging App to Consider
The first thing that most people do when they get a new smartphone is installing the essential apps. For the majority of those people, Instagram and Facebook are most likely the first two apps they install, closely followed by a direct or private messaging app.
But, which private messaging app do you install? The choice for most people used to be obvious – WhatsApp. However, due to privacy concerns, people have been starting to shift away from WhatsApp and towards alternative private messaging apps, with Signal being one of the top choices.
Signal is a free, secure, and open-source messaging application that uses end-to-end encryption technology to help you securely communicate with other Signal users. Because Signal private messenger uses end-to-end encryption for all communication, it has become the top recommendation for and by people that care about the privacy and security of their online communication.
In this Signal app review, we will take a look at what has made Signal so popular and show you whether it's as safe as it claims to be.
About Signal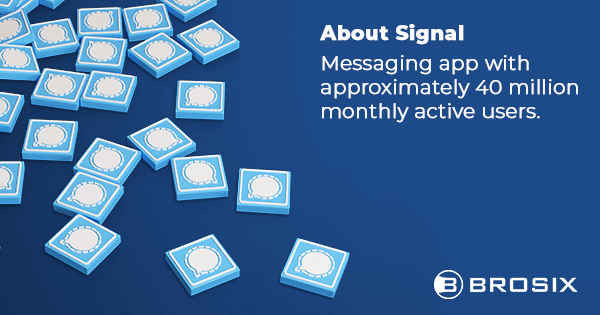 Signal Messenger is a secure encrypted messaging app. You can think of Signal as a more private alternative to WhatsApp, Facebook Messenger, Telegram, iMessage, and even SMS. It uses the Internet and its technology to send messages — both for group chats and one-on-one communication.
Those messages can include images, videos, files, and voice notes. Signal can be used to make voice and video calls – both group and one-on-one. The Android version of Signal can also function as an SMS replacement app.
Signal was launched back in 2014 and it has become more widely adopted in 2019 and 2020. As of January 2021, Signal has been downloaded more than 105 million times. The Signal messaging app has approximately 40 million monthly active users. Signal has been installed on more than 50 million Android devices making it one of the most popular encrypted text apps.
Installation and setup
Installing and setting up Signal is very easy. All you need to do is download it from the Play Store or App Store, verify your phone number, set up your user profile, and create a PIN.
Even though Signal uses your phone number to identify you, it doesn't mean that it's not private. What makes Signal unique is the encryption protocol they use — also called Signal.
Once you have installed the app, you're ready to start using it. You can start a conversation with your Signal contacts from within the app. Your Signal contacts are people that you have in your contacts list whose phone number is associated with a Signal account. Contacting them is seamless — if they are on Signal, you'll be able to get in touch.
If you want to use Signal on your desktop, you can download the app from Signal's website. The Signal desktop app is available on Windows, Mac, and Linux. The desktop app will sync messages from your phone to your computer. Installing and using Signal on your desktop is optional, you'll get the same full experience on your mobile device.
User interface
The user experience of Signal is similar to the likes of WhatsApp, Facebook Messenger, and the majority of other popular chat apps. At its core, Signal is a messaging app that allows you to talk one-to-one and in groups, send stickers, files, photos, voice messages and make video calls — just like any other chat app.
What makes Signal unique is that it isn't owned by a big tech company. Instead, Signal is developed by a non-profit foundation that gets its funding through donations and grants. Unlike Facebook — which owns WhatsApp — the owners of Signal aren't trying to make money. Unlike Facebook and some other similar apps, Signal isn't gathering a bunch of data on you to show you more tailored advertisements or any advertisements at all.
How and Why Signal Is So Secure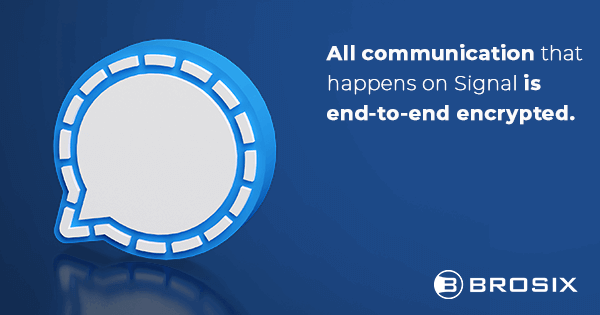 All communication that happens on Signal (this includes all one-to-one and group messages, transfers of photos, videos, files, all voice calls and video calls) is end-to-end encrypted. Only people that are involved in the communication can see them because the encryption happens between two or more individual devices using Signal.
This basically means that the company behind Signal could not see your messages even if they wanted to — which can't be said for all messaging apps.
When you compare Signal to more traditional messaging apps, you can quickly see what makes it so special. For example, Facebook can pretty much access everything you say or share inside of Facebook Messenger. While Facebook claims that they won't use the content of your messages for tailoring their advertising better for you, you can never be confident that it won't ever change in the future.
Yes — some other messaging apps do also offer encrypted messaging as a feature. However, everything on Signal is encrypted from the very start and by default. In addition to being encrypted all the time, Signal has other privacy-specific features, such as self-destructing (disappearing) messages that will automatically delete themselves after a period of time you choose.
Facebook Messenger and many other companies collect a lot of data about you. On the other hand, Signal tries not to. Based on our research, the only thing that Signal knows about you is your account's phone number, when you were connected to Signal last time and when you created your Signal account. The rest of your data and messaging are unknown to Signal.
Everything in your Signal app — all your messages, files, pictures, videos, etc. — is stored securely and locally on your phone. If you want to switch devices, you can manually transfer your data. When you compare that to Facebook and most other messaging apps which can reveal your full name, all your messages, a list of exactly where you have accessed your account from and more, it's easy to see why Signal has become so popular.
Why is Signal so popular?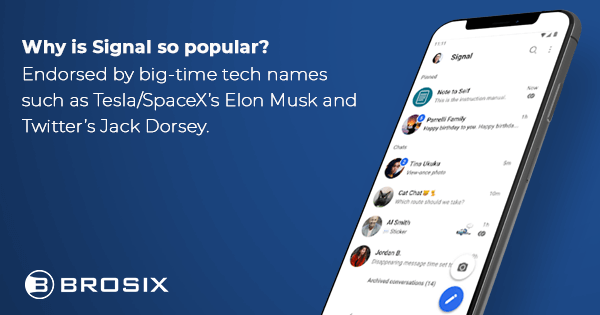 End-to-end encryption technology that is behind Signal is also its big feature. The main reason why so many people have started using Signal is that they are concerned about their privacy.
Signal has been endorsed by big-time tech names such as Tesla/SpaceX's Elon Musk and Twitter's Jack Dorsey. Occasionally, Signal has landed the top spot on Google Play Store and Apple App Store's top free apps chart. It has been praised by many privacy advocates and all types of business activities and niches, including Edward Snowden, who endorsed Signal back in 2015.
The current spike in popularity of Signal has happened thanks to the revamp of WhatsApp's privacy policy which allows WhatsApp to share even more data with Facebook. Many people want to move out their conversations from Facebook and this is where Signal steps in.
Brosix: a better Signal alternative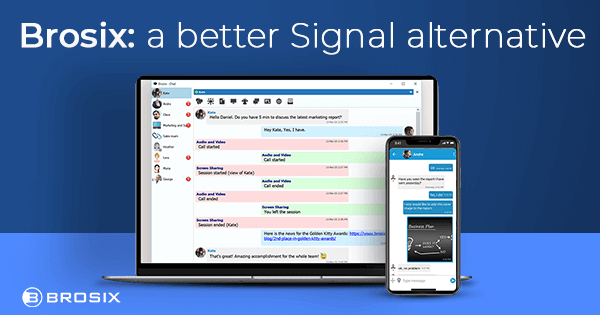 If you are looking for an instant messenger that has more advanced features but also provides the same or even better levels of security, you might want to check out Brosix.
While Signal offers the basic features that any other messenger offers, Brosix also has screen sharing, a full web control panel allowing you to have granular control, and more. Besides, It can provide you with a better experience and tools that can significantly improve your team collaboration.
More control in your hands
What makes Brosix special is the high level of data security it provides to you, the end-user. In addition to being secured with the best possible end-to-end encryption, Brosix helps you take full control of your network and keep all your communication channels secure.
By using Brosix, you can easily add and remove users, track all communication, set user-level permissions, and much more. Apart from that, you can use Brosix to manage your team members' contact networks and coordinate who can communicate with who.
Team collaboration on a new level
Brosix provides you with collaboration tools that go way beyond any regular team chat and conferencing. You can use Brosix to send and receive unlimited size files to anyone in your Brosix network. Just this feature makes Brosix a worthy competitor to Signal. There are also other features such as screen sharing, chat rooms, and whiteboards. All of them can help make your team collaboration easier, more streamlined, and more effective.
Conclusion
Signal has quickly started to become one of the most popular instant messaging apps on the market. The popularity of Signal combined with its end-to-end encryption and other privacy-focused features is its key advantage.
However, if you're looking for a messenger that offers a similar level of security but has more advanced collaboration features as well, then you'll have to look elsewhere.
If you want to use a messaging app in a business or any other type of collaborative environment but you are concerned about security, feel free to try Brosix. Brosix has all features you need from an instant messenger, with additional collaboration features that make it a great Signal alternative.