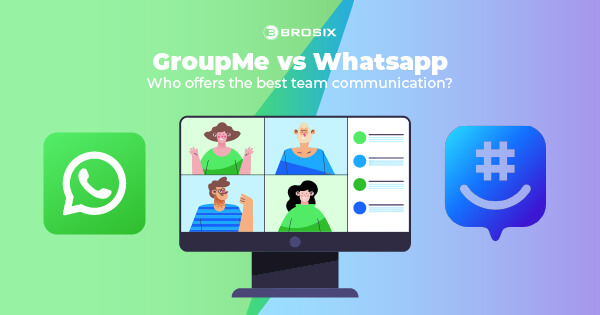 GroupMe vs. WhatsApp: Is a Specialized Team Chat Messaging App Better for Group Communication?
It's hard to imagine the modern smartphone experience without free instant messaging apps. Sharing memes, arranging dates, and having hour-long conversations is something most of us do almost every day, whatever our app of choice may be.
More importantly, our need to stay connected to our friends seems to have been amplified by the effects of the global pandemic.
Group chats often play an important part in bringing people together, so much so that almost all messaging apps have a team chat feature. But, how does GroupMe – an app dedicated specifically to group chats – fare against Whatsapp, a mainstream instant messenger with a group chat feature?
Let's compare these two apps across several categories and see which one is better for instant communication.
What is GroupMe?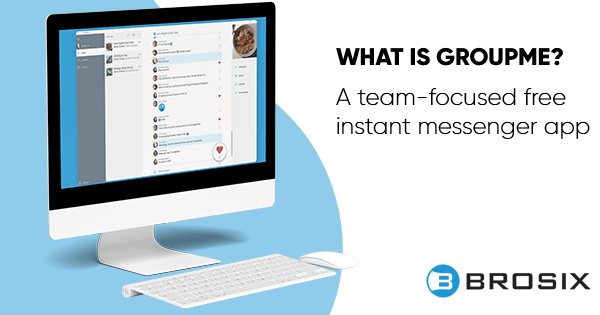 GroupMe is a mobile group chat app owned by Microsoft and developed by Jared Hecht and Steve Martocci at TechCrunch Disrupt in 2010.
It was first purchased by Skype in 2011 for around $80 billion, just a few months after Skype itself has been purchased by Microsoft. GroupMe got a new look in late 2012, putting chats at the forefront and making it easier to switch between various conversations.
While you can have one-on-one conversations in the app, GroupMe specializes in team chats. You can create an unlimited number of group chats with up to 5,000 members, each chat with its own name and number. Within those chats, you can share files, images, organize video calls, make your own memes, and much more.
What is WhatsApp?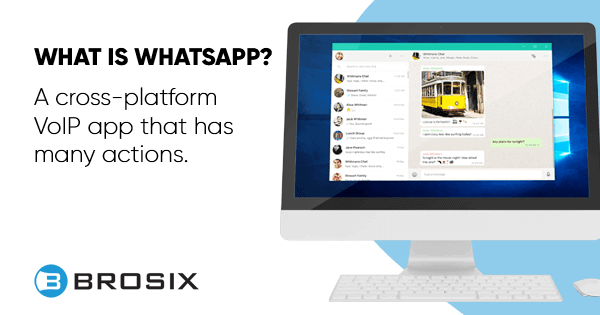 WhatsApp is a cross-platform VoIP (Voice over Internet Protocol) app that allows you to send texts to individuals and groups, share images, locations, make video and voice calls, and perform many other actions.
It was founded in February 2009 and achieved almost instant success. In the years that followed, Whatsapp added numerous features to the platform such as voice chat, end-to-end encryption, a web client, and desktop apps.
In 2014, the app was purchased by Facebook (now Meta) for $19 billion, which remains Facebook's largest acquisition to date.
WhatsApp has been criticized over its privacy policy that left users worried about the app owners potentially sharing the contents of their messages with Facebook. The concern stemmed from WhatsApp's decision to allow businesses to use data about you if it was retrieved from the conversations you had with businesses on the app.
GroupMe vs. WhatsApp: Installation and Initial Setup
Getting started with both of these apps is fairly intuitive and it's not too different from other instant messenger apps.
To install WhatsApp, all you need to do is download it from the App Store/Google Play Store, launch the app, and enter your phone number to receive a verification code. After activating your account, you can set up your profile by entering your name, profile picture, bio, and other things.
You can also import your contacts to make it easier to connect to people who have WhatsApp installed. This is one of WhatsApp's biggest advantages: it's by far the most popular instant messaging app in the world, making it highly likely that most of your contacts will have it installed.
Installing GroupMe is fairly similar but the registration process is different. You can enter your email and password or choose to sign up with your Facebook, Microsoft, or Apple accounts. Unfortunately, like WhatsApp, GroupMe will also ask you for your phone number to verify your identity and later synchronize your contacts.
The one potentially significant advantage that GroupMe has over Whatsapp is the fact that you can use it to text people that don't have the app installed. When texting these people, they'll receive your messages either as emails or SMS texts.
However, the process doesn't feel that natural and the recipients will constantly be pushed towards downloading the app. In the end, it might be simpler for them to install the app and join the conversation.
GroupMe and WhatsApp: User Interface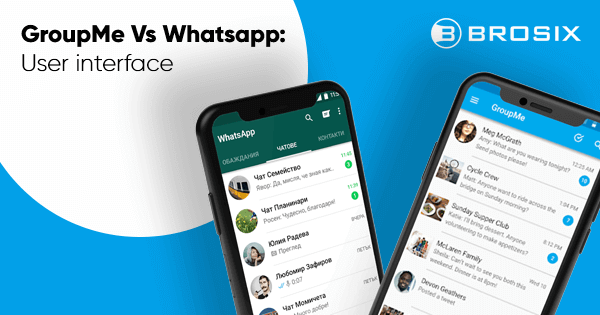 Whatsapp can probably be credited with popularizing (if not inventing) the simple, intuitive messenger app design we've all grown to appreciate. Both of these apps use that design: when you open the app, you see a list of your conversations. Clicking on either conversation opens the chat window so you can start typing.
On Whatsapp, you start a conversation by clicking the chat bubble on the bottom right and choosing either "New Contact", "New Group", or starting a conversation with someone you have on your contact list. This is one thing that GroupMe and Whatsapp have in common – you can't add people to a one-on-conversation, you have to create a group chat from scratch.
As soon as you install GroupMe, you'll be prompted to create a new group by entering its name, adding people, and selecting a picture. While you can skip this if you want, this tells us a lot about the app and its main purpose.
Another thing that's telling about the app's main use is the fact that you can start a School Group or connect to your college campus in just a few clicks. In fact, GroupMe has been lauded for driving academic discussions forward and promoting course-relevant conversations among students.
In terms of design, we're inclined to give a slight advantage to Whatsapp simply because it's more customizable and colorful. You can choose between different themes and wallpapers that all come in various colors and patterns.
You won't find customization anywhere in GroupMe settings, apart from changing the themes from light to dark.
GroupMe or WhatsApp: Security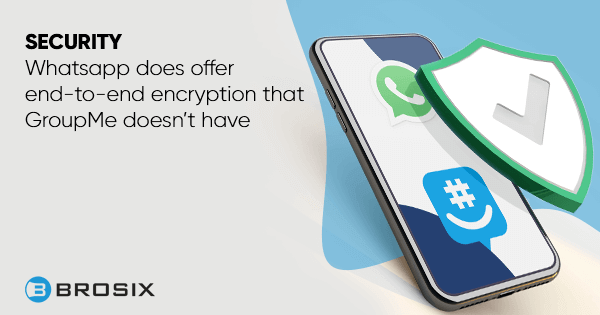 We've already mentioned the fact that Whatsapp had its share of criticism when it comes to data security. The fact that it's owned by Meta – which suffered highly publicized privacy issues itself – doesn't help.
However, Whatsapp does offer end-to-end encryption, which is the basic requirement when it comes to the safety of chat apps. It means that your conversations can't be accessed by anyone outside you and your recipient. The app also doesn't store much information on its servers.
Whatsapp also has multiple advanced safety features like disappearing messages and fingerprint locking.
Unfortunately, the issue with Whatsapp is that it can share your data with advertisers, something that a lot of encrypted chat apps avoid.
GroupMe, on the other hand, doesn't even have end-to-end encryption. It also uses your data to target you with Microsoft's marketing offers and provide you with a more tailored experience. Because GroupMe is a part of Microsoft, it abides by the same privacy policy that uses both your data and your interactions with third-party websites.
So, is GroupMe safe? While it's unlikely that your data will be significantly compromised, it's not nearly as safe as some other apps like Telegram and other Telegram alternatives.
GroupMe vs. WhatsApp: Advanced Chat Features
When we get to advanced chat features, GroupMe really starts to shine.
The whole app intends to make chatting with friends fun and engaging. So, for example, you can create polls to gauge the opinion of the group on an issue or an important question. You can also share your location with the rest of the group if you're all trying to get together in the city (something that we all miss dearly).
One thing that stands out with GroupMe is the option to create your own memes. Simply click on the attachment icon, select a photo from the gallery, and select the "Meme" option before sending. This will allow you to add captions to the photo and share it with the group.
You can also use an elaborate GIF search engine and custom emojis.
Among Whatsapp's most interesting advanced features are the disappearing messages. You can turn these on by clicking your contact's (or group's) name, selecting "Disappearing messages", and then toggling "On".
Finally, both of these apps place restrictions when it comes to secure file transfer. On Whatsapp, that limit is 16 MB, while GroupMe is a little more forgiving with 50 MB. Either way, these limits are only enough for images and short videos. But, you likely won't be able to share large files like elaborate PowerPoint presentations or long, hi-res videos.
If you find file sharing important, you might want to take a look at some of our favorite organization apps that offer more options in this field.
GroupMe or WhatsApp: Desktop Apps and Web Clients
Both GroupMe and Whatsapp offer desktop apps and web clients in case you prefer to chat over your PC.
You can download Whatsapp for Mac or Windows, as well as synchronize your smartphone and web browser to use the web client. When you look at Whatsapp pros and cons online, you'll likely find their web client in the "con" column. That's because the platform only works when your smartphone has a stable internet connection.
To avoid this, you can download the desktop app that works independently from your smartphone.
GroupMe also has both of these options, with one significant difference: you can't download it for your Mac. If you have a Mac, you'll have to use the browser-based app.
Apart from that, the app looks and feels good both on your browser and desktop. More importantly, it doesn't depend on your phone's internet connection.
GroupMe vs. WhatsApp: Voice and Video Calls
Whatsapp has been widely used for voice and video calls for quite some time.
Starting either of these calls is easy: enter a chat with anyone (including a group) and click on one of two icons in the upper right corner, a camera or a telephone. Both voice and video calls are limited to eight participants, including the person calling.
It might not be that clear how to use GroupMe for conference calls but the option is there and it works great. Since each group has its own unique number, you can start a conference call by calling that number from your phone. You'll then need to press 1 and everyone in the group will receive a call.
GroupMe might be the winner in this category because WhatsApp's eight-people limit might be a little too restrictive. On GroupMe, you can call the whole group which can be up to 5,000 participants (although having this many people on the call might be counter-productive).
Brosix: More Than an Instant Messaging App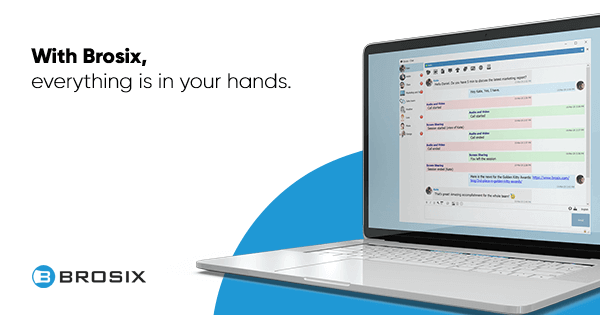 While GroupMe and Whatsapp might be enough for the average user, people that are concerned about data safety will hardly find them reassuring enough.
Those people are exactly the kind of users we had in mind when creating Brosix: a team messenger that puts safety first.
Safety, control, and encryption
Brosix achieves safety in multiple ways. First, all of your text chats are end-to-end encrypted using industry-level protocols. This guarantees that your communication is secured from third-party access and interpretation.
Second, you have the Web Control Panel that allows you to control everything in your network, including which users have access to which features. You can also leverage the User Activity Log to easily keep track of your communication.
Next-level team communication
Brosix also allows you to communicate with your team in a more advanced, engaging way.
By using features like screen sharing with access to operate, you can have more efficient training sessions that allow users to control each other's desktops. You also have an unlimited chat history and unlimited file transfer that enables you to send files of all sizes to anyone.
Conclusion
It's clear that Whatsapp and GroupMe have their place when it comes to team communication and both of these apps are popular for a reason.
But, ask yourself: is GroupMe safe enough for classified or business conversations? And are Whatsapp's data safety issues a red flag that you're concerned about?
If these are issues you care deeply about, you might want to consider Brosix. It's a tool that provides a lot of advanced features to make team communication easier while providing that extra security you might be looking for!
Try out Brosix and test drive these features for free!
Request Demo