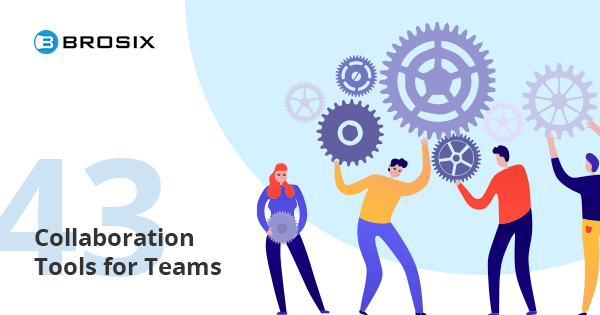 43+ Collaboration Tools to Keep Teams in Sync and on Task
Team collaboration is the cornerstone of any successful enterprise. The ability of employees to actively contribute to one another, build off each other's ideas, and work together towards common goals is vital to producing tangible team momentum and long-term viability.
Yet according to a recent survey, 39% of employees reported collaboration levels at their workplace as too low. Every team, including yours, could benefit from a little added support.
You can find tons of ideas for improving team communication, for example. But is there a secret sauce that some teams have to help them collaborate more effectively? There is! Team collaboration tools allow your employees to collaborate online and off, boosting teamwork around your organization.
43 Collaboration Tools to Keep Teams in Sync and on Task
Click To Tweet
From team chat and messaging to project management, document collaboration, knowledge and information sharing, time tracking, organization, and more, if your team struggles to collaborate, get ready to dive deep.
Below we'll offer more than 43+ collaboration tools to keep your team in sync and on task.
Team Chat and Collaboration Tools
Brosix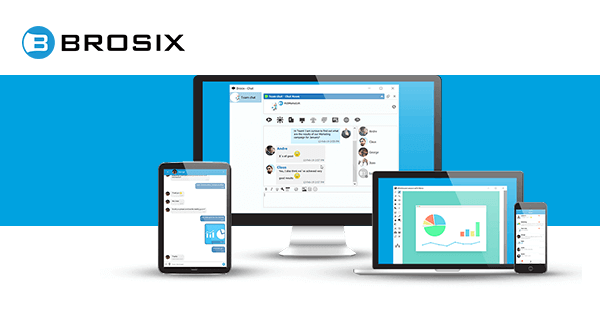 Available on: Windows, macOS, iOS, Android, Linux, and Web
Brosix is an instant messaging software for businesses providing encrypted, real-time collaboration to streamline how day-to-day business gets done. It's built for teams of all kinds and sizes, from remote to in-house.
Rich text, voice, and video channels enable clear communication no matter the moment or the occasion. Sync chat histories across devices and search conversations by date or keyword without limit. Custom chat spaces meet specific group requirements. A user-friendly mobile app enables online collaboration from anywhere.
Over a Brosix private team network, you can share your screen and give remote desktop access, create dynamic whiteboard conferences, take instantaneous screenshots, and send files unlimited in size and number. Use the powerful administrative features to delegate admin duties, customize group chat and collaboration spaces, and manage contact lists, features, and more on a user basis.
Give it a shot! With all your chats, meetings, team collaboration, and administration on a unified platform, Brosix is built to improve how teams collaborate.
Brosix pricing: Free team communication and modest admin control with Startup; $4 user/month for Business; $6 user/month for Premium gets you full control and customization of your team network.
Slack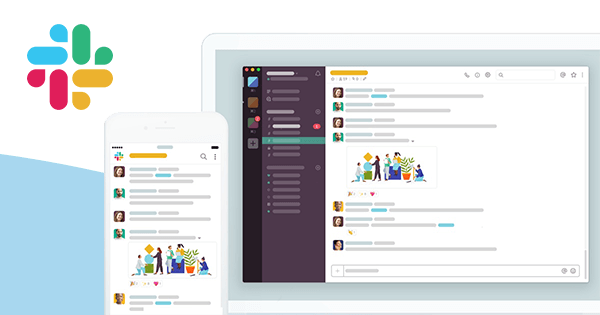 Available on: iOS, Android, macOS, Windows, Linux, Web
The 800-pound gorilla of team chat, Slack is a messaging app that organizes group communication into channels. As a team collaboration tool, Slack offers direct messaging, private or public channels for group chat, audio and video calls, and screen-sharing.
Slack features powerful search and notification capabilities that allow you to receive notifications from other software you use. Slack's star status mainly comes from the fact that the app integrates with 1,500+ apps, more than any collaboration tool.
But Slack's integrations are dependent on the other tools you use. And it's up to your team to use them to justify Slack's hefty price tag. For the average employee, those integrations may be unnecessary, making Slack not much different from any other team chat app.
Check out these Slack alternatives for more on Slack and other suitable options for your team.
Slack pricing: Slack's free option limits you to 10K messages, 10 integrations, and 5GB shared storage; Standard from $6.67 user/month; Plus from $12.50 user/month
Flock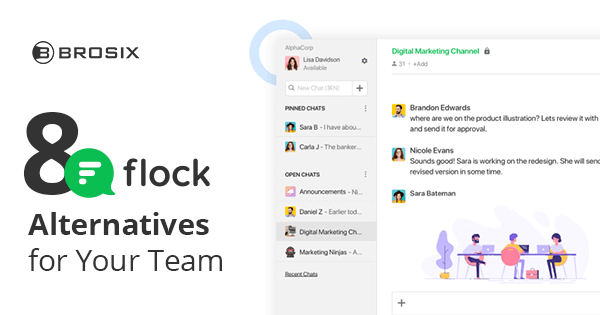 Available on: iOS, Android, macOS, Windows, Linux, Web
Flock's team messaging tool has positioned itself to challenge Slack directly. Like Slack, Flock provides one-to-one messaging, group chat via public and private channels with threaded replies, and voice and video calls.
Flock offers fewer integrations than Slack. But as a team collaboration tool, Flock has built into the platform native task management options like the ability to convert discussion to tasks through shared to-dos. Flock also enables you to create polls and invite guests to the platform.
That said, Flock's offers few customization options, its interface is cluttered, and it's not all that much cheaper than Slack. Read more about the app and some other Flock alternatives here.
Flock pricing: $4.50 user/month for screen-sharing, unlimited messaging history, and 10GB storage per user; Enterprise from $8 user/month; Freebie plan limits you to 10K message history
Microsoft Teams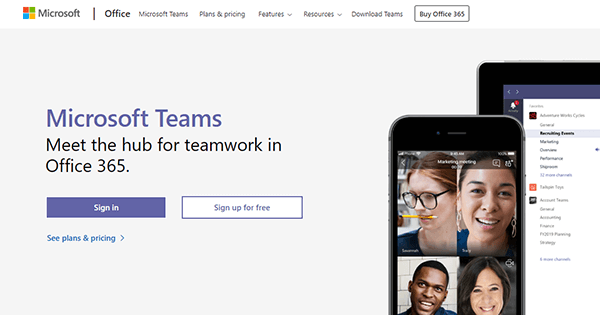 Available on: iOS, Android, macOS, Windows, and Web
Teams is Microsoft's collaboration tool. Part of the Office 365 package, Teams is geared toward large enterprises. Communication in Teams isn't unlike the competition. You can chat in private or group conversations, place voice calls, hold video conferences, and share your screen.
Teams' deep integration with Office 365 sets it apart from the pack, however. Your team can collaborate on top of virtually any type of Microsoft document, making it a great tool for heavy users of the Office 365 suite.
Keep in mind, Teams is notoriously tricky to deploy. What's more, if you collaborate with teams, clients, or organizations outside of the Microsoft ecosystem, it could pose interoperability issues. But don't worry, there's no shortage of capable Teams alternatives for your organization.
Teams pricing: Essentials from $5 user/month; Premium from $12.50 user/month; A limited free plan requires a Microsoft 365 subscription
Troop Messenger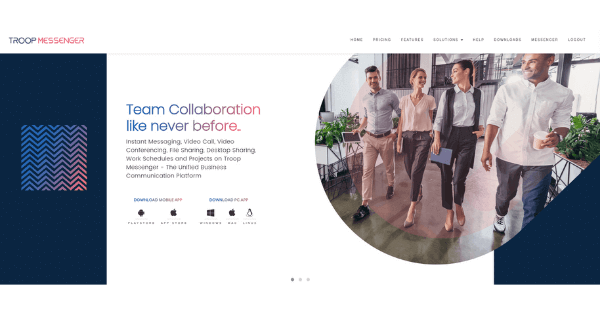 Available on: iOS, Android, Windows, macOS, Linux
Troop Messenger is an office chat app that enables team communication thanks to instant messaging, audio messaging, and audio and voice calling capabilities.
In terms of team collaboration, Troop doesn't offer much more than screen-sharing and file sharing. But for businesses in search of enterprise messaging, Troop is great value for the money. You get message-flagging capabilities, burnout chats, data usage analytics, and the option to self-host.
Troop pricing: Paid plans start at $1 user/month; Enterprise and self-hosting plans from $5+ user/month
Ryver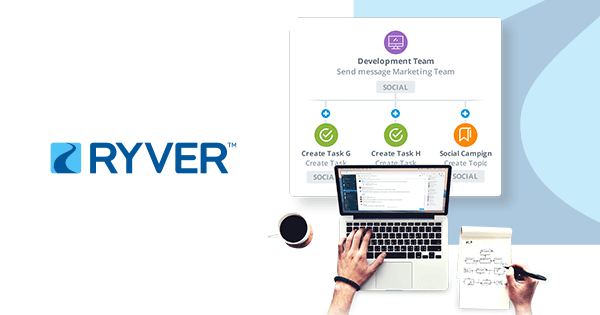 Available on: iOS, Android, macOS, Windows, Web
Ryver is a collaboration software that facilitates team messaging and task management. With Ryver, team members can chat directly in one-to-one messages, set up private groups, or converse freely in open forums. All of that can then be converted to tasks and managed on a Kanban board. There's also screen-sharing, voice and video calls, and unlimited integrations through Zapier.
If you're considering Ryver for your team's collaboration needs, have in mind that unlimited integrations through Zapier don't mean free unlimited integrations. Free Zapier plans restrict you to just 5 Zaps and 100 tasks per month. At $299 for 50K tasks, Ryver and Zapier together could cost you north of $300 per month.
Ryver pricing: 14-day free trial; Plans from $49 per month for up to twelve users; $99 per month for unlimited users; $199 for enterprises
Fleep
Available on: iOS, Android, macOS, Windows, Web, Linux
Fleep allows you to chat and collaborate with users and teams outside of your organization. All you need is their email address. Your team won't get much in the way of native collaboration tools, but you will get native task management and 20 or so integrations with apps like Trello, Jira, and Google Drive.
With Fleep, you can create, assign, search, and track tasks. Share files and pin messages for everyone to see and edit. Voice or video calls happen via Whereby, a browser-based app for online calls. Whereby has limitations though – 12 participants and a handful of browsers.
Fleep pricing: Fleep Basic is the freemium plan for up to 3 group conversations; $6 user/month gets you full control over team communication and conversations.
Honorable Mention:
Project Management Collaboration Tools
Asana
Available on: iOS, Android, macOS, Windows, Web
Asana is a user-friendly task management tool to keep teams organized. Asana allows you to view everything in calendar format to help you plan your time and tasks, or timeline format to help you gauge remaining work – ideal for large tasks.
One area where Asana differs from other project management collaboration tools is by allowing you to manage dependencies. That means you can specify which tasks need to be completed before others can begin, helping you avoid bottlenecks and prevent situations where team members are waiting idly for their task.
Asana pricing: Freemium limits you to 15 members but offers unlimited tasks, projects, and conversations; Premium from $9.99 user/month; Business from $19.99 user/month
Trello
Available on: iOS, Android, Windows, macOS, Web
Trello enables visual team collaboration by way of an online digital Kanban board. There you can drag and drop tasks, communicate statuses, progress, and issues, and optimize workflows.
Choose boards or lists which you can further organize by teams or tasks. Break down the latter into "to-do", "doing," and "done." Then delegate tasks, add deadlines, leave comments and feedback, and even get notifications as things relevant to you happen. Power up by integrating with apps like Google Drive, Jira, Evernote, and GitHub.
Trello pricing: Freemium offers unlimited boards, cards, members, and attachments as well as one power-up per board and file attachments up to 10 MB; Business from $9.99 user/month
Basecamp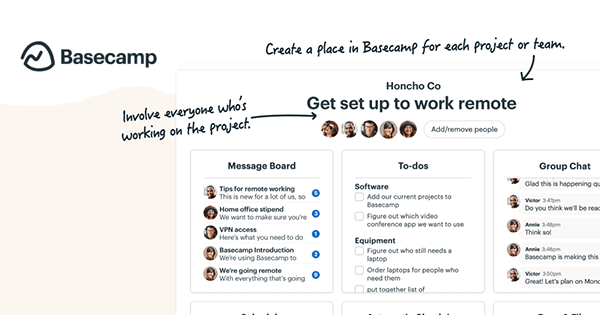 Available on: iOS, Android, Windows, Mac, Web
Basecamp is more than just a project manager. The tool paves the way for group collaboration on tasks, as well as team chat. Basecamp provides direct messages for team members to chat one-on-one, as well as pubic message boards. There's even a group chat where you can attach files, code snippets, audio and video files, and more.
The major selling point is To-do lists, which allow you to create tasks, set due dates, notify assignees, and attach notes and files. Tasks can be created globally or within specific teams or projects. To keep everyone current, each project is accompanied by a Schedule.
Just keep in mind you won't get voice or video calls. Get the lowdown on Basecamp here.
Basecamp pricing: Free 30-day trial; $99 per month flat
Monday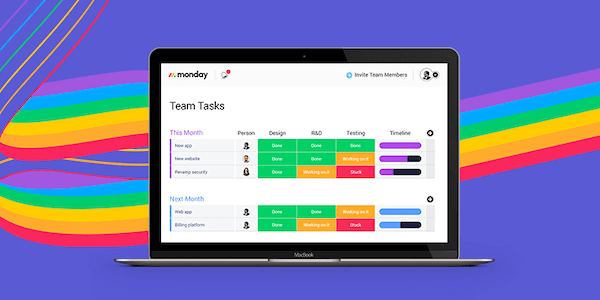 Available on: iOS, Android, Windows, macOS, Web
Monday is an all-inclusive project management platform for fostering transparency between your team. The collaborative software integrates all team-related tasks and resources in one place to provide an overview of progress and enable better planning.
Create dashboards to customize your workflow. Assign tasks to owners and stay on top of deadlines. Keep track of all your team commitments with clear timelines (think a visual Gantt chart). Then track team progress and member contributions with output reports. With a number of easily customizable templates, you can choose the one that best suits your team's needs.
Monday pricing: Basic from $8 user/month; Standard $10 user/month; Pro $16 user/month
Proofhub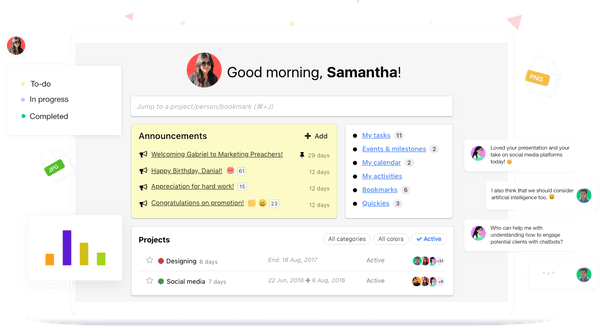 Available on: iOS, Android, Windows, macOS, Linux, Web
ProofHub is an all-in-one project management and collaboration software. Enabling teams to
coordinate work schedules, carry on conversations and discussions, propose ideas, assign tasks, and track progress status, Proofhub helps you manage all tasks effectively. It replaces the need to use multiple apps, keeping teamwork mess-free and eliminating the need to invest in or switch among many tools while working. A simple interface keeps the entire team on the same page.
Proofhub pricing: $45 per month for unlimited users, 40 projects, 15GB storage; $150 per month unlimited projects, 100GB storage
Xtensio
Available on: iOS, Android, macOS, Windows, and Web
Xtensio is an all in one tool for managing business collaterals. The tool allows teams to easily create, manage and present documents in real-time. With this tool, you can create professional-looking sales pitches, buyer's journey, resume, landing pages, reports and many more without any prior design knowledge.
Create presentations from scratch using the drag and drop functionality that works like a page builder or choose from a wide variety of templates that are available in the library. Present your documents in all devices and get notified when someone makes changes or views the document.
Xtensio pricing: Basic plan starts at $10 user/month Business plan starts at $50 2 users/month.
nTask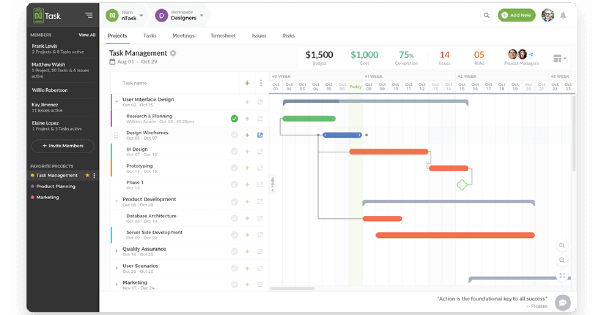 Available on: Web, iOS and Android.
nTask is an all in one work and project management tool with robust features to manage your tasks by collaborating with your team. It integrates with all the apps you need to make your project successful. You can use it for planning, execution and assigning work for your projects.
This application gives you the ability to create unlimited to-do lists and sub-tasks as per your need, and let you assign those tasks to your team members. Other useful features include timesheets, Gantt charts, kanban boards, issue tracking, risk matrix, resource and meeting management.
nTask Pricing: Basic free plan, Premium plan from $2.99/user per month, Business plan from $7.99/user per month.
ProProfs Project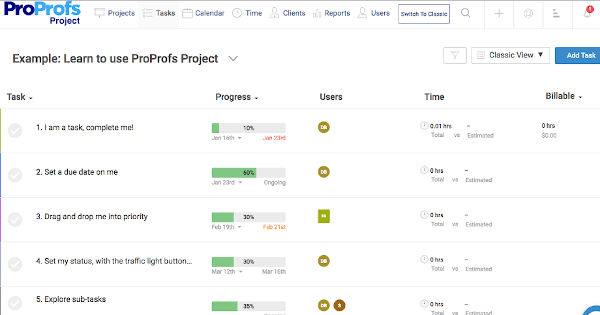 Available on: iOS, Android, macOS, Windows, Linux, Web
ProProfs Project is an easy-to-use online project management solution for freelancers, small, medium, and large teams. The tool allows you to plan projects, assign tasks, and execute them efficiently to never miss a deadline.
Collaborate in real-time with different teams on-the-go and get work done delightfully. Start discussions, share files & ideas, track progress, and manage resources to stay on the top of your game. With time tracking features and advanced reporting capabilities, remove the bottlenecks and deliver projects successfully on-time and within budget.
ProProfs Project pricing: Freemium plan offers unlimited storage; Essentials from $2/user/month; Premium from $4/user/month
Honorable Mention:
Audio/Video Conferencing and Meeting Tools
Zoom
Available on: iOS, Android, macOS, Windows
Like many tech tools during COVID-19, Zoom's popularity has exploded during the Coronavirus crisis. That's because Zoom can help teams meet their remote working collaboration needs.
Record calls, discuss on the side, and share your screen showing the whole screen or a specified app that you're running. You can even schedule calls in advance, split rooms into breakout sessions, and annotate shared screens. Once you install the app, you'll unlock unlimited meetings for up to 100 participants, so long as you don't talk for more than 40 minutes.
If you're using Zoom to collaborate, keep in mind its increased popularity has led to an increase in security and privacy issues with the app.
Zoom pricing: Free for 40-minute meetings for up to 100 participants; $14.99/month for unlimited meeting length and reports; $55/month for 100+ participants
Whereby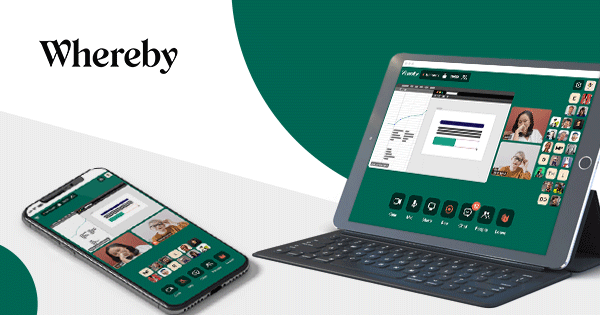 Available on: macOS, Windows, Linux
Formerly Appear.in, Whereby is a browser-based video collaboration tool. Just create a room, grab the link, and share it with your team! There's no need to download software or provide logins for your calls and participants can join from any device. Screen-sharing allows you to drag and drop specific elements of your screen. Whereby calls are limited to 12 participants, though, and the app is only supported on Chrome, Firefox, and Opera.
Whereby pricing: Free for one meeting room and video calls for up to four participants; $9.99/month for Pro; $59.99/month for Business Plans
BlueJeans
Available on: iOS, Android, Mac, Windows, Linux, Web
BlueJeans facilitates video calling and conferencing geared toward large teams and organizations through a system of meetings, rooms, and events. Webcasts for up to 15,000 people let you host town-hall-style meetings and webinars. Participants can join calls and conferences from any device, including a browser. Integrations with tools like Trello and Outlook boost workflows, collaborative processes, and team productivity. BlueJeans doesn't offer a freemium option.
BlueJeans pricing: Plans from $19.95 per month for up to 50 attendees.
GoToMeeting
Available on: iOS, Windows, Mac, Web
GoToMeeting is an online meeting software allowing businesses and teams to collaborate via video, chat, and screen-sharing. Launch meetings from anywhere including mobile devices for up to 3,000 participants. Record meetings in case you can't attend in real time. Screen-sharing lets you pass control of your device to your audience while note-taking and drawing tools enable real-time collaboration. GoToMeeting has everything your company needs to hold meetings with teams, clients, customers, or other businesses.
GoToMeeting pricing: Subscriptions start at $14 user/month for 150 participants; Enterprise plans available
Honorable Mention:
[Regardless of the conferencing tool you choose, productive collaboration via audio or video technology takes consideration and planning. Explore these video calling guidelines and use cases to maintain effective team video meetings every time.]
Document Management and File Sharing Tools
Dropbox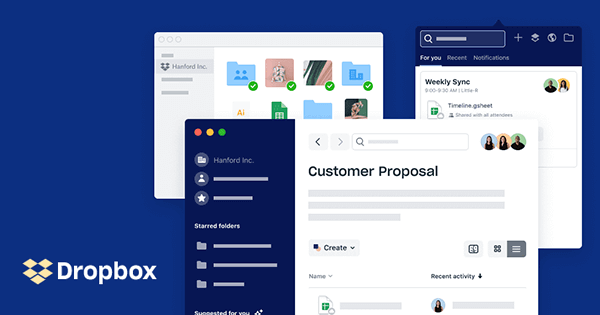 Available on: iOS, Android, Windows Phone, macOS, Windows, Linux, Web
A pioneer in the field of online collaboration, Dropbox was one of the first to facilitate quick file storage and management over the internet. Today, more than 500 million users love Dropbox for the ability to create a Dropbox folder, drag and drop files, and share documents with anyone. You can even drag and drop your entire PC or Mac into Dropbox.
Dropbox is first and foremost a content management platform, but there are some limited team collaboration tools. Scan docs, share content and media, assign roles, comment and leave feedback, but that's about it. You do get a host of integrations like Trello, Google Drive, and Slack. But Dropbox only offers users 2GB of free storage. Not much these days.
Dropbox pricing: Freemium with 2GB storage; $9.99 for 1 TB and a 30-day version history
Google Drive
Available on: iOS, Android, macOS Windows, Linux, Web
Google Drive is the undisputed heavyweight of collaboration. The cloud storage and file-sharing app allows teams and individuals to collaborate from anywhere on just about anything.
Create files with Docs, Sheets, and Slides and store and access them on any device. Share files with others, comment and collaborate, and view previous versions prior to editing. Paid plans provide Drive users 24/7 one-tap access to specialists and the ability to share their data storage capacity with family members. For businesses that need more, Google offers G Suite, featuring audio and video calls, online team messaging, employee engagement tools, and more.
Google Drive pricing: Free for all features and 15GB storage; $1.99/month for 100 GB storage; $2.99/month for 200GB storage; $9.99/month 2 TB storage
Box
Available on: iOS, Android, Windows, macOS, Web
Box is a cloud content management platform to streamline file sharing, teamwork on documents, and even some day-to-day internal processes. Box provides a centralized workspace to keep your team organized and on the same page. Edit and review documents in real time, share documents and files, assign tasks, and automate content reviews, onboarding processes, and contract approvals. Box integrates with tons of apps like Zoom, Office 365, Salesforce, and more.
Box pricing: $5 user/month for 100GB storage and 10 users; $15 user/month for unlimited storage; $25 user/month for advanced admin control
Office 365
Available on: iOS, Android, macOS, Windows, Web
Office 365 includes everything you know from Microsoft, and a few things you may be unfamiliar with, in one software stack. Create, share, and work together on documents with Word, Excel, or PowerPoint. Send business emails with Outlook. Chat in real time with Microsoft Teams. You can set up a company intranet and knowledge management platform with SharePoint. Office 365 gives you everything you need to collaborate both online and off.
Be ready to commit to an annual contract, and to pay up. The full package including online meetings and voice calls will run your enterprise $35 per user per month.
Office 365 Pricing: $8 user/month for email and web access to Office apps; $12 user/month for Office apps; $20 user/month for Office Apps, security, and compliance
Hightail
Available on: iOS, Android, macOS, Windows, Web
Hightail is a multimedia collaborative solution combining file sharing, task management, and creative development so your team can work efficiently and creatively. Send images, presentations, videos, PDFs, and large files. Track their delivery, preview and stream files without downloading them, and collect feedback. Assign tasks, set due dates, and see team overviews to track progress on projects. Bring clients onboard to keep them in the loop and set admin-level security to safeguard specific projects.
Hightail pricing: Freemium with 100MB file size limit, 7-day expiration, and limited storage and previews; Subscriptions from $12/month to $36 user/month
Honorable Mention:
Organizational Collaboration Tools
Todoist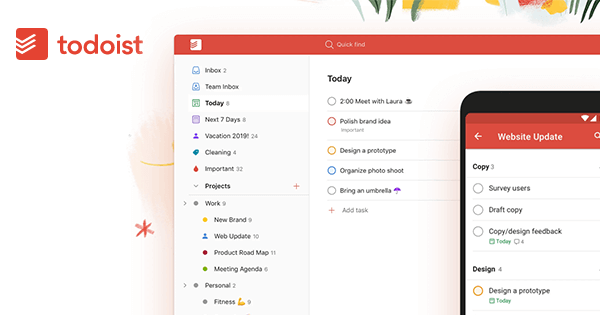 Available on: iOS, Android, macOS, Windows, Linux, Web
Todoist is an easy-to-use to-do list manager that can streamline everything from the grocery shopping to group projects. Todoist organizes tasks, files, and discussions in one place. Delegate tasks, set priority levels and deadlines, receive notifications when teammates comment on tasks or tasks are completed. You can even gamify teamwork and visualize productivity trends over time. It's a handy tool to keep teams and collaboration organized.
Todoist pricing: Free for basic functionalities, $36/year for premium features; $60 user/year for full-featured entire team access
Evernote
Available on: iOS, Android, macOS, Windows
Evernote is a note-taking collaboration app to help your team manage to-do lists, business cards, receipts, documents, and of course, notes. Use Evernote's templates to take notes whatever the occasion. Record ideas as voice memos and share them with the group. Connect with apps like Google Drive or Salesforce and then set up space where the team can collect, organize, and share their notes and documents. Evernote makes sure none of it slips through the cracks.
Evernote pricing: Free for note-taking with limited attachments, sharing and organizational tools; Premium from $6.99
Expensify
Available on: iOS, Android, macOS, Windows
As the name suggests, Expensify is an expense management tool to help companies and individuals keep their expenditures in line. Admin capabilities with multiple user roles and policy auditors allow you to organize expense reporting, card management, approvals, and reimbursements. Multiple versions suit teams of all sizes, even freelancers.
Business travelers can connect with a host of travel apps and take advantage of travel reporting options like mileage tracking. Expensify simplifies the process of submitting and approving expense reports so you can keep spending neat and tidy.
Expensify pricing: $5 user/month for receipt collection and reimbursement; $9 user/month for
corporate card management and multi-level workflows
Fyle
Available on: iOS, Android, macOS, Windows, web-app
Fyle is a new-age expense management software that makes expense reporting easy for both employees and Finance teams. With integrations built into everyday apps like Slack, G-Suite, and Outlook, Fyle makes tracking expense receipts incredibly easy for employees. One-click is all it takes!
For Finance teams, Fyle's elegant UI and robust finance controls come together to automate pre-accounting from start to finish. Further, auto-matching for credit card expenses eliminates the need for human intervention from the reconciliation process. Lastly, Fyle's tight-knit integrations with major accounting software like NetSuite, Quickbooks, Xero, et al. create a fully automated, frustration-free expense management system for businesses.
Fyle Pricing: Fyle offers custom pricing for startups, SMBs, and enterprises. Visit their pricing page to get a quote.
Rebrandly
Links are an asset for every business, and as such, they need to be monitored, updated, organized and reassessed over time. With Rebrandly you are able to brand, track, and share short URLs using a custom domain name. The tool also gives you the opportunity to scale your linking efforts and offers the ability to grow and target specific audiences with shortened links.
This tool also provides a detailed analytics feature that allows you to learn about who's clicking on your links, such as what country the clicks are coming from, the most popular times and days and what social media platform the clicks originated from.
Rebrandly Pricing: They offer a free plan, $29/month for the starter plan, $69/month for the pro plan, $499/month for the premium plan and custom price for their enterprise plan.
Honorable mention:
Time Tracking Tools
Time Doctor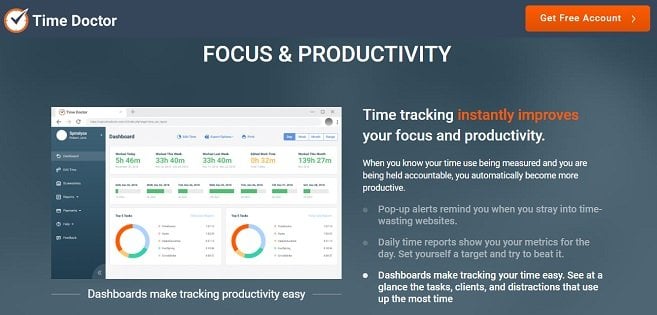 Available on: iOS, Android, macOS, Windows, Linux, Web
It can be hard to stay on task with remote workers and distributed teams. Time Doctor is a productivity tracking tool to keep teamwork productive and efficient. Track everything from time spent on tasks to web, app, and social media usage. Monitor chats, set off-track nudges, track breaks, and get detailed reports. Better yet, TimeDoctor syncs up with other team collaboration tools on this list like Google Drive, Trello, Asana, and Todoist.
Time Doctor pricing: $7 user/month for unlimited tracking, screenshots, and 1-month data storage; $10 user/month for payroll and integrations; $20 user/month for client access
Honorable mention:
Knowledge Management Collaboration Tools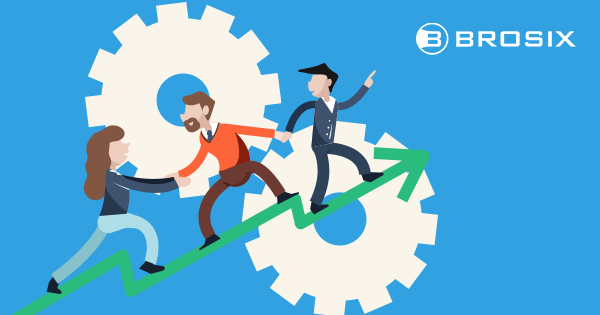 Confluence
Available on: macOS, Windows, Linux, Web
Confluence is an intranet software that centralizes company information and knowledge. With Confluence, you can create anything from meeting notes and product requirements for better product management to employee evaluation frameworks, and then organize your content however you see fit. There's a huge collection of templates to meet team, department, any company needs. Set user-level permissions, jointly edit pages, leave feedback, and mention teammates you need help from.
Confluence pricing: Free for up to 10 users with unlimited pages, spaces, and macros; From $5 user/month for up to 5,000 users
Guru
Available on: iOS, Android, Web
Guru's information management tool makes knowledge-based collaboration a breeze. With Guru, company and team knowledge is stored in digestible amounts on Cards, with each team managing the Cards in their Collection. It's a great way to keep remote or sales teams up to date.
The browser extension lets you access the Cards wherever you are online, so you can search your entire knowledge base without leaving the tab you're in. Guru syncs with tools like Confluence, Box, and Google Drive so you can import and export knowledge on the fly.
Guru pricing: Free browser extension for teams up to 10; From $14 user/month
AnswerHub
Available on: macOS, Windows, Web
AnswerHub is a question-and-answer-based knowledge and information hub built for developers. AnswerHub encourages collaboration by providing a searchable knowledge base where users can submit content, share and propose ideas, ask questions, and get or give answers that can be used for future reference. Tailor your community with custom branding, themes, plugins, and integrations. Ensure the most useful contributions are visible by organizing and controlling what's approved, as well as who sees what.
AnswerHub pricing: Quote-based pricing on an individual enterprise basis
Honorable mention:
Design Collaboration Tools
InVision
Available on: iOS, Android, Web
InVision is a web-based design tool to turn your ideas into fully realized prototypes. Successful design requires collaboration and InVision boosts the collaborative process by helping you keep all stakeholders in the picture. Pass mockups, webpages, and finished designs back and forth for review and approval between designers and clients. Actionable to-do lists and real-time feedback with suggestions keep everyone in sync. Your first prototype with InVision is free, but then you'll need to sign up for a paid plan.
InVision pricing: Free prototype; $15/month for 3 prototypes; 25/month unlimited prototypes; Enterprise plans available
Mockplus iDoc
Available on:
A powerful tool for design teams, Mockplus streamlines the design workflow so your designers, product managers, and front-end developers work together more efficiently. Use the storyboard to view tasks and workstreams. Manage tasks and set permission for different roles. Comment on designs for instant feedback. In Mockplus, your designers can create dynamic prototypes for websites, mobile apps, desktop, and web apps, or upload directly from Photoshop, Sketch, and Adobe and hand over to developers with specs and code snippets prepared automatically.
Mockplus iDoc pricing: Free for 3 users and 5 projects; $12 user/month for unlimited projects; Enterprise plans available
Honorable mention:
Jotform Sign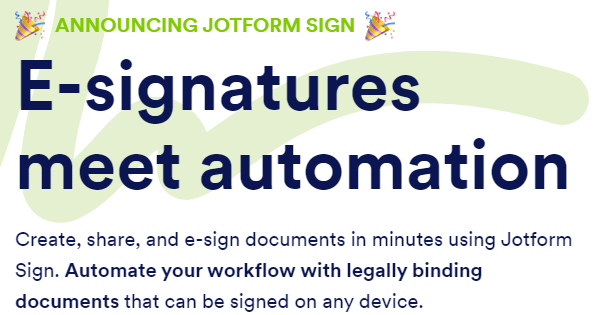 Available on: Android, iOS, Windows, macOS
Jotform Sign allows its users to create and share legally binding documents in seconds. With this tool, you can collect signatures from your signers easily and store them securely. It has a wide selection of readymade templates that you can choose from in order to speed up the process.
With its Report Builder feature, you can generate live reports are embeddable on your website and keep track of your data. Speed up the process by eliminating manual tasks and automate your document workflow with Jotform Sign.
Jotform Sign pricing: A free plan with limitations is available, paid plans start at $34/month
Movavi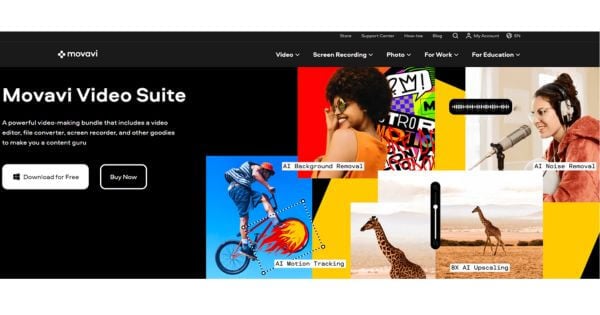 Available on: Windows, Mac, Android, iOS
Movavi offers different software that can greatly help team collaboration when creating online content. Need to create a tutorial for new employees via recording your screen activity, convert files for future sharing, use a video editor with no watermark to make videos or a photo editor to retouch images? You have all these options available.
Movavi's main goal is to simplify the process of creating multimedia content, making it easier and faster. All programs are intuitive and user-friendly, applying to both novice and experienced users.
The best thing about Movavi is that you can instantly share your videos, audio, images, etc. with team members via direct link or by uploading them to Google Drive, YouTube, WhatsApp, Telegram, and other platforms.
Movavi pricing: All programs include a 7-day free trial, the price depends on the program you want to use and ranges from $42.95 to $54.95 per year or $59.95 to $79.95 one-time fee.
How to Choose the Right Team Collaboration Tool
Diagnose the Collaboration Situation
Don't dive blindly into the latest tool, software, or app. Diagnose your team's specific needs, as well as the root of the collaboration issues. Fixing time-wasting or a lack of task tracking may require a different tool than improving team communication among remote workers or distributed teams.
Watch Out for Tool Overload
Too many tools can cripple workflows, so choose the fewest number to get the job done. In most cases, you can get by fine with a robust team communication tool, project management software, sound knowledge management, and a productivity app or two. Good collaboration tools should feature all-in-one capability, providing a range of functionalities on one platform.
Opt for Maximum Security
Some tools facilitate collaboration on fully closed, private team networks. Others allow outsiders like clients and freelancers to join. Whichever route you choose, make sure it's encrypted end-to-end. Peer-to-peer channels and custom data security levels bolster security by bypassing potentially vulnerable cloud databases and protecting sensitive data.
Go for User-friendly
Collaboration software is at the heart of many team projects and tasks, so make sure everyone can smoothly navigate the platform and its features. Read up on reviews, ask for employee feedback, and take advantage of free trials so you can get a feel for how the tool fits your team.
Ensure Productive Remote Work
Remote work is a growing reality. But remote work poses challenges, both for teams to collaborate effectively and administrators to ensure productivity. Look not only for rich communication and collaboration tools to ensure teamwork, but also powerful administrative features to guarantee effective team collaboration.
[No collaboration tool for teams is complete without a remote work policy. Don't have one? Use this remote work policy template to craft a policy that will keep your team aligned and collaborating effectively.]
Which Collaboration Tool Is for Your Team?
As you can see, there's much to consider when choosing a collaboration tool for your team. You also need to examine your internal processes and workflows.
43 Collaboration Tools to Keep Teams in Sync and on Task
Click To Tweet
Just remember, no tool, app, or software alone can solve all your team collaboration issues. But if you're looking for one that comes close, why not give Brosix a shot? By providing a single platform for your chats, meetings, team collaboration, and administration, it's built to improve how teams collaborate.