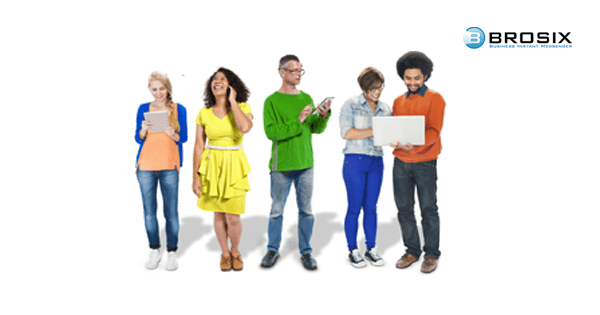 Keeping Employees on Task
January 9, 2017 Instant Messaging


Employees appreciate some freedom at work
However, occasionally there are some employees that need to be kept on track or else they will get distracted and may not finish projects on time.
This is where network administrators come in. Network administrators are able to monitor many options and user activities while they are using the Brosix Instant Messaging to make sure that employees are making the best use of a company's time. The administration panel can give managers and admins the ability to manage which users can talk to one another, view the conversations between users,  and many other options.
Again, most employees don't like being micromanaged, but if employees aren't using their work days properly and aren't getting projects and other duties done on time, it is time to start cracking down on areas that might be taking up more of their time than normal.
To learn more about the administrative panel and to get a free trial of Brosix Enterprise, visit the business instant messaging section of the Brosix website.
Lifehacks at The Office: Enjoy Your Work More
We spend much of our waking hours at work – whether we work at home or at a regular office, our most productive time is when we are working. Stress can easily kick in if you are working too much and not enjoying any bit of it. Try these simple hacks to keep you upbeat at work.
Keep your work area clean
How can one possibly work productively if the working environment sits in a pile of trash and mess? Working in a cluttered, chaotic environment often impacts negatively on your productivity.
Start your work week right by clearing up your desk. Put away all the unnecessary clutter in your table, organize your supplies, file your paper documents. Every few weeks, have someone clean your keyboard (if you can't or won't clean it yourself). Yes, that computer keyboard that you use every day is home to all sorts of bad bacteria that can make you or your colleagues sick. Keep a stash of antibacterial wipes or disinfectant.
If you are allowed to, bring some fresh flowers to lighten up your work table.
You can also post some of your favourite motivational quotes to keep you inspired all day.
Take a walk
Avoid a sedentary work environment. Even if you can, you are not advised to just sit behind your desk and computer the entire day. Get up and get some fresh air. Taking a 15-minute walk will do you good. Maximize your lunch break to walk outside to grab a lunch or coffee.
An office experiment showed that employees who took two 15-minute 'walkies' per day for 30 days, completed their tasks more accurately and quicker than before. Walk around your office and talk to colleagues about a project, engage in productive conversations. At times, walking will keep you more alert and awake than a cup of coffee.
Create a visually engaging workplace
Make work a source of creativity, not stress. Sitting correctly while working can increase blood flow, metabolism and improve focus, energy and productivity. Have your office provide you with well-designed ergonomic work furniture. Good equipment will minimize work-related strain, the most common of which are back and neck pain.
You work area deserves some love. Design it in such a way that you will feel still creative and inspired even when you're at your busiest hour. Put up a doodle board where you can write your work goals for the day or for the week.
The small changes that you make in your work area can have potential results in your productivity.
Another top tip – indulge in inspiration.
Stretch, stand and smile
Keeping a healthy working environment with your colleagues will definitely keep you wanting to go to work. Having friends at the office is important to get that 'office vibe' going on. You work as a team and you also strive as a team to achieve targets and deadlines. Cultivating a healthy office culture is important not just for the company but also for you and your colleagues.
Lucky are those who have sit-stand workstations. But if you don't have one, you can always stand up and stretch any time of the day. Move around a bit, rest your eyes for a few minutes.
Doing these simple things will make your work or any work easy. And always remember to smile, it will give you an instant 'perk up my mood' boost.