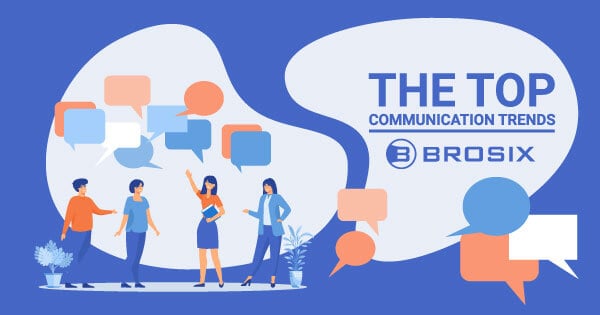 The Top Communication Trends to Watch in 2023
The landscape of business communication has changed dramatically in recent years. Trends in communication are being influenced by larger global factors, such as the rising demand for remote work, increasing customer expectations and new industry regulations.
During the last decade or so, we've seen companies pivoting away from old-fashioned communication methods, from hardwired phones to fax systems. Today, every organization is searching for new ways to streamline interactions between employees (wherever they may be), through cloud-based software, messaging apps, video conferencing and virtual work hubs.
While keeping up with the ever changing trends in communication can seem complex, it's worth understanding the market as it stands today, so you can stay one step ahead of the competition. Here are some of the top trends businesses should be prepared for today.
1. Remote Work and Rise of the Cloud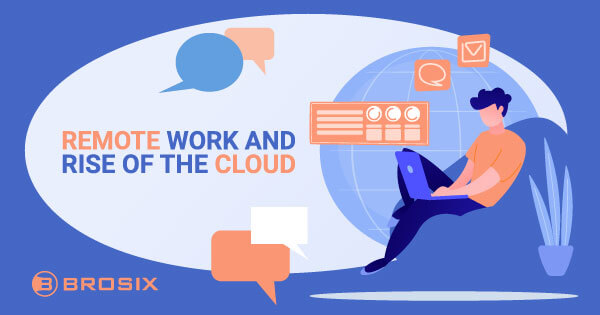 It's no secret that remote work has become a mainstay of the modern workplace. As of 2022, around 87% of workers throughout America have been offered some form of remote working schedule, allowing them to either work from home, or jump between office and remote environments. The rise of flexible working has given way to a new era for communication.
With fewer face-to-face interactions available, companies are investing heavily in cloud-based tools which can connect and synergize their employees wherever they are. Communication platforms offering a combination of video conferencing, instant messaging, file sharing, and productivity tools have become the new "work hub".
These solutions allow for asynchronous and synchronous communication on a massive scale, giving businesses the opportunity to create communication channels for virtually every employee and team. Cloud-based environments can be accessed anywhere, and often come with a range of useful features, from screen sharing and file transfer tools, to co-browsing capabilities for workers.
2. Unified Communications
The concept of "unified communications", or "UC" is nothing new. But it has become one of the most important communication trends in recent years. As companies grow more reliant on the cloud and digital tools to keep employees synchronized, they can't afford to have communication spread across a multitude of different apps.
The more software tools a professional needs to rely on to connect with colleagues and contacts, the more likely it is the business will suffer from information silos and knowledge gaps. Not to mention, using multiple tools each day can significantly reduce employee productivity.
Unified landscapes which combine multiple different communication and productivity tools into one ecosystem are growing more popular. Today's teams want an all-in-one environment where they can access chat, video and voice in the same space. Increasingly, these tools are also becoming more flexible, allowing users to connect with guests outside of their organization, as well as internal staff.
3.  Increased Demand for Chat
Studies suggest 51% of employees prefer to use instant messaging apps and chat tools over other forms of communication. Chat is simple and effective, providing team members all over the world with access to their colleagues in a matter of seconds. With work chat tools like Brosix, companies can empower their teams with simple platforms which reduce the need for complex email inboxes.
Brosix is an all-in-one communication platform, built to empower collaboration. The solution transforms teamwork with an all-in-one secure messaging system, built on encrypted communication channels. This means teams can connect quickly, without compromising on security. 
The best chat apps provide support for both real-time and asynchronous communication. They allow employees to send fast, secure instant messages to contacts (with built-in encryption). Companies can use these tools to create chat rooms for multiple people to connect at the same time, or private messaging rooms. There are tools with built-in spell check, chat histories and tabbed chat functionality. Many of these platforms also provide insights into user status or presence.
With chat apps companies can reduce the need for complex meetings, when conversations only require a quick message or update. Many of the top tools on the market also allow conversations to be transformed into voice or video meetings, with screen-sharing, whiteboard and co-browsing tools.
4. Video Continues to Reign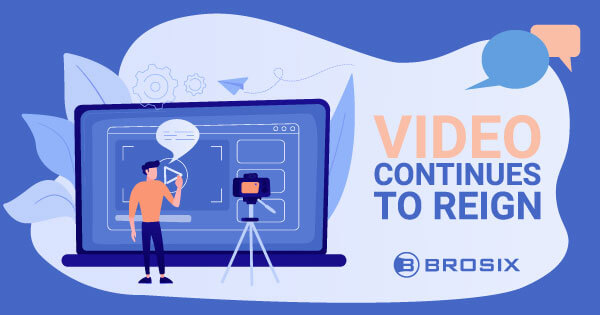 Although chat apps are perhaps the most popular tool for workplace communication today, they're not the only option capturing employee interest. In the world of hybrid and remote work, video conferencing can be an excellent way to preserve company culture, improve interactions between team members, and strengthen internal bonds.
Video calls with built-in screen sharing and other tools can also help to add more context to conversations. 99% of workers say video helps to improve their communication experiences. Unified communication platforms which support virtual meetings and video sessions empower companies to select the ideal mode of communication for any case.
However, while demand for video conferencing is increasing, it's also worth noting that many employees have experienced the issue of "meeting fatigue". Calendaring tools and scheduling options which help to reduce video overwhelm will be essential going forward.
5. Mobile Grows More Crucial
Around 86.4% of the world's population currently owns a mobile device. Increasingly, employees in the business landscape are searching for ways to use their own smart devices to stay connected to their colleagues. This is particularly true in industries with field workers, who may not be able to sit down at a desk to join a conference or messaging session.
Mobile-first communication platforms are crucial for providing users with a consistent and productive experience. They're designed to provide access to everything from chat to video and voice on a mobile device. Some solutions even allow for text messaging and dial in from mobile devices.
Many of the best communication tools providing mobile access also come with options for users to personalize experiences, by adding their own apps and features into the mix, depending on how they work. Integrations can be extremely useful for creating a single pane of glass environment for workplace communication.
6. Automation and AI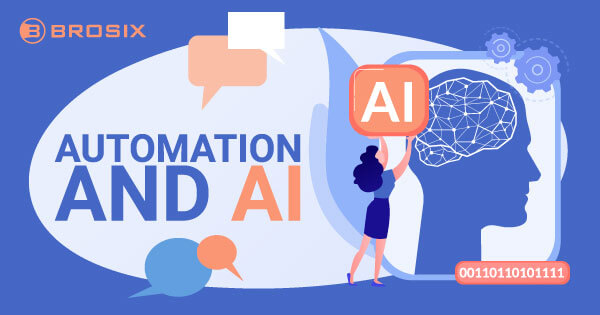 Artificial intelligence and automation are quickly becoming common components of communication. Many leading communication tools now come with access to AI bots which are capable of handling common questions staff members might have about functionality, or delivering information to users in seconds.
Automation can be a particularly useful feature in the communication space. It can allow users to send messages at the right time to their colleagues, based on their availability, with scheduling. Automation tools can also rapidly check for spelling issues in chat rooms and other communication environments, to reduce the risk of misunderstandings.
It's even possible to use notification APIs in the communication landscape to determine how updates and messages are sent to users across a network. For instance, a company could allow their employees to determine when they want to switch off notifications, and when they want to receive alerts about upcoming tasks or messages in a chat room.
7. Rising Focus on User Experience
Today's employees are under a lot of strain in virtually every industry. As mentioned above, customer expectations are growing, which places additional pressure on businesses to deliver unforgettable, meaningful experiences. In order to deliver a great customer experience, companies first need to ensure their employees are getting the right experience on their communication apps.
The best tools are simple and convenient to use, with streamlined interfaces which require very little training or setup. They also consistently empower employees to do their best work. For instance, in an instant messaging tool, companies can access a range of features to boost user experience, such as enabling co-browsing, video calls and broadcast messages.
Going forward, communication trends will continue to accelerate the demand for simple, straightforward tools, which are easy for businesses to manage and configure, and uncomplicated for employees too. The simpler the technology, the more the team will thrive.
8. Demand for Security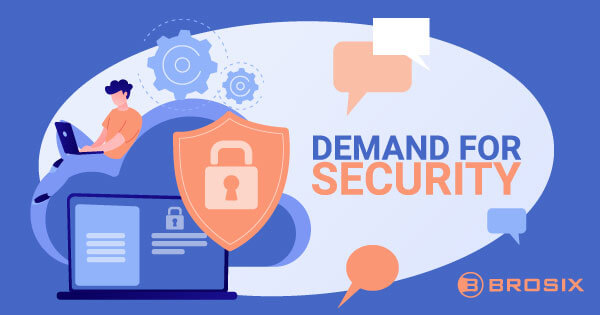 While the rise of hybrid and remote working strategies has a lot of benefits for businesses, including more engaged staff and reduced operating costs, it also presents some new challenges. Security has emerged as a common concern for every organization investing in communication tools. Companies need to think carefully about issues like compliance, and being able to track, monitor, and record conversations across every channel.
At the same time, they need to ensure the right people have access to the correct information. User access controls which dictate exactly who should have control over certain features in the communication ecosystem are particularly important for modern brands.
Going forward, companies will need to focus more heavily on everything from encryption for their messages and file transfers, to anti-virus solutions built into their sharing tools. A communication platform built with security in mind from the ground up will reduce a company's exposure to risks in terms of compliance and privacy threats.
Keeping Up with Communication Trends
Though it's difficult to know for certain what the communication landscape may look like, even just a few years from now, it's important to stay one step ahead of the curve. We can see from the trends above that communication in the business landscape is becoming more digitized. Companies are looking for greater flexibility and agility in how they connect and empower their customers.
An all-in-one environment for effective communication could be the best way for business leaders to enhance their team's productivity and performance. If you're looking for a secure, innovative and easy-to-use environment for your team, check out Brosix's features today.
Brosix can transform your team's collaboration strategy with end-to-end tools for secure communication, productivity, and task management.
You can try Brosix for free today, with absolutely no risk!
Request Demo