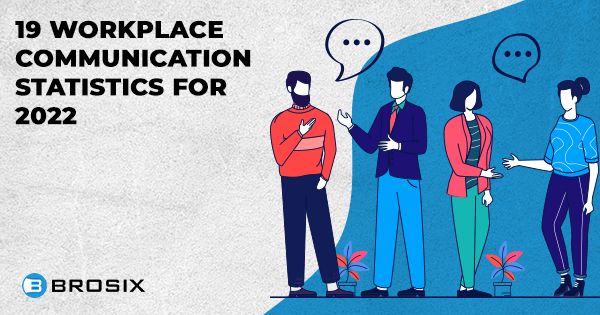 19 Workplace Communication Statistics for 2022
With our ever-changing modern work environment, employees worldwide need more effective communication processes – in small and large organizations alike. This is partly due to the new context of remote and cross-cultural work.
Truth be told, finely-tuned internal communication procedures are and have always been absolutely necessary for employee productivity.
These days, an increasing number of businesses have gained a deeper understanding of this. As a result, many companies are eager to improve their internal communication processes.
To see how much internal communication has improved in the workplace across the globe, let's take a look at the data. In this article, we'll mention a couple of statistics on communication in the workplace, applicable for 2022.
1.Statistics on poor communication in the workplace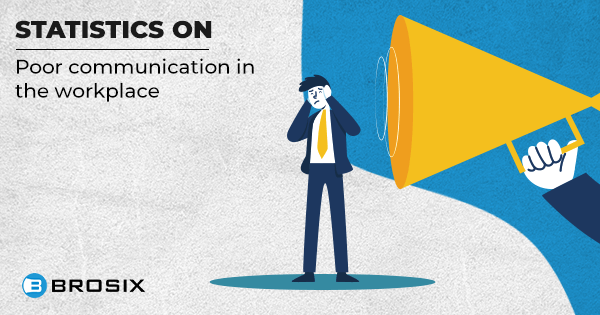 According to various communication stats, ineffective communication with employees costs managers and companies a great deal. There's a more figurative price to pay (like losing precious employees) and a literal one. We're referring to the actual monetary cost that companies have to pay for communicating ineffectively with their workers.
Poor communication leads to missed deadlines, wasted resources, and potential mistakes. Since every missed deadline could mean a lost client, you can do the math on how poor communication can affect a company.
Just think how many resources are wasted because of inefficient communication – time, tool subscriptions, you name it – it all adds up.
Let's see what statistics on communication have revealed on the matter.
 40% of employees worldwide believe there is a lack of collaboration and communication in their company;
33% of the entire workforce cite the lack of transparency in internal employee communications as a problem;
 28% of employees report poor communication as being the number one reason for not being able to meet deadlines;
33% of employees point to a lack of up-front communication as having the most negative impact on employee morale;
Only 13% of employees seem to agree that their organization's management communicates effectively with the rest of the company.
2.Statistics on effective communication and its importance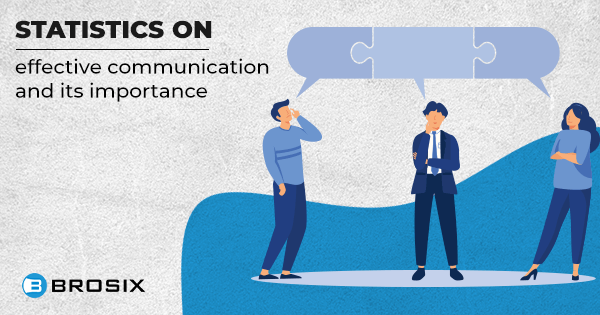 Improved work productivity is probably the number one benefit of effective communication in the workplace. Additionally, employee retention and trust-based relationships are added bonuses.
This is something all companies should keep in mind, given that, in the end, any organization's value is primarily due to its workers.
Effective communication benefits both employees and companies, enabling personal and organizational development and growth. As proof, here's the data:
96% of employees say that they'd like a more empathetic approach to communication in the workplace
97% of workers say communication impacts their task efficacy on a daily basis;
85% of employees report feeling more motivated when management offers regular updates on company news
Over 80% of Americans agree that employee communication is the number one factor that inspires trust between a company and its employees;
Businesses with effective internal communication processes are found to be 50% more likely to have lower employee turnover.
Nearly 70% of the workforce would be more productive with effective communication processes implemented at work.
When employees are offered better communication technology and skills, productivity can increase by up to 30%
Businesses using effective internal communication tools are 3.5 times more likely to have better results.
More informed employees have 77% higher work productivity than less informed workers.
3.Communication statistics in the context of remote working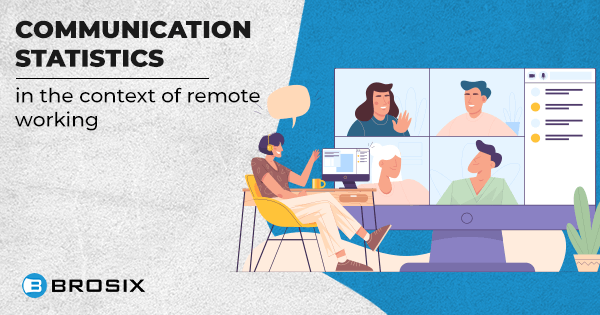 Working remotely was a benefit very few employees had the chance to experiment with before the pandemic.
However, despite how productive working remotely has now proven to be, it hasn't always been sunshine and rainbows, especially initially.
Prior to worldwide lockdowns, many organizations lacked effective communication tools and procedures – imperative for productive remote work. Thus, the pandemic and the first months of working remotely raised a lot of challenges for many employees. This was proven by numerous studies and stats on communication. Below you'll find examples to give a clearer picture:
41% of people mention internal communication as being the biggest change in their workflow since going remote;
65% of workers who received communication training during the pandemic report high-performance scores;
70% of remote employees reported that their companies usually prefer to use asynchronous communication;
During the pandemic, more than 90% of employees said that they wanted weekly communication from their company.
4.Statistics on the most used communication tools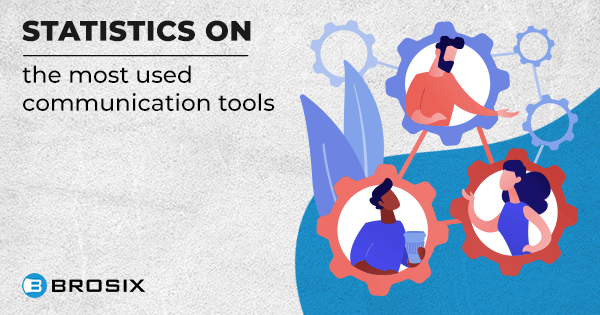 Now more than ever – given the remote work context – most organizations have tool-mediated conversations and communication processes.
While the classic technological tools for communication, like e-mail and messaging platforms are still used, there are a wealth of other options these days. A few examples are video calling apps and task management tools, to name a few.
As indicated by various communication statistics, there are a variety of apps that helped companies stay in touch with employees during the pandemic.
On the long list of communication tools available, data revealed three of them as most-used over recent years.
For keeping in touch with colleagues during the pandemic, 67% of employees reported using Zoom and email, followed closely by Slack.
Since qualitative analysis is just as important as quantitative research, here's what a few professionals had to say about their preferred communication tools.
"Brosix is one of my favorite communication tools for teams. The platform specializes in fully administrable and private team networks – providing an all-in-one collaboration package. Audio chat, video chat, file transfer, dedicated chat rooms, and screen sharing are all included, with a special focus placed on security and privacy." – Steve Schwab, CEO of Casago
"In today's hybrid work environment, Zoom application provides my team with an effective means of communication. Any meeting that requires collaboration from both of my remote and in-office teams is arranged on this platform." – Joshua Rich, CEO & Founder of Bullseye Locations
"Slack is a versatile business tool that can help connect your digital office. My favorite features of Slack are the reminder function, the organized email integration, and the thread personalization to how you work best." – Zach Goldstein, CEO & Founder of Public Rec
"Apps such as Slack or WhatsApp are excellent for less formal communication that help teams to keep in touch on a daily basis. Employees can get lost in a sea of emails, and so they are usually better reserved for more formal communications." – Gary Warner, Marketing Manager at Joloda Hydraroll
"We use Slack for our daily communication. It's a great tool for messaging and team calls since you can easily create new channels and include only the people you want to. If you're transparent with your team and have open communication, you'll be able to build stronger relationships with them, which in turn lowers the rate of employee turnover." – Adam Hempenstall, CEO and Founder of Better Proposals
"One tool that helps teams communicate effectively is Slack. Slack is a collaboration tool in which you can create different channels for different tasks with its members. This tool helps teams communicate faster and more efficiently." – Teo Vanyo CEO of Stealth Agents
5.Brosix improves workplace communication and efficiency: the stats
Did you know that 94% of Brosix customers gave positive feedback about the app? Or that it's a leader in its industry, being a top-performing communication tool?
Here's a peek at our client's experiences and opinions:
"I have had a very positive experience using Brosix. From functionality to customer service everything has been better than I could've asked for!" – Gregor B
"We frequently need to share info on the fly with other agents in the office to help them to assist a customer another agent is working with. Brosix allows us to discreetly send info in real-time, and it gives the customer the impression that the rep they're working with is always on the ball, even if the rep needed a little help." – Ben F.
"Brosix is overall a wonderful tool for our business! Quick communication with no techy headaches!" – Shelby T.
Conclusion
As the stated communication emphasized, finding that sweet spot for effective workplace communication is quite challenging for many companies. Even if many of them have indeed improved their internal communication processes over the years, there's still so much work that needs to be done. Willingness to try is also a key factor.
Hopefully, these communication stats will act as a wake-up call for companies, making them value the importance of effective communication in the workplace, and take constructive steps towards optimizing it.