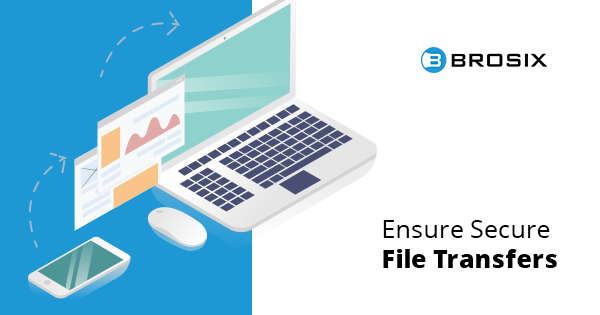 How to Ensure Secure File Transfers in 2020: Tips and Tools
Secure file transfers are more important than ever. As the world becomes increasingly data-dependent, sending and receiving files securely and efficiently is critical to business processes like enterprise security, team productivity, and even internal communication.
Unfortunately, businesses are often handicapped by lax or non-existent sharing protocols. Further still, subpar transfer methods restrict file sizes, cap the number of transfers, and slow the transmission of digital data. As a result, information security is often threatened while inefficient workflows slow teams down. Luckily, this is the digital age, so there's no shortage of solutions.
How to Ensure Secure File Transfers in 2020: Tips and Tools
Click To Tweet
Below, we'll explore the different methods of sending files, their pros and cons, some file-sharing best practices, and the best tools and software to ensure not only the rapid transmission of data and information, but their safekeeping. Read on!
What is File Sharing?

Today's devices store vast amounts of data. The data is usually enclosed under an identifying name and could include documents, media, or even entire software applications. It often needs to be moved from one location to the next.
File sharing is the movement of that data from one device to another, or a remote location, often via a cloud-based system. In many instances, the recipient receives the file directly, while in other scenarios any number of users with access to the cloud can then retrieve the file.
Types of File Sharing Services
Cloud File Sharing
With cloud-based file sharing, users upload files to a central storage repository. Like a hub for data, the cloud is usually hosted by a third-party provider. There, other users with access to the cloud can then retrieve the file. For purposes of security, users can specify privacy levels and types of permission to put on the files.
File Sharing through Email
Email clients also provide file-sharing services, enabling you to send data over the internet. You can quickly upload and attach files, provide an explanation of what's included, and keep a record of transferred files. It's a great way to quickly send smaller files to multiple recipients, What's more, many cloud-based programs allow you to share files through a link location that you can copy and paste into an email.
Removable Storage
What if you need to share large files or sensitive data, but there's no available network option? Acting as portable servers, storage devices like USB flash drives and external hard drives prompt users to manually copy data from one device to another. They enable the sharing of large files, eliminate cloud or network-based threats, and make the user accountable for the file transfer.
File Transfer Protocol (FTP)
One of the original file sharing methods, the File Transfer Protocol (FTP) is a set of rules that computers use to exchange files with one another over a network, such as the internet. If you're surfing the web, FTP allows you to download files from within the browser window. If you've got a website, FTP is what allows you to upload or download files from the website's server. Businesses, on the other hand, may use FTP to share files from one computer system to another.
Benefits of File Sharing
No surprises here. The ability to securely share files allows enterprises to carry out vital business processes like team collaboration, while also ensuring file recovery and storage immortality.
Ease of Use –Most file-sharing tools are super simple to use. Cloud systems, email clients, and removable storage devices all allow users to swiftly drag and drop files between their devices and the storage system.
Collaboration Anywhere – Cloud-based programs are especially convenient for remote teams because files can be uploaded and accessed from anywhere with an internet connection by anyone with access to the system. Files can often be shared publicly or privately, expanding their collaborative potential.
Secondary Storage – While removable devices are great for small file storage, the cloud has become a primary means of secondary storage for businesses.In most cases, files are stored on servers at a remote location, providing a crucial backup of important files and documents.
No Extra Hardware – Filesharing through cloud technology saves you from having to purchase costly extra hardware. You pay for the capacity and performance your business requires, while the provider shoulders the burden of keeping the tech and hardware
File Sharing Isn't without Fault
Before you settle on a file-sharing solution for your business, you should know that sharing documents and data isn't without inherent drawbacks and risks to security.
Email clients are infamous for their limited upload capacity. Removable storage devices are similarly restricted in their ability to store massive files. Worse, they're easy to misplace.
Then there are the issues with cloud-based sharing. For starters, it typically takes data outside your enterprise's IT environment where it could be mishandled by the cloud provider. But more likely – especially with multi-user platforms – is the chance that the information finds itself in the wrong hands due to user error or carelessness. And once data is shared publicly, it's hard to trace.
As these infamous breaches signify, data shared via the cloud isn't without significant internal and external security risks. If you're considering a cloud-based file sharing platform, make sure that you not only retain ownership of the data, but that the data can be easily transferred or converted into other systems. This isn't always the case.
What's more, many cloud storage services feature bandwidth allowances. If your enterprise surpasses this allocation or just needs to increase its data allowance, the extra costs can add up quickly. Simply put, the more space your business needs for its data, the more you'll pay.
Finally, there's FTP. Inherently, FTP is an unsecure method of sharing data. While the SFTP, or Secure Shell File Transfer Protocol, mitigates the risks of FTP by encrypting the transfer of data, it's highly complex and technically difficult to implement.
File Sharing vs Peer-to-Peer File Transfer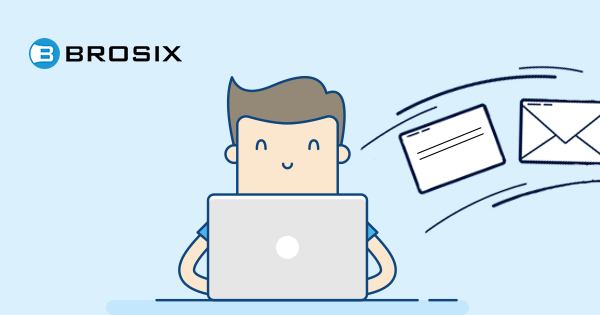 There's another method of securely transferring your documents and data from A to B – peer-to-peer (P2P) file transfer.
File transfer via P2P technology is quite simple. As opposed to sharing data via a client-server system, P2P file transfer is the process of sharing digital data from one device directly to another. For the file transfer to take place, both users either need to install P2P software, or be using software with a P2P function. As the speed of the file transfer depends only on the internet connection, it is one of the fastest available ways to transfer data.
A P2P File Transfer Solution Could Be Better for Your Business
When you hear P2P file transfers, the 90s mp3-swapping programs like Napster or today's torrent equivalents probably come to mind first. However, P2P file transfers serve a valuable business purpose, too.
The peer-to-peer transmission of files allows enterprises to transfer documents and data swiftly and unrestricted by size. More importantly, P2P technology enables you to bypass the vulnerabilities posed by file sharing via cloud databases, eliminating the middle man.
Factor in private networks and control capabilities offered by secure file transfer solutions and you've got one of the most effective ways to protect the transfer of company knowledge and information.
Increased Speed and Efficiency
With a stable internet connection, P2P technology can transfer even the largest files within seconds. Best yet, it's all done in real time. No uploading to or retrieving from the cloud. No email attachments that end up exceeding your provider's limits. Just drag, drop, and move on.
Unlimited File Size
One of the best aspects of P2P solutions is their increased or non-existent file size limits. By skipping intermediary servers and their bandwidth allowances, P2P file transfers allow you to send files without facing restrictions regarding data volume and total transfers. The only limitations you'll face are your device's storage capacity and internet bandwidth.
Safe and Secure
Transferring files on a closed business network utilizing P2P connectivity is one of the most secure ways to transfer files. Private team networks with strict authorization protocols ensure not only the right users join the platform, but that data remains confined there. End-to-end encryption and anti-virus and malware integration further wards off potential outside threats.
Taken together, these protocols safeguard file transfers internally and externally, practically guaranteeing network privacy and data security.
All-in-one Capabilities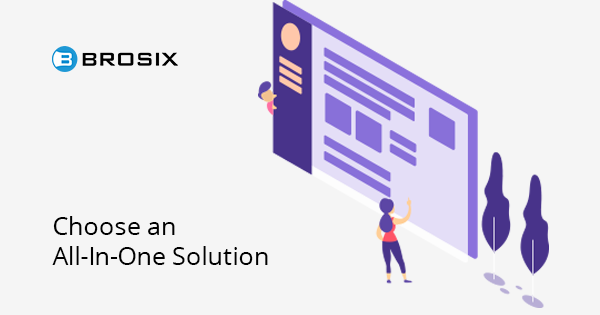 P2P file transfers via enterprise communication tools give you all-in-one capabilities unmatched by other file sharing methods. Brosix, for example, pairs file transfers with real-time messaging, team collaboration tools, and robust administrative control. It not only facilitates secure file transfers, but improves team communication and collaboration.
Best Practices to Mitigate the Risks of Sharing Data
Whether you're transferring files peer-to-peer or sharing them via the cloud, an email provider, or another host, there are steps you can take to enhance the security of transmitting data online.
Utilize a strong encryption protocol.End-to-end encryption on your file transfers protects you from external threats like hackers and man-in-the-middle attacks while also preventing the client from viewing your data.
Use the administrative controls at your disposal.Set user-level permissions or enable and disable features including file transfers. If you're sharing via the cloud, make sure you familiarize yourself with public and private sharing options.
Audit your file transfers.Keeping a record of user activity allows you to track the transfer of data and information. That way you're not only ensuring compliance with regulations mandating the archival of electronic communications, but also ensuring productivity.
Educate your team on data security.Your team plays a critical role in company security. Employees must know why it's vital for each and every document to remain in safe hands. You could employ the most advanced systems with impenetrable security, but if your team doesn't know why that's necessary – it's all for naught.
Top Options to Securely Share and Transfer Files in 2020
The ability to share documents, media, and large files any time from anywhere is crucial for businesses. It's equally vital that company data remain in safe hands. Here you'll find the best tools and software to securely transfer files, so you can ensure collaboration without compromising security.
Brosix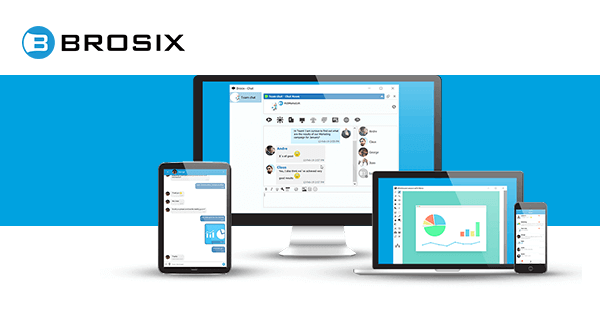 Available on: iOS, Android, macOS, Windows, Linux, Web

If you're after secure data transfers, look no further than Brosix.

An all-in-one instant messaging software for businesses, Brosix enables enterprise file transfers via secure P2P connections on a private team network.

With Brosix, you can transfer files to one or more contacts, whole groups, or within voice and video calls. Just drag and drop. No size limits. No cap on total file transfers. No cloud-based risk.

In addition to file transfers, a suite of real-time communication features and productivity tools helps your team collaborate more effectively. You'll get full chat capabilities, the ability to broadcast messages to a hand-selected audience, screen sharing with remote desktop control, a virtual whiteboard, and more. No more waiting idly for time-sensitive files and collaboration.

Granular-level enterprise control features and User Activity Logs help you manage and track productivity internally. End-to-end encryption with optional anti-virus and malware integration protects your file transfers from outside threats.

Brosix pricing: $4 user/month for unlimited size file transfers and collaboration; $6 user/month for total administrative control; private team network for 3 users for free

The verdict: Class-leading security, powerful control features, and lightning-fast P2P connectivity make Brosix one of the best ways to transfer files securely. The only limitations you'll face stem from your network bandwidth and storage capacity.
Resilio
Available on: iOS, Android, macOS, Windows, Linux
Resilio is a P2P file synchronization solution to transfer data securely between devices. Taking advantage of the BitTorrent protocol, Resilio is particularly good for transferring enterprise files and folders. You can sync whole folders, selectively sync files and sub-folders, or just send individual files. Two-step authentication, user-level accessing, editing and viewing permissions, and expiration dates secure your data transfers. Connect is Resilio's enterprise-level platform.
Resilio pricing:Sync Business for Teams from $6-12 user/month
The verdict: End-to-end encryption and selective syncing make Resilio a worthy option for secure data transfers. The absence of productivity tools means you'll have to look elsewhere for collaboration.
Box
Available on: iOS, Android, Windows, macOS, Web
Released all the way back in 2005, Box is one of the first cloud-based file sharing solutions. A hub for document collaboration, Box allows users to edit and review documents in real time, share files, assign tasks, and automate processes like content reviews, onboarding, and contract approvals. Placing strong emphasis on security, Box users or admins can password-protect shared links with expiration dates and view the times when content is viewed or edited.
Box Pricing:$5 user/month for 100GB storage and 10 users; $15 user/month for unlimited storage; $25 user/month for advanced admin control
The verdict: Despite limited multimedia sharing and file previewing capabilities, Box is great for syncing content between devices and streamlining document collaboration and workflows.
Dropbox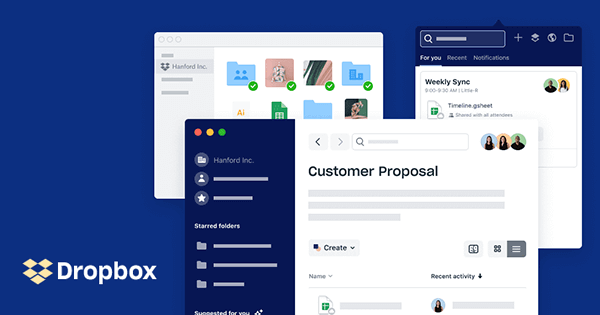 Available on: iOS, Android, Windows Phone, macOS, Windows, Linux, Web
Not to be confused with Box, Dropbox is one of the largest file-sharing platforms in the world. It facilitates quick document management and storage over the internet by allowing users to create folders, drag and drop files, and share content with anyone. Users can even drag and drop their entire PC or Mac into Dropbox. Dropbox files are always encrypted and sharing permissions allow you to tailor access privileges.
Pricing: Freemium with 2GB storage; $9.99 for 1 TB and a 30-day version history
The verdict: First and foremost a document management system, Dropbox lacks advanced collaboration tools. But with 500 million users, secure file sharing with a large user base is easy.
Google Drive
Available on: iOS, Android, macOS Windows, Linux, Web
Gmail users or small businesses that don't want to mess with local storage can share files for free  thanks to Google Drive. Teams can create, comment, and collaborate on content with Docs, Sheets, and Slides, view previous versions prior to editing, and access the files on any device. Best yet, storage is free for up to 15GB, but you'll need a Google account.
Google Drive pricing: Free for all features and 15GB storage; $1.99/month for 100 GB storage; $2.99/month for 200GB storage; $9.99/month 2 TB storage
The verdict: Google Drive's freemium collaboration and storage is a big bonus, so long as you and your recipients have Google accounts. Without that, you won't be sharing much.
Microsoft 365
Available on: iOS, Android, macOS, Windows, Web
Formerly Office 365, Microsoft 365 includes all your favorite Microsoft tools, plus a few newbies. Cloud-based file sharing and storage allows teams to create, collaborate on, and share documents using household names like Word, Excel, and PowerPoint. There's business-class email and real-time chat. Organizations can even set up a company intranet with SharePoint to manage company news and knowledge.
Microsoft 365 Pricing: $8 user/month for email and web access to Office apps; $12 user/month for Office apps; $20 user/month for Office Apps, security, and compliance
The verdict: 365's myriad business and enterprise plans provide file sharing and document management solutions to meet practically any security and compliance requirements. Just brace yourself when it comes time to decode the best plan for your company, and then implement it.
WeTransfer
Available on: Web
If you're looking for hassle-free, A-to-B file sharing, WeTransfer's got you covered. The browser-based service lets you send files to any email address. No account needed. Personalize file sharing with background images for emails and custom URLs. Sharing is capped at 2GB, but upgrading to Plus enables 20GB transfers, 100GB storage, and trackable download history.
WeTransfer pricing: Free; WeTransfer Plus $10/month
The verdict: It doesn't get any easier than WeTransfer. But, while WeTransfer is password protected and transfers are encrypted, there are no other security protocols, such as two-factor authentication.
Hightail
Available on: iOS, Android, macOS, Windows, Web
Hightail is a multimedia-driven file sharing solution. Send images, presentations, videos, PDFs, and large files with encryption. Then track delivery with instant recipient notifications, preview and stream files in the browser without downloading them, and collect feedback. Files are protected with access codes, expirations, and recipient identity verifications. Admin-level security safeguards projects, in the case you bring a client on board to keep them in the loop.
Hightail pricing: Freemium with 100MB file size limit, 7-day expiration, and limited storage and previews; Subscriptions from $12/month to $36 user/month
The verdict: With creative tools and task management, teams have everything they need to collaborate. But, Hightail's pricier than the competition and file sharing is capped at 500 GB.
ShareFile
Available on: iOS, Android Windows, Mac, Web.
ShareFile is a file sharing and storage service for small and medium-sized businesses. The cloud-based solution syncs between devices so you can access files from anywhere. Encryption at rest and in transit secures your data while two-factor authentication keeps the platform safe from intruders. Add an unlimited number of clients to the platform, each with a unique, secure login. Integration with Microsoft 365 makes it possible to co-edit and co-author documents.
ShareFile pricing: Free 30-day trial; Subscriptions from $16/month
The verdict: ShareFile is highly secure with advanced features like e-signatures, click trails, and watermarking. But it may be hard to justify the extra cost to existing Microsoft customers who already have One Drive and SharePoint.
How to Choose the Best File Transfer Option
Good collaboration tools are indispensable to your business. That includes the right solution to send and share files. But finding the best option for your business isn't a decision to be taken lightly. There are multiple factors to consider.
Security– Whether you choose a P2P file transfer software or a cloud-based file sharing platform, read up and ask questions. Research not only how the data is transferred or stored, but the host's security protocols and reputation.
Price– Take advantage of freemium plans or free trials. You'll also want to know if fees are monthly, annual, or on a user or company basis, not to mention added bandwidth costs.
Restrictions– Before selecting a tool, find out any limitations on file size or total transfers. Also, make sure you have the productivity tools or administrative control you need. A lack-thereof could handicap team performance.
Cross-platform functional– Syncing files usually entails transferring them between different parties in remote locations. As such, file sharing-platforms should function across a range of devices and operating systems.
How to Ensure Secure File Transfers in 2020: Tips and Tools
Click To Tweet
Finding a file sharing solution to protect your data isn't an obvious process. If you're still stuck, though, try Brosix. Combining powerful control features, class-leading security, and real-time collaboration tools, Brosix ensures secure file transfers and improves team communication.