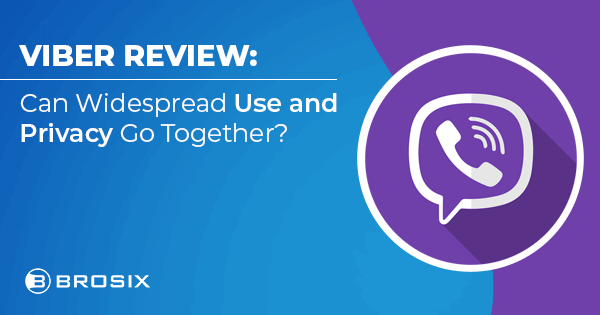 Viber Review: Can a Widespread Messaging App and Privacy Go Together?
We can safely say that Viber, WhatsApp, and Messenger are the most popular free instant messengers in the world.
Arguably, that's why they aren't considered too safe—private messenger apps are a niche market, often perceived as slightly harder to use or more limiting when it comes to features. Privacy has certainly been an issue for both WhatsApp and Messenger, as displayed in WhatsApp's new privacy policy controversy.
However, Viber seems to take security seriously, at least more seriously than many other mainstream messengers.
Does Viber deliver on this promise and can it be realistically compared to private instant messengers?
What Is Viber?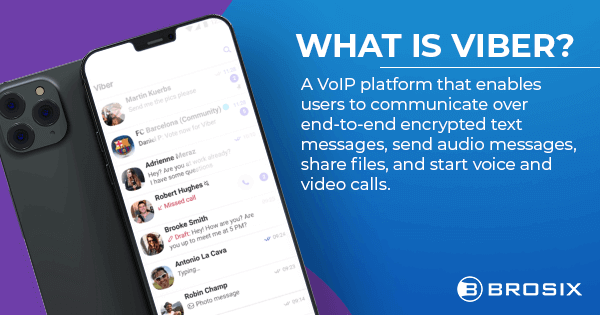 Viber messenger is a VoIP (Voice over Internet Protocol) platform that enables users to communicate over end-to-end encrypted text messages, send audio messages, share files, and start voice and video calls.
It was founded in 2010 by Talmon Marco and Igor Magazinnik to facilitate long-distance relationships. In fact, Marco himself was in a long-distance relationship at the time and finding communication with his girlfriend over state lines tiresome and expensive.
Initially, Viber didn't generate revenue for the first two years. This was changed by introducing the sticker store and charging users for Viber Out voice calling. Since then, Viber has also opened its platform for companies and advertisers.
In 2014, the company was acquired by the Japanese multinational company Rakuten, changing its name in 2017 to Rakuten Viber.
Viber has more than a billion unique IDs which makes it one of the most popular instant messengers in the world.
Installation and Setup: Pros and Cons
To set up Viber, you need to download it from your App Store/Google Play store, install it, and enter your phone number to receive a confirmation code. Upon entering the code, you'll be prompted to create a username and you're all set.
The first issue here is the very fact that Viber requires your phone number. If you're interested in secure instant messengers, you'll find that some options out there work without your phone number. One example of this is Threema.
The second issue is that your account becomes tied to your phone number. To switch devices, you need to deactivate your account, export your messages, and then import the data into your new device. You also can't use Viber on multiple devices at the same time.
During the installation, Viber will ask you to give the app access to your contact list so you can easily send Viber messages and call people from your Contacts that have the app installed. While a handy feature, this is also a potential safety red flag and something that more secure messengers don't allow or at least try to limit.
Furthermore, every time someone from your contacts installs Viber, you'll get a push notification by default, followed by a call-to-action recommending you to start a conversation with them.
Basic Features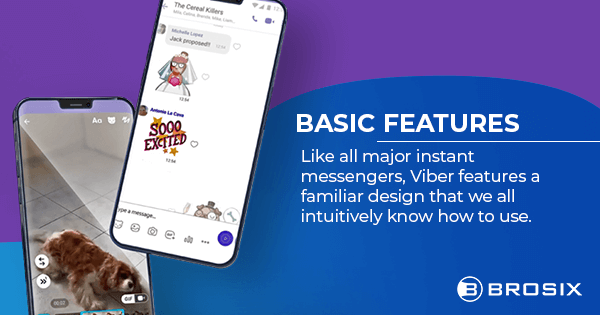 Like all major instant messengers, Viber features a familiar design that we all intuitively know how to use. Your home screen is made up of all your active chats and tapping on one of those opens the conversation.
You can also start a new chat by clicking on the purple "Compose" icon on the bottom right. Once you do, you'll see a list of all your contacts that are on Viber, along with options to create a group chat at the top of the screen.
On your home screen, you have the meatball (three horizontal dots) menu on the bottom right that allows you to access several settings and options. That's where you'll find the Sticker market—one of Viber's trademark features that allows you to download free and paid stickers or upload your own sticker packs.
The meatball menu is where you'll find your Settings: privacy, notifications, appearance and various other options can be changed here. For example, you can control whether Viber suggests you to people who might know you, hide your online status and control who can add you to groups.
In "Appearance", you can switch your theme between light and dark. You can also choose a custom chat background although you might find there aren't too many options to choose from.
Team Chat and Advanced Communication App Features
Viber chatting with multiple friends and colleagues is easy: you tap the "Compose" button and select "New Group or Community." Add your contacts to the group and you're done.
Group chats are quite similar to one-on-one conversations. You can react and reply to messages, send GIFs, upload files, and send voice or video messages. You can also tag other people to send them a push notification if they have the conversation muted.
Polls, on the other hand, are exclusive to team chats. With this feature, you can easily make group decisions by asking the entire chat a question and adding as many answer options as you'd like.
You can start group voice and video calls but only in groups of up to 60 members.
One thing that's missing from group chats is the disappearing messages feature. In a regular chat, there is a small clock icon at the bottom of your active chat, right below the text field. Tapping on this icon turns on disappearing messages and asks you how long you want the message to stay before getting deleted.
Viber also places a 200 MB limit when it comes to file sharing, both for one-on-one and group chats. While that's more than enough for conversations among friends, it can be too limiting for business conversations or any type of basic cooperation.
Check out some other apps that facilitate team work more efficiently in our organization apps overview.
Voice and Video Calling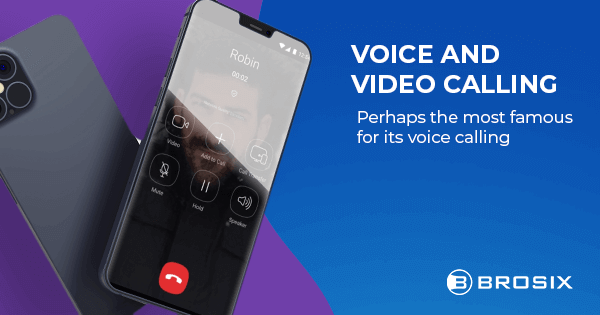 The Viber app is perhaps the most famous for its voice calling or Voice over Internet Protocol features. It offers reliable, stable voice calls via the Internet, wherever you're calling from and to.
In 2014, Viber introduced video calls, allowing individuals and groups to connect in even more engaging ways.
The call quality—especially when it comes to video calls—is surprisingly good, given the fact that everything happens through two smartphones and a regular Internet connection. You'll hardly experience interruptions and voice distortion, while a complete disconnection is very rare and happens only when there is a poor internet signal.
Another impressive feature is how easily you can transfer a call from your smartphone to your desktop app. The app even surpasses notifications so you don't get distracted during calls.
Overall, Viber is one of the best options for VoIP calls using your smartphone. If you want to use the Viber Out option and call mobiles and landlines that don't even have Viber installed, you can pay for this service. In that case, you can check out Viber's call rates here.
User Reviews
At the moment of writing, Viber for Android holds a 4.4 rating on the Google Play Store and Viber for iPhone holds a 4.6 rating on the App Store.
The app is often praised for the reliability and stability of its voice chat, especially compared to WhatsApp and other similar services. Disappearing messages are also mentioned as a neat feature that many people are finding useful.
On the other hand, the brunt of the criticism is pointed toward file sharing, especially image uploads and downloads. Another frequently mentioned issue is the lack of push notifications, especially for group chats. Some users are complaining about not getting notifications from their chats until they open the app or get mentioned.
Safety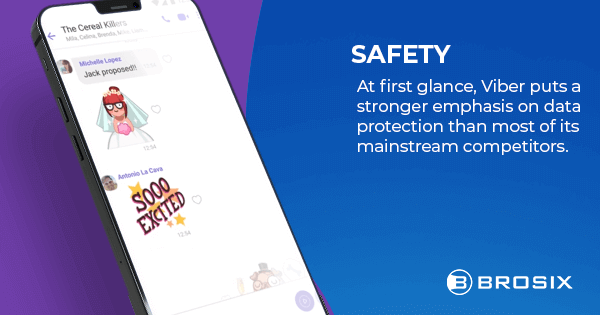 At first glance, Viber puts a stronger emphasis on data protection than most of its mainstream competitors. After all, it has end-to-end encryption and hidden messages.
But, while you can take some actions to make Viber safer (like switching off automatic recommendations to contacts), there are still some questions about where and how your data is stored.
Viber is a proprietary app and all the data is stored on their servers—that includes the phone numbers from your address book. Its source code also isn't open for the public, which is a hallmark of safe instant messengers like Signal.
Additionally, Viber is open for advertisers, so you'll often receive messages from brands and businesses to whom you've once given your phone number without even remembering it.
In short, Viber is probably more concerned about your data than Messenger or Instagram but it's still behind messengers like Signal, Threema, Telegram, and other niche encrypted chat apps.
Here's another safe Viber alternative:
Brosix: Safer and Packed With Security Features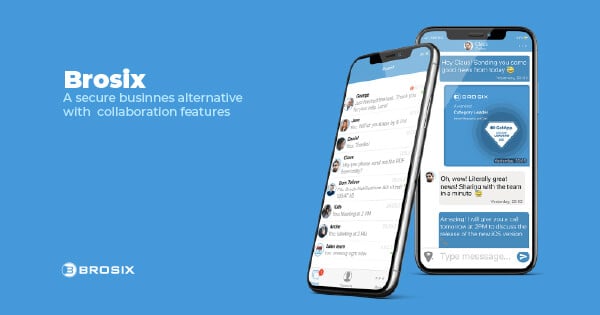 An area where Viber particularly fails to impress is safety through admin control. If you're using the app for professional conversations with colleagues, Viber's security protocols just won't be enough. As an admin, you have few options to protect the data shared.
At Brosix, we set out to address these issues and create an app that empowers safe and feature-packed communication. High security is Brosix's top priority.
Keeping things safe and streamlined
With Brosix, you have complete control over everything: you can set user privileges, manage user contact lists, and control features. In short, you can ensure that all of your communication happens through secure channels. Every message is also end-to-end encrypted by default.
All of this happens through the Web Control Panel where you can manage your entire network.
More than that, Brosix offers you lots of advanced communication options like screen sharing with remote desktop control which allows the person you're sharing your screen with to control your desktop. This is perfect for training or solving IT issues.
Brosix also places no limit on your file-sharing or chat history—you can send all your files and access all your messages at any time!
Final Word: Viber Review 2023
Viber is, undoubtedly, one of the most popular apps for communication in the world. It allows for easy communication with anyone from everywhere in the world, be it via message, voice message, or long-distance video calls.
But, while marketed as a safer alternative to WhatsApp and other big messengers, Viber falls a little short of these expectations, especially in the group chat department. It allows for little control and reassurance other than end-to-end encryption.
If you're looking for a safer messenger that will allow you to share sensitive data with your friends or colleagues, you might want to check out Brosix. It's even more focused on data safety while providing a more well-rounded chatting experience, along with several useful features.
Frequently asked questions about Viber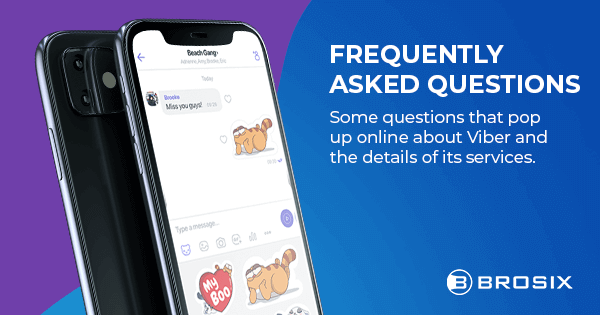 Now, here are some questions that pop up online about Viber and the details of its services.
Does Viber have free video calls and messages by default?
Yes, in most cases, your video and voice calls, as well as messages on Viber will be free. That is if both you and the person you're calling have an internet connection and Viber installed. If that's not the case, you'll have to go for the Viber Out option, which is a paid service.
How do you back up your Viber chat?
If you want to switch to a different device but keep your message history, you'll need to back up your chat. First, you need to connect with your Google Drive or iCloud.
To do this on Android:
Open the Viber app
Tap "More" and go to "Settings"
Tap "Account" and select Viber Backup
You'll see the "Not connected to Google Drive" section. Tap on "settings" here.
Select a Google Drive account you want to back up to.
On iOS:
Open "Settings" on your device
Tap on your Apple ID
Tap on the iCloud and toggle Viber on.
After all this, you'll be able to back up your chat by going to Account settings and tapping "Viber Backup."
Is Viber secure?
Viber can be considered more secure than your standard messenger that doesn't use end-to-end encryption. On the other hand, it can't be realistically compared to secure instant messengers that go to great lengths to improve privacy.
How can I make a call on Viber?
To make a call on Viber, simply open the app and tap on the contact you want to call. Then, tap on the phone icon to initiate the call. You can make both audio and video calls using Viber.
Can I use Viber for international calls?
Yes. You can use Viber to make international calls. However, please note that calling abroad may incur data charges if you are not connected to Wi-Fi. It is always recommended to use Viber while connected to a Wi-Fi network to avoid any additional charges.
Can I send text messages on Viber?
Yes. You can send text messages on Viber. Simply open the app and select the contact you want to message. From there, you can type and send a text message.
Is Viber a free app?
Yes. Viber is a free app. You can download it from the app store of your respective device and use it to communicate with other Viber users for free. However, please note that data charges may apply if you are not connected to Wi-Fi.
What are the features of Viber?
Viber offers several features, including free calls, audio and video calling, instant messages, group messages, the ability to send photos and videos, and the option to make international calls. The app also supports group calling and offers a wide range of stickers and emojis to enhance your messaging experience.
Is Viber easy to use?
Yes. Viber is very easy to use. Once you download the app and create a Viber account, you can start messaging and calling your contacts right away. The user interface is intuitive and friendly, making it easy for anyone to navigate and use the app.
What is the best thing about Viber?
The best thing about Viber is that the app allows you to stay connected with your friends and family anywhere in the world for free. You can make calls, send messages, and share media with ease. It also offers high-quality audio and video calling experience.
Are Viber calls and video calls of good quality?
Yes. Viber calls and video calls are of good quality. The app uses advanced technology to ensure clear and stable connections, allowing you to have conversations without any interruptions or distortions.
Can I use Viber without an internet connection?
No. Viber cannot be used without an internet connection.