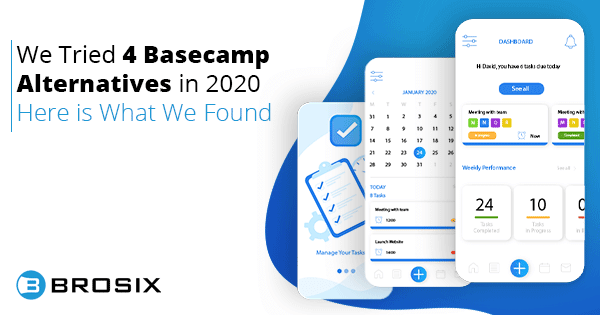 Brosix: We Tried 5 Basecamp Alternatives in 2021 – Here is What We Found
If you don't use at least one collaboration tool in 2021, we're willing to bet your team has already suggested that you should get one. Running a team without these tools is much harder, especially if that team is working remotely.
Companies around the world use these tools to efficiently communicate within their team, but some of them can be used for much more – training, project management, file sharing, you name it.
In the past decade, Basecamp has positioned itself as one of the most successful such tools, going toe-to-toe with Slack as the go-to name in the industry. However, its pricing model and features likely won't work for all businesses, so you might find yourself searching for alternatives to Basecamp to better organize your team at a lower price.
If so, you've come to the right place! In this article, we'll be going over the best Basecamp alternatives in 2021 and their key features.
The challenges of remote team collaboration
First, let's go over some of the challenges that come with remote collaboration.
Communication gaps. Direct, face-to-face communication is much easier than communicating online. It's quicker, you have body language and verbal cues, and it's not subject to technical difficulties. To bridge this gap, your team needs a tool that allows easy communication with no distraction. If possible, your collaboration tool should have video or voice calling as well.
Productivity tracking. Although research shows that remote working doesn't affect productivity for certain workers, some people tend to be less productive when working from home. They benefit from a structured, in-office environment where their attention is more focused. That's why it can be useful to have a time-tracking feature to go along with your project management tool, so you can keep track of your team's productivity when you can't physically see them.
Different time zones. If your team is spread across the country, or even global, the time zone differences could affect its productivity. Having some sort of a sheet or schedule where team members can see each others' online times can be of great help.
Team spirit and cohesion. When you can have meetings and draw stuff on whiteboards, the team is more cohesive and the project seems crystal clear to everybody. You can also have team lunches and coffees, where teammates often discuss work. Again, this is where video calls come in handy, as you can have a more personal, bonding experience if needed.
Reasons to consider Basecamp alternatives
Basecamp is a popular tool that works well for many companies, but it might not be perfect for your business.
Here are some reasons why.
Pricing. Not only does Basecamp verge on expensive, but its pricing plan isn't flexible at all. You're stuck with paying the $99 per month price tag, which could be great if you run a large team. If you have between 10 and 20 people, you'll end up overpaying.
No task managing options. If you work on comprehensive projects that take a lot of time and manpower to complete, you may find Basecamp's project management options too limiting. You can't have estimates, time management, or any other advanced options you might need.
Clunky interface. Because of its horizontal layout, Basecamp can be confusing at times. You might need a tool that provides a more intuitive, streamlined experience. That way, your team members can get up to speed in a few moments and start collaborating, without losing track of their projects.
Instant messaging. The chat feature on Basecamp isn't meant to be used often, which can be a problem if your team members need a way to quickly get in touch with each other. For such a hefty price tag, it doesn't make too much sense to invest in another group chat tool to combine with Basecamp. That's why you might want to consider a tool that makes team communication easier and has more advanced instant messaging features.
The best Basecamp alternatives
Here are the best Basecamp alternatives you can get right now.
To come to the final decision, we used all of these tools for a certain period, taking notes about their features and the overall experience. Here are the criteria we paid attention to:
Key features
Ease of use
Data safety
Interface and user experience
Collaboration features: file upload, comments, chat room, etc.
Pricing
Other
So, let's get to the best Basecamp alternatives and see what could make them a better choice for your business!
Brosix vs Basecamp
A real-time collaboration tool that fits businesses of all shapes and sizes, Brosix helps you bring your team closer through a set of powerful features that highlight security and ease of use. It's trusted by thousands of companies, including names like Harvard University, Audible, Xerox, and many more.
Brosix emphasizes communication – it offers great IM features, effective communications channels, and top-notch security protocols that can help you safely store company data. If you don't like making compromises when it comes to data safety, Brosix might be the perfect choice for you.
What makes Brosix better than Basecamp?
Right off the bat, you'll notice that Brosix is created to enhance team communication.
One of its key features are chats and chat rooms, and if you need to communicate something more complicated, you can use crystal clear voice or video calls. The interface is also highly intuitive, cutting down on the things that might distract you and focusing on those you'll find essential.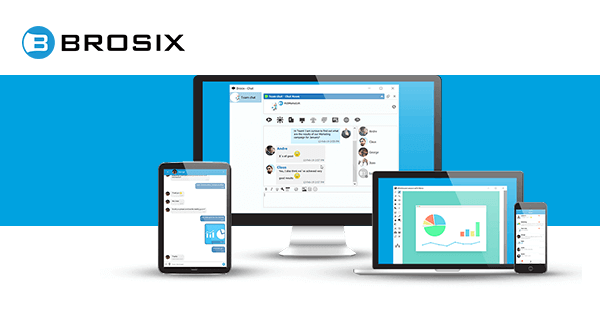 On the other hand, this focus on communication means that Brosix doesn't have the task-tracking and project management features that you get with Basecamp. This is a conscious decision, as Brosix is marketed more like an instant messenger, while Basecamp is more of a project management tool.
When we get deeper into Brosix's IM features, we can see the incredible attention to detail. For example, while Basecamp (and Slack, for that matter) limit your file upload size, Brosix has no limit. Brosix also gives you the option to search your message history by date, which can be convenient if you don't remember the details of the conversation.
It's details like these that can improve your teamwork and make it much easier to collaborate.
Brosix pricing
Brosix currently comes in three pricing plans: Startup (free), Business ($4.00 per user, per month), and Premium ($6.00 per user, per month). So, unlike Basecamp, Brosix is very scalable – the price you pay will always depend on the size of your team.
Brosix vs Basecamp – conclusion
If you care more about team communication than project management, Brosix is a much better solution than Basecamp. The latter offers very little advanced IM features, while Brosix goes to great lengths to make the communication experience as seamless as possible.
Book a free tour of Brosix and discover what makes it so efficient!
Request Demo
Basecamp vs Slack
One of the most famous names among the team collaboration tools, Slack started as an internal collaboration tool for a company called Tiny Speck.
In 2013, the tool was launched for the public. Since then, Slack has gotten to as many as 10 million daily active users – a growth that's most certainly been accelerated by the increased need for remote work in 2020.
Slack is lauded for its simple, yet intuitive design and various integration options. Although they share a lot of similar features, the key difference between Basecamp and Slack is the same as between Basecamp and Brosix – one is better for project management, the other is better for team communication.
What makes Slack better than Basecamp?
You can tell by Slack's vertical interface that it's intended for communication – on the left, you have your channels, on the right you have actual chats and their contents. Once you get used to the way Slack organizes its elements, the app becomes natural and easy to use.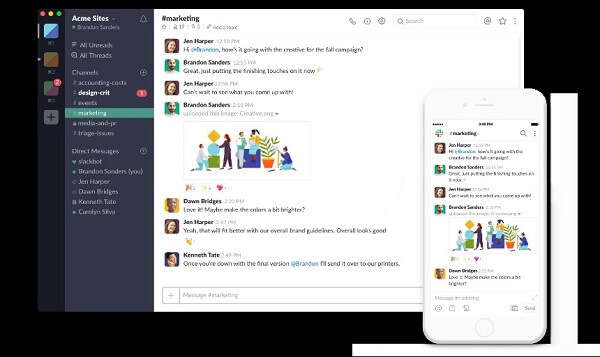 Source: slack.com
On the other hand, Basecamp has a different, horizontal interface that some might find confusing. At times, it can be hard to navigate around the app to get what you need.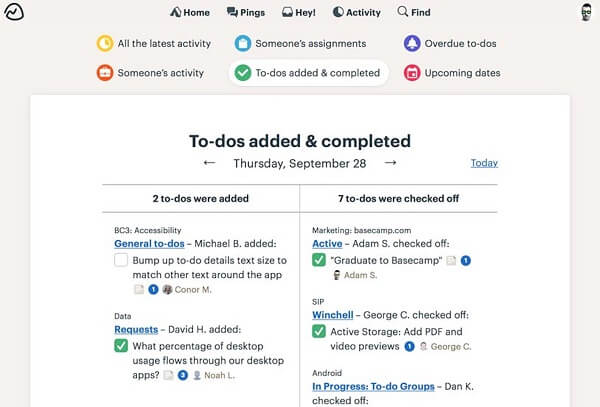 Source: basecamp.com
However, Slack starts to shine when we get to integrations. Their website lists over 2.200 apps available in the App Directory, so you can easily integrate with the most important apps like Google Drive, Outlook, and Salesforce. This allows you to, for example, share files from Google Drive and give people editing permission without ever leaving Slack.
Slack pricing
Like Brosix, Slack also offers a free version as its most basic plan. Other plans include Standard ($6.67 per user, per month), Plus ($12.50 per user, per month), and Enterprise Grid, for which you need to contact Slack's sales team to get a price estimate.
Basecamp vs Slack – conclusion
Because it's easy to use and more suited to team communication, Slack could be the better choice for your business. However, things like limited search history and file upload limits might make it a weaker option than Brosix.
Basecamp vs Teamwork
It's hard to make a list of alternatives to Basecamp without mentioning Teamwork, especially since the two tools are so similar.
Like with Basecamp, you can track project progress, chat with colleagues, and assign tasks. Because of its slightly more advanced features and complex user interface, you could make an argument that Teamwork is essentially the enterprise version of Basecamp.
What makes Teamwork better than Basecamp?
The first thing you'll notice when comparing these tools is that Teamwork has far more advanced features. You can collaborate on documents with the feature called Spaces and you even get access to a CRM tool.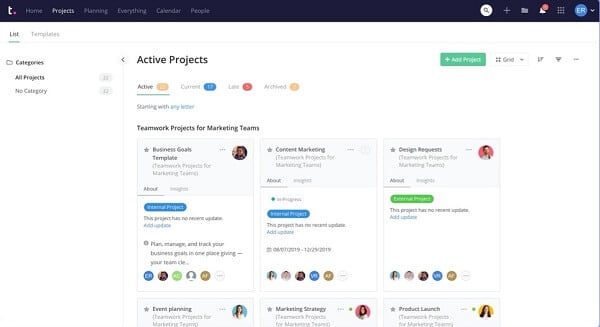 Source: teamwork.com
Possibly the biggest advantage when it comes to features is Teamwork's time tracking option. This can be useful if you're interested in closely monitoring your team and its expenses, as you can see exactly how much time each employee spent on each project.
Teamwork also has a Developer API center filled with resources like code samples, tutorials, and FAQs, which provides a great user experience and gives it a slight advantage over Basecamp.
Teamwork pricing
Teamwork has a pricing plan quite similar to Slack: you have a free option, the Pro plan ($10 per user, per month), Premium ($18 per user, per month), and the Enterprise plan that requires you to contact the sales team for a tailored offer.
Basecamp vs Teamwork – conclusion
If you're looking for a more advanced solution with additional features like time tracking and CRM, Teamwork might be a better choice for you. Just keep in mind that some of the integrations Teamwork offers only come with the more expensive plans.
Smartsheet vs Basecamp
Our final entry is Smartsheet – a cloud-based project management platform that also has some office productivity features.
Released in 2006, the tool has since undergone some changes, improved its user experience, and added several features that make it a highly competitive option on this list.
Let's see how it compares to Basecamp.
What makes Smartsheet better than Basecamp?
While both of these tools are intended for project management, it's clear that Smartsheet is more convenient for complex projects that involve multiple teams, resource tracking, and cost management.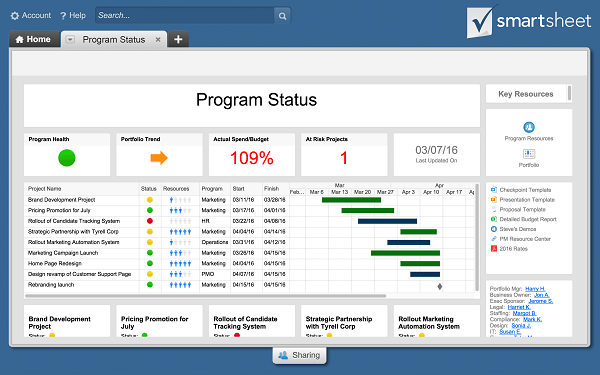 Source: smartsheet.com
For example, developer teams that include coders, UX designers, and Project Managers will find that Basecamp is little more than a "to-do" list. With Smartsheet, a Project Manager can see each person's workload and availability for other projects, track time, set priorities, and collaborate on files.
You can also set milestones for each project and execute a set of accounting options like cost estimating and budget setting.
Smartsheet pricing
The Standard plans are divided into two: Individual ($14 per month) and Business ($25 per month). You also have two Enterprise plans called Enterprise and Premier, both of which require you to contact Smartsheet for more info.
Smartsheet vs Basecamp – conclusion
If you're working on complicated projects that include several teams, checkpoints, and budgeting, Smartsheet is a better option than Basecamp. Compared to Smartsheet, Basecamp looks like it lacks much of the features needed to handle advanced projects.
Basecamp vs ClickUp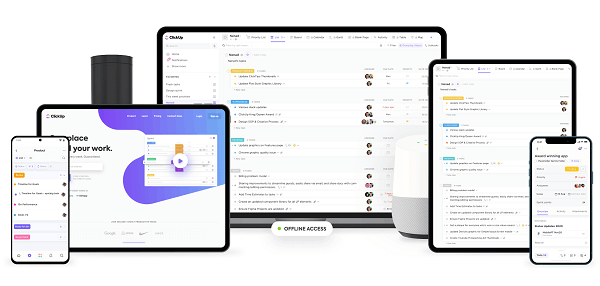 ClickUp is an all-in-one project management tool that offers various advanced features to help small to large teams get tasks done and collaborate efficiently.
Many turn to ClickUp to streamline their workflow, boost productivity, and improve team collaboration—all in one place. Its task management capabilities and user-friendly interface make it easy for any team across industries to manage their workflow.
Choose ClickUp if you're looking for an affordable and comprehensive project management tool that offers customizable features, quality customer support, and top-notch data safety.
What makes ClickUp better than Basecamp?
The features in ClickUp promote transparency, increase visibility, and foster alignment among teams.
Unlike Basecamp, ClickUp allows teams to customize their entire workflow. Set Custom Statuses, Custom Fields, and choose from multiple view options to view tasks in the view that best fits their project needs.
As for collaboration, ClickUp offers a built-in Chat view for instant messaging, collaborative editing in Docs, an option to add multiple assignees in tasks, create Teams, and more. Resolve issues faster by using the comment feature—easily chat within a task and assign comments to a particular team member for seamless collaboration.
Did we mention you can also integrate ClickUp to 1000+ other work tools? Connect ClickUp to your most-used apps and streamline your team's workflow.
ClickUp pricing
ClickUp offers a feature-rich Free Forever Plan (yes, it's free). Other plans include Unlimited ($5 per user, per month), Business ($9 per user, per month), Business Plus ($19 per user, per month), and Enterprise (contact Sales for pricing).
Basecamp vs ClickUp – conclusion
ClickUp is easy to use and offers tons of powerful features for a fraction of Basecamp's price.
Not only do you get access to advanced and customizable features to improve team collaboration, but you also get 24/7 customer support for when you need help.
Summary: the best Basecamp alternatives
All of these alternatives have their advantages over Basecamp that might make them more suitable for your business.
If you're looking for a tool that streamlines team communication with the least noise, you should consider Brosix. It packs everything you need for efficient collaboration while cutting down on the unnecessary features and gimmicks that slow the process down. Video and voice calls also give it an edge that outperforms many similar platforms.
You can sign up for a demo easily and try all these features yourself.
Request Demo
Smartsheet, on the other hand, might be the best option if you work on big projects with large teams.