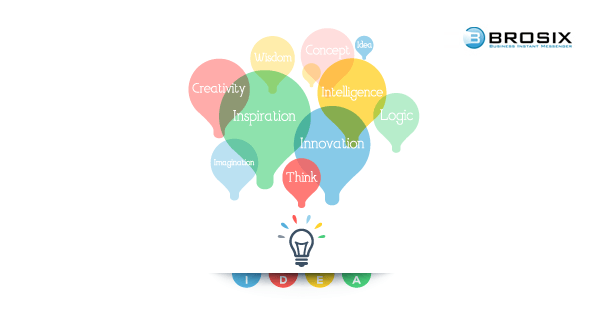 Brainstorming Via Brosix Instant Messenger
January 4, 2017 Instant Messaging


Many companies may hold brainstorming meetings in their offices to come up with new concepts and ideas about a new client or project
On some occasions brainstorming – these types of creative idea sessions may be successful, but in many cases, they may lead to distractions and not a lot of new concepts to explore.
To help employees stay productive and to make brainstorming sessions an effective part of their work day, it may be useful to use Brosix Instant Messenger instead of in-person meetings, phone call and other ways of meeting face to face. The Whiteboard, Text Chat, and Video Chat features of Brosix Instant Messenger are all great alternatives to in-person meetings. This is especially true because employees can continue to work on other projects or answer emails or phone calls while still remaining connected with other co-workers or colleagues via the Brosix features.
In person, many employees can become distracted
because they have to leave their desk, taking them out of the workflow and productivity mentality.
Allowing for brainstorming sessions to be held via Brosix Instant chat for business can eliminate this threat while also ensuring that they can still contribute to the conversation and continue to help grow the project, idea, or concepts that are being discussed daily, monthly.
Holding "virtual brainstorming" sessions can also allow virtual or telecommuting employees to join in
This may be a great benefit, especially since they most likely wouldn't have been in the office otherwise, if it was an in-person meeting.
Brosix is a collaboration application that keeps teams productive all the time. It is appropriate for remote members and office work. Brosix features allow users to interact in the best way, depending on responsibilities and duties. Brosix is free for personal use and at extremely affordable price for business users. The messenger offers 30 day free trial of business edition.