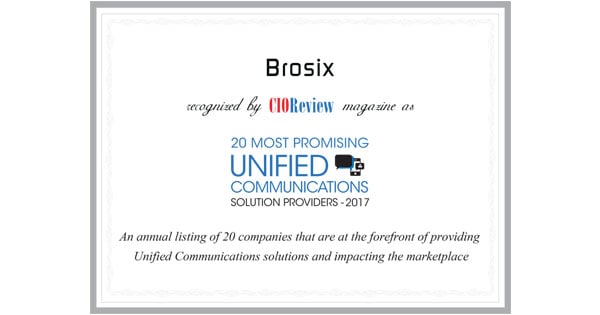 CIOReview Recognizes Brosix
In a market crowded with a variety of solutions, it can be difficult to gain recognition from the top players in the industry.
Fortunately, Brosix is able to continually show the world why it's instant messaging platform is among the best of the best.
Most recently, CIOReview recognized Brosix as one of the "20 Most Promising Unified Communications Solution Providers of 2017."
Here is what CIOReview had to say about Brosix:
"Offers a security-first UC platform for companies of all sizes and individuals."
Brosix finds itself in good company, with others on the list including but not limited to:
Avaya
Digital Speech Systems
NetScout
Plantronics
NEC Corporation of America
Experts agree that security is extremely important in the Unified Communications space, which is why Brosix continues to receive positive attention from outlets spanning the globe.
In addition to recognizing Brosix as a promising unified communications solution provider, CIOReview also published a feature story on the company.