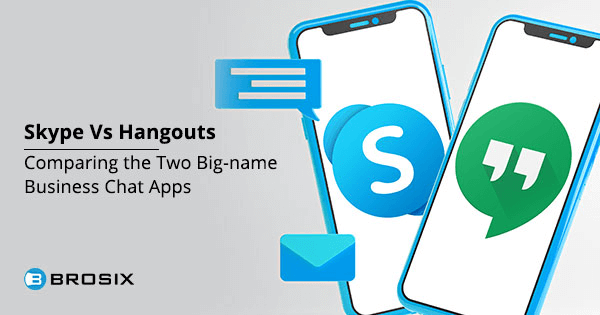 Skype Vs Hangouts: Comparing the Two Big-name Business Chat Apps
Microsoft and Google have been competing in the business sector for quite some time. From email apps to calendars and data storage – each company has an app for all these things and their business suites are similar in many ways. Perhaps the most obvious competition is in the communications sector, between Skype and Hangouts.
It's hard to talk about business chat apps without mentioning these two apps: Microsoft and Google have invested a lot of resources into making them competitive in 2020. But, how do they compare to each other? And, more importantly, where do they stand in today's market?
A good business messenger should be simple, safe, and easy to use. Let's see which of these tools delivers on these promises and justifies the big-name background they both so proudly wear.
About Skype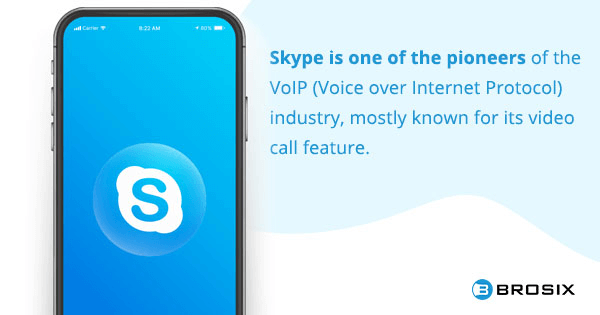 Skype is one of the pioneers of the VoIP (Voice over Internet Protocol) industry, mostly known for its video call feature. It was founded in 2003, and it originally featured a peer-to-peer communication system.
Skype was first acquired by eBay in 2005 for $2.6 billion but it was later purchased by Microsoft in 2011 for $8.5 billion. Through 2016 and 2017, Microsoft transitioned Skype from peer-to-peer to a centralized Azure service and changed its design. In the process, Skype was redesigned to look more like a business chat – the chat features became more expressed than video and audio calls.
Most of Skype's development team is located in Estonia, but its headquarters are in Luxembourg.
About Google Hangouts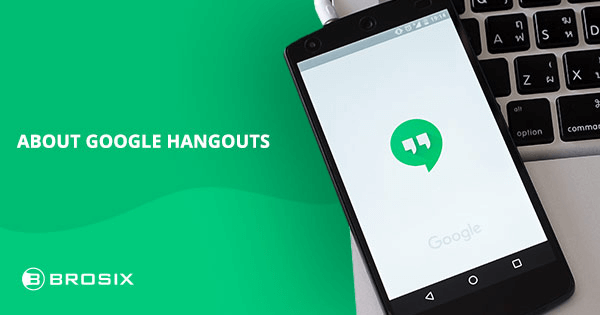 Hangouts was developed as a part of a larger set of messaging services for Google, including Google Talk (a business-oriented app) and Google+ Messenger. Hangouts was initially a feature of Google+.
However, as these apps weren't integrated or a part of the same suite, Google decided to shut down Google Talk and invent a new chat solution. It was initially meant to be named Babel, but it was released as Hangouts in May 2013, with features that we've all become familiar with ever since: text chat and voice and video calling.
Hangouts has had a turbulent journey, with Google hinting that it will possibly be succeeded by a new solution almost every year. Finally, in 2019, Google announced that G Suite users will no longer have Hangouts but "Meet" and "Chat" apps. As a reaction to the 2020 global pandemic, Google Meet became available for all users, and Google Chat is expected to replace Hangouts in 2021.
How did we compare these two apps?
Skype Vs Hangouts: interface and user experience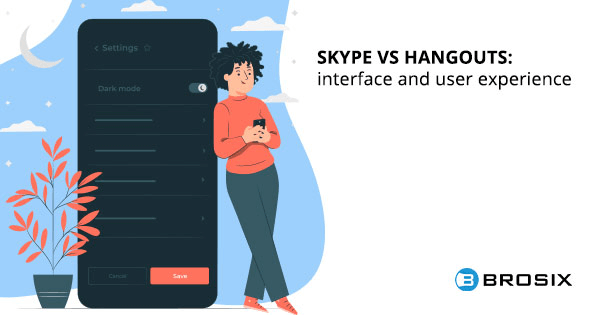 The first difference between Skype and Hangouts when it comes to user experience is the fact that Hangouts is browser-based and Skype is available both as a web and desktop app. It also used to offer the Skype click-to-call browser extension, which has since been discontinued.
So, right off the bat, Hangouts has a knock against it, as browser-based apps are often less stable than desktop ones.
As for the design, Skype features the classic messenger design. They didn't try to reinvent the wheel or confuse us with a different distribution of elements, flashy colors, and weird button placements. You get a minimalistic design that's highly intuitive and you feel like you already know exactly where everything is.
Skype also offers some useful little things like unsending, editing, and forwarding messages to different contacts. All of this can make business communication easier and quicker.
Hangouts is definitely prettier at the beginning – it has a cool background photo and two large buttons to start a call or chat. However, as soon as you start having conversations, the background photo is lost and you're left with large chat windows that look like something you've never seen before. A cross between Facebook's Messenger and Skype – large, narrow windows that line up next to each other.
Some companies use Hangouts as an addition to Gmail: when you're in your Gmail inbox, you can chat with colleagues via Hangouts. These windows are smaller and look better but they still have the same problem of stacking side-by-side, which can be hard to navigate if you have multiple conversations active.
In our opinion, Skype is easier to use and more intuitive. It features a design similar to apps like Slack, where your contacts are on the left and your chat window takes up most of the screen, which is easier to navigate.
Skype Vs Hangouts: video calling
Video calls are an important feature in both Skype and Hangouts. Since Skype is known as a pioneer of video calling, you might be inclined to believe that Skype is the clear winner here. However, it might be a closer call than you think!
The call quality on both platforms is excellent if your Internet connection is stable. You might run into some issues on both apps from time to time – video and audio lag, audio cracks, etc. You can share your screen, record calls, and play around with filters or backgrounds to make things more interesting. When we start getting a little deeper, the differences become more obvious.
For example, Skype allows you to have up to 50 participants in a call, while Hangouts' limit is 25. You can also easily test your gear before the call, by going to Settings – Audio and Video. Here, you can see how your video frame looks and how loud your microphone is.
On the other hand, Hangouts calls are harder to miss, as they will get in front of anything you're doing on your PC and won't stop ringing until you answer.
To summarize, Skype has more advanced features for video calling but both apps do the job just fine.
Skype Vs Hangouts: business features
If you want to take your collaboration to the next level, you might be interested in some more advanced features. Unfortunately, these platforms offer very few such features.
With Hangouts, you can install Hangouts Dialer, which is an additional app that allows you to call phone numbers, including landlines. This can be useful when running a business, as you don't have to exit the app to make calls outside of Hangouts. However, you can also do this with Google Voice, which could be shutting down integration with Hangouts, so all of this might not even matter in a few months.
Skype offers you the Skype for Business plan, which provides additional enterprise+level features like conference calling for up to 250 participants. Much like Hangouts, Skype for Business is also being shut down. Microsoft Teams, the team collaboration app for Microsoft, is about to replace it.
So, if you're interested in enterprise-level features, neither app will do. You'll have to look further into the G Suite or Microsoft365 for business to get what you need.
Skype Vs Hangouts: file sharing
File sharing options on Hangouts are limited: you can only share images. This shows us the nature of Hangouts: it's meant for instant communication that complements Gmail and works for quick chats with coworkers. If you want to share other files, you can use Google Drive or collaborate on Docs.
Skype enables you to send all types of files, with a 300 MB file size limit. Although it's definitely the winner in this category, Skype doesn't make file sharing easy and it can sometimes abort the upload process, making you start it all over again.
Skype Vs Hangouts: safety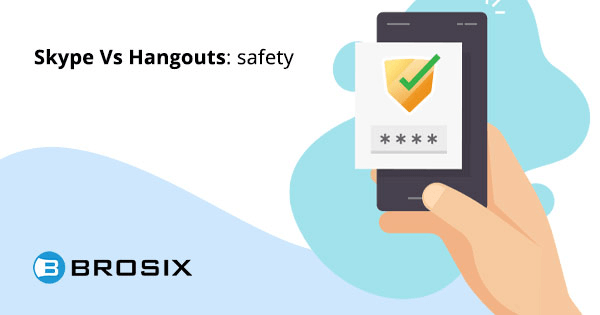 Your business communication should be secure from external interference. You should also be in complete control over who can view what, who has access to which chats, and who can access certain information.
Hangouts don't have end-to-end encryption protocols, which is a standard safety feature that any safe messenger should provide. So, is Hangouts safe? While we can't label it as unsafe or risky, it certainly doesn't provide any assurance that your data is secure or encrypted.
Skype does offer end-to-end encryption if you enter a Private Conversation. To do this, you have to click on "New chat" and select "New private conversation" from the dropdown menu. Keep in mind that this will limit your access to some features like deleting, editing, and forwarding messages.
Frequently asked questions about Skype and Hangouts
Finally, we've found some of the most frequently asked questions about Skype and Hangouts to wrap up this comparison.
How much data does Skype use?
Depending on various factors like camera quality, the number of participants, and whether or not you're using video, data usage for Skype calls can vary. If you're using your phone's data plan to join Skype video calls, we advise you only do that with 1:1 calls. Video calls can use up to 270 MB per hour, while group video calls with two people can end up using as much as 1.2 GB per hour.
For comparison, voice calls will only use around 90 MB per hour.
Do you need a Google account to use Google Hangouts?
Yes. If you want to use Hangouts regularly, you'll need a Google account. However, you can join a Hangouts group call if the person organizing it approved external people.
How to block on Hangouts?
It's easy to block someone on Hangouts – all you need to do is open the conversation with them, click the Settings icon in the top right corner, and select "Block & Report".
What is Skype ID and where do you find it?
Skype ID is your username on Skype. It works just like a phone number works for smartphones – you give it to people and they can find and contact you on Skype. To see what your Skype ID is, click on your profile picture (or initials) in the top left corner of the app and choose "Skype profile" from the new menu. A pop-up will open with your Skype Name at the top.
Brosix: a team chat with advanced features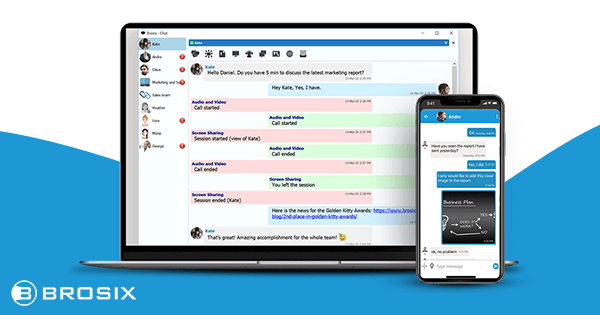 As you can see, Hangouts and Skype are solid messenger apps for instant communication with coworkers.
However, both of these platforms fall short when it comes to security, admin control, and more advanced, enterprise-level features.
That's exactly what we had in mind when developing Brosix: industry-leading security features, combined with more options for team collaboration. For example, Brosix places no limit on your file upload size, unlike Hangouts and Skype. It also includes features to improve your video presentations, including the Whiteboard and advanced Screen Sharing that allows you to take control over the other person's desktop if you need to demonstrate something.
Finally, Brosix affords you complete admin control. You can add and remove users, limit their access to conversations, and even control which features they can use. That, combined with end-to-end encryption, allows for increased safety of all your enterprise communication.
Skype Vs Hangouts: Conclusion
Skype is a better option for business communication than Hangouts. It has more advanced features, better team call functionalities, and it's better designed overall. To make things even worse for Hangouts, chances are the platform will soon be rendered obsolete with new updates from Google.
However, Skype is not without its flaws. It still lacks more advanced features, it doesn't have an admin panel that lets you control the platform on the company level, and it's not great on the security front either.
You can book a demo with Brosix to see how we managed to improve on all these things and create a more advanced instant messenger for teams.
Request Demo