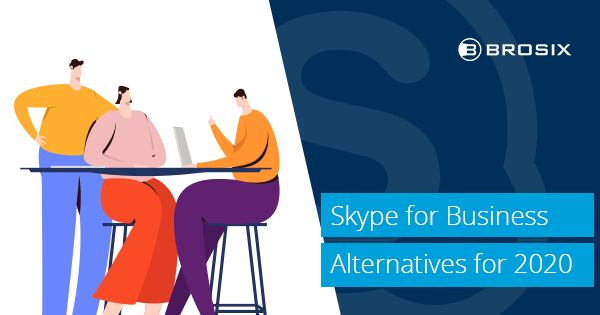 The Top Skype for Business Alternatives for 2020
In many ways, Skype has been a pioneer. Released back in 2003, Skype was one of the first to offer peer-to-peer chat and voice and video calls – and during an era of unreliable internet connections!
While Skype for Business didn't debut until 2016, its direct competition with parent-company Microsoft's Teams platform left the tech giant little choice but to pull the plug.
That day has finally come. Microsoft recently announced that Skype for Business's end of life will be July 31, 2021.
So if you're a Skype for Business user, where do you turn? Below we'll help you explore ten of the top Skype for Business alternatives.
Read on to find a solution that meets your organization's needs!
Brosix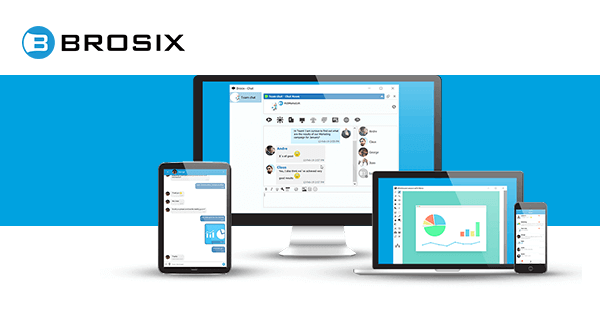 Like Skype, Brosix is also a pioneer in its field. And we're not just saying that because it's our platform! Launched in 2006, it was one of the first to take a unified approach to enterprise communication and collaboration.

Chat on Brosix happens individually via text chat or in groups via chat rooms where you invite the specific participants. In addition to built-in voice and video, you get a slew of collaboration tools like a whiteboard, unlimited size file transfer, screen-sharing, instant screenshot.

The other self-hosted Skype alternative on this list, Brosix's private team network facilitates focused teamwork. Fully encrypted peer-to-peer channels integrated with your anti-virus and malware software further safeguard communication and collaboration across the platform.

It's all bolstered by an industry-leading enterprise toolkit, affording you control over contacts, who can chat with whom, the features to which users have access, and even user-specific data security levels.
Glip
RingCentral's contribution to the world of team chat, Glip is another worthy Skype alternative. And one that offers quite a few freebies.
You get easy file sharing, task management, and unlimited storage, teams, and chat. The latter happens one-on-one, publicly, privately, and even with "yourself" when you need to prioritize tasks. Glip integrates with document sharing and calendar tools.
While there's access to audio and video conferencing, Glip limits the number of video minutes on both freemium and paid versions – just 500 shared minutes for the free plan and 1000 per user per month on paid plans. That's not much!
Slack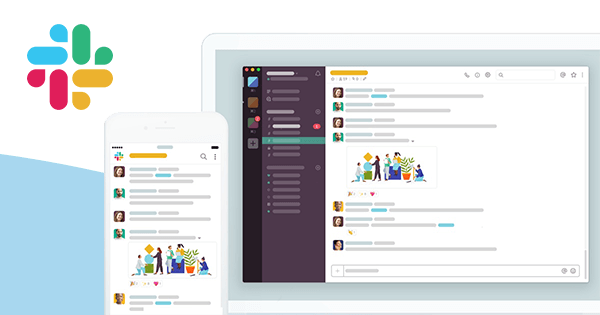 Slack is often lauded as the leader in team chat and messaging. We've written a lot about it, even featuring it in our Game of Instant Messengers. And it's true, the platform offers more integrations than anyone and has one of the biggest user-bases around.
Slack allows organizations to set up public and private channels and organize them in any way they choose – by project, department, or client, for example. Chats are thread-based, making it easier for teams to have conversations relevant to their work.
Screen-sharing and voice and video are built-in. Keyword alerts notify you anytime a word of your choosing is mentioned. There are also automated reminders.
To meet the security requirements of large enterprises, Slack introduced Enterprise Key Management. Slack characterizes EKM as a solution featuring the security of an on-premise alternative but with the benefits of a cloud tool.
Despite this, it's not always smooth sailing with Slack. The platform is infamous for its addictive and disruptive nature. What's more, without the proper precautions in place, Slack's myriad third-party integrations could pose a security risk.
Microsoft Teams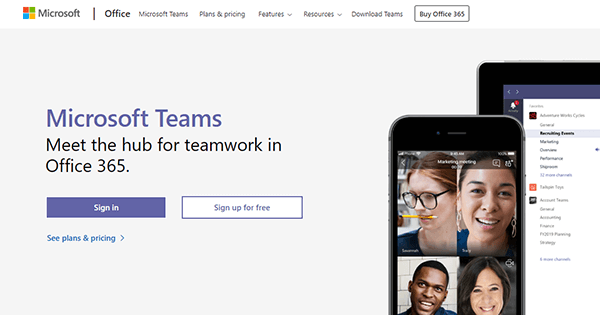 Microsoft Teamsis the obvious choice for users considering an alternative to Skype. The chat-based workspace facilitates group communication via private chatting or chat rooms featuring threaded conversations.
In typical Microsoft fashion, chats feature Word-like formatting such as the ability to add bulleted lists, change fonts, and so on. You also get collaboration tools like screen sharing, file sharing, and voice and video.
MS Teams' prime offering is its integration with Microsoft Office 365. That means you can collaborate on spreadsheets and presentations without leaving the app. For a deeper look at Teams, check out our recent comparison.
While MS Teams should offer a fairly straightforward transition for Skype users, it's not yet a like-for-like replacement.
At the moment, Teams lacks in-meeting whiteboards, polls, and annotations of powerpoint slides. Users considering the switch to Teams should visit Microsoft's transition roadmap first.
Workplace by Facebook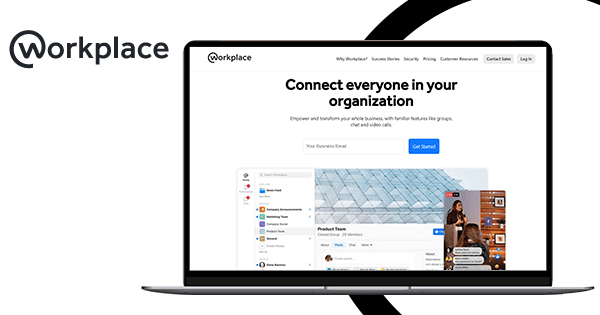 Facebook isn't just a social media giant anymore. Since 2016, the Silicon Valley titan has been a contender in the intensifying team collaboration wars.
Workplace delivers team chat in familiar fashion. As you'd expect, there's a news feed, personal pages, posts, comments, and likes. You also get live streaming, voice and video calls, monitoring tools for IT teams, admin controls, and some integrations.
One-on-one communication takes place in Workplace Chat. Group communication is private by default but with the option to be public. There's also Workplace Groups – for chat and collaboration.
Groups can be open, closed, or secret (unable to be viewed by anyone without an invite). Think of them as a meeting spot for teamwork on a project by a specific team, department, or location.
Workplace is a capable Skype alternative. But given Facebook's less-than-honest record over the years, that poses a dilemma to those considering the platform – Can the company be entrusted to ensure your enterprise data and communication?
Chanty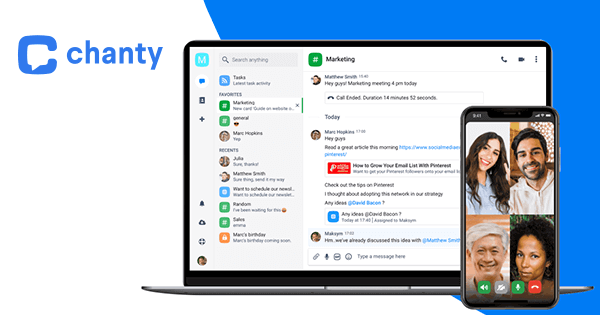 Unveiled in 2018, Chanty offers a Skype alternative aimed at small to medium-sized enterprises.
Chanty provides teams one-on-one and group chat, the latter of which can take place in both public and private channels. There's also file sharing, unlimited searchable messaging history, and some AI-powered chat tools.
What's more, Chanty comes pre-loaded with task management and integrations with Zapier and GIPHY.
As a relative newcomer to the field, Chanty is still a bit limited. That said, the company plans to continue rolling out new features, meaning Chanty deserves to be on your radar.
WhatsApp for Business
As instant messaging increasingly plays a key role in customer support, WhatsApp decided to up its game.
WhatsApp for Business is WhatsApp's foray into the realm of business instant messaging. Launched in 2018, the platform is aimed at connecting small businesses to their customers.
Like the standard app, you get one-on-one and group chat, file and media sharing, and voice and video. You also get a business profile, a greeting message, quick reply, and away reply. What's more, you gain access to important metrics like how many messages you send and how many you read.
As a live chat solution, WhatsApp for Business can help you connect with your customers in a more meaningful way. As a like-for-like Skype alternative, potential drawbacks begin to surface.
Despite its name, WhatsApp for Business is still a consumer-grade solution. As such, you need to consider the privacy and security-related risks that come with such platforms, especially when using them for enterprise communication.
Mattermost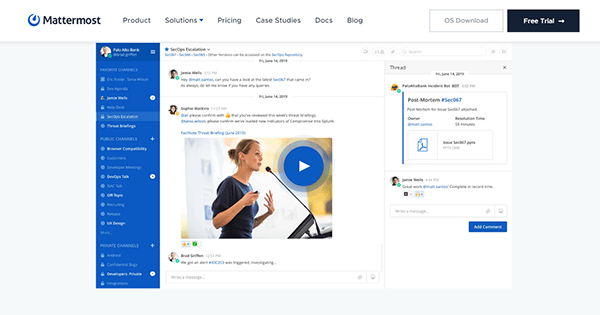 Mattermost is an open-source Skype alternative offering teams a chat space that's both customizable and secure.
Communication on Mattermost happens via direct messages, as well as public and private channels. Its open-source nature gives you a host of customization options like custom branding and login page design; the ability to customize the languages available in the UI; even the ability to add encryption on both communication and server-level.
What's more, as one of the two privately hosted options on this list, you get better security and privacy without the risks that come with personal instant messengers.
Hangouts Chat
Hangouts Chat is Google's unified team communication platform. Communication on Hangouts Chat happens in groups, in a room, or via direct message. Rooms are thread-based, can be started any time you have an idea, and can accommodate up to 8,000 people.
Hangouts Chat has been integrated with Gmail and Google Plus while Audio and video calls happen through Google Meet.
Hangouts' functionality further extends to Google Hangouts on Air. That enables Google Plus users to live broadcast their video calls on YouTube, allowing corporate users to plan and execute online talk shows and seminars.
Discord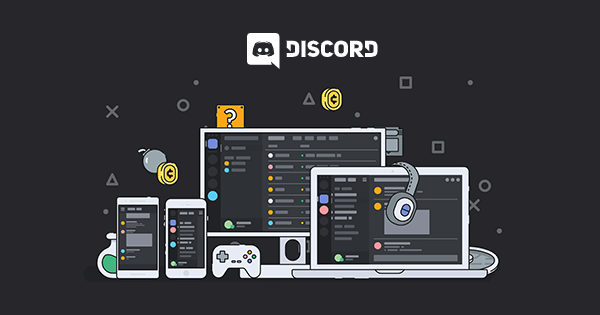 While Discord may not be a household name for everyone, it's certainly a go-to among the gamers out there.
Discord looks and functions a lot like Slack. It follows the same type of interface design, initially separating channels by text. Chats can be further customized into public and private channels upon setup.
There's a twist, though. Discord offers the option to create voice channels. There's also a push-to-talk feature. And, for a more custom fit, Discord also be altered using CSS code.
If you or your team rely on integrations, you'll need to look elsewhere. But if all you're looking for is the familiarity of text, voice, and video, Discord is a deserving Skype alternative.
The Wrap
While the field is soon to shrink by one, enterprise instant messaging remains crucial to ensuring effective communication and collaboration in the workplace.
You'll need to examine your organization's communication structure, needs, and habits. Take advantage of freemium versions and free trial periods, too! By doing so, you'll find there's a host of Skype alternatives capable of delivering effective team communication and collaboration.