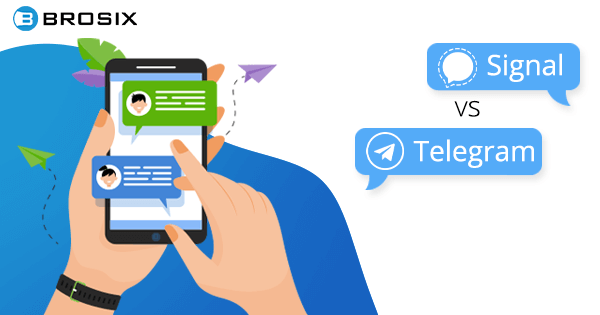 Signal Vs Telegram: Comparing the Two Secure Instant Messengers
If you're looking for a safe instant messenger that has advanced security protocols and promises it won't share your data with third-parties, chances are you ran into Signal and Telegram in your research.
Both of these apps are marketed as safer than popular apps (like Whatsapp and Messenger) while delivering a similar texting experience. They're just as easy to use but less likely to cause a data privacy scandal like Facebook. Since both Whatsapp and Messenger are owned by Facebook, there are some concerns about their trustworthiness.
In this article, we will be comparing Signal and Telegram to find out which one is the better instant messenger to use at the moment.
First, let's learn more about these two apps.
What is Signal?
Founded in 2014, Signal is a secure messaging platform currently owned by a non-profit organization called Signal Foundation. You could make a case that Signal has ties with Whatsapp since one of the key people in the organization is Brian Acton, the co-founder of WhatsApp. It was Acton who provided the initial $50 million loan to kickstart the Signal Foundation back in 2018.
Since then, Signal has been gaining popularity as a safe messaging app, mostly due to its open-source code, advanced messaging features, and end-to-end encryption protocol.
What is Telegram?
Like Signal, Telegram is a free messaging app that uses end-to-end encryption and promises to offer more safety than the most popular messengers. It was launched by brothers Nikolai and Pavel Durov in 2013 and has become one of the most popular messaging apps in the world in the past few years.
Telegram isn't incredibly popular in the U.S. but it has been gaining popularity in Europe and it's considered one of the most used messaging apps in Germany and Russia.
It sports a variety of advanced security features, allowing you to create secret chats and have self-destructing messages, which we'll get to later.
How did we compare them?
We looked at seven factors when comparing these two apps:
Now that we got that covered, let's find out how Signal and Telegram compare to each other!
Signal vs Telegram: Initial setup and user experience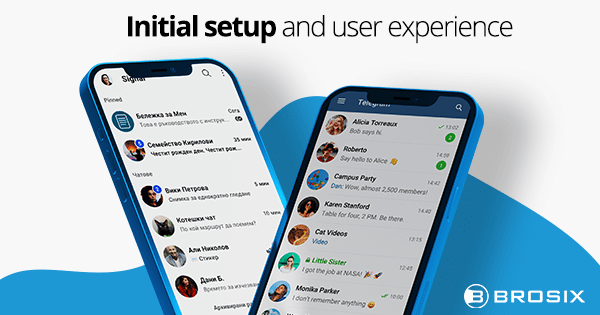 Downloading and installing both of these apps is pretty standard procedure – you visit the Google Play Store or the App Store, download the app, and set it up in a few moments. Both will ask you for your phone number and send a text message to that number for verification.
If you're looking at these two apps, we're assuming you care deeply about data safety, so sharing your phone number with an app might be a problem. It might also worry you that this number is saved on their servers, along with the date you created your account.
In the design territory, there is little to separate the two. If you've ever used a messaging app, you'll find your way around Signal and Telegram easily. Opening the app shows you a list of chats and contacts. Tapping on a contact opens a chat and you can start typing. Just like WhatsApp, the Signal app has checkmarks that show you when a message is sent, received, and read.
We're leaning towards giving Telegram a slight edge here because it's more customizable (we'll cover this later in-depth).
It's important to mention that a large part of Telegram's experience is the Channels feature – public or private communities that you can subscribe to. These communities can have an unlimited number of subscribers and they're used to broadcast public messages.
Signal vs Telegram: Advanced features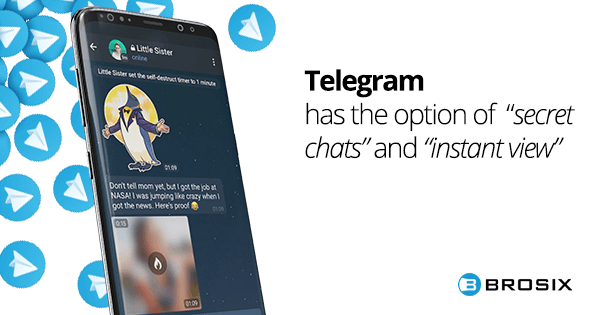 One significant advantage that Signal has over Telegram is the fact that it can be used as a substitute for your standard SMS messages.
During the setup process, you can allow Signal to be your default messaging app so that you can communicate even with people who don't have the app. Of course, these messages won't be end-to-end encrypted but converted to standard SMS if the person doesn't have Signal installed.
You can send self-destructing, or disappearing messages on both apps, which can be a useful tool if you want to up the security factor even more.
Telegram has the option of "secret chats" which increase safety and automatically give you a notification when someone takes a screenshot. Another useful advanced feature is the "instant view" which allows you to view any link that's been sent to you with zero loading time because everything is cached on Telegram's servers. However, keep in mind that Instant view isn't available on the Telegram Web app.
Signal vs Telegram: Security
Security is often the main reason why people are considering Signal and Telegram over other popular messengers. Both companies go to great lengths to make sure their apps are as secure as possible, offering end-to-end encryption and a variety of safety features that guard your data.
However, there are a few important differences that we'd like to point out.
Although both apps use end-to-end encryption, Signal applies this to all your chats by default, while Telegram only uses it for Secret chats. So, the regular chats in Telegram aren't encrypted at all, which could pose a problem for those users who aren't aware of this fact.
In addition to using encryption protocols, Signal also has open-source code, which means all of its encryption protocols can be tested and audited by people from its community. It's also been subpoenaed by the U.S. Government and released a transparency report in 2016 that covers its security policies in detail.
If you're looking for security, it's safe to say that Signal is the better option here, especially given the fact that Telegram's default chats aren't even end-to-end encrypted.
Signal vs Telegram: Popularity
If you're looking at an instant messenger as a social networking tool, you'll probably want to use the one that has as many of your friends as possible.
When it comes to the number of users, Telegram is the clear winner with more than 400 million monthly active users worldwide in 2020. It's not as easy to find data about Signal's monthly active users but we know that they have more than 10 million downloads on Android alone, so we can make an educated guess.
If you take these numbers at face value, it seems that Telegram is the clear winner. What these numbers don't take into account is regional popularity – Telegram is popular in Russia and certain parts of Europe. Signal can rival these numbers by acting as your default messaging app, so you can text people who don't have Signal installed and it won't matter.
On sheer numbers alone, Telegram is the winner in our popularity contest, but if you live in the U.S, that won't matter too much.
Signal vs Telegram: File sharing and team collaboration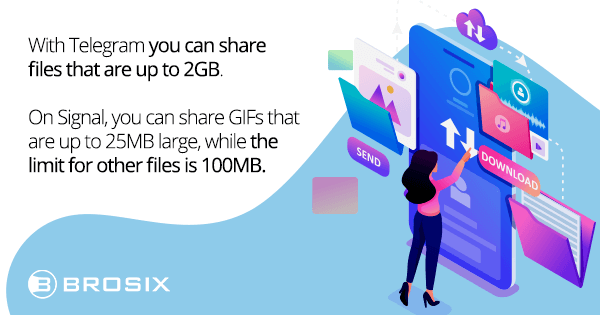 If you're looking for advanced team collaboration options with either of these two apps, you'll be disappointed to learn that none of them stands out. While Telegram's Channels feature can be useful for enterprise communication, you'll have to look at Telegram alternatives if you want anything more.
When it comes to file sharing, Telegram has a decisive edge: after the latest update, you can share files that are up to 2GB. On Signal, you can share GIFs that are up to 25MB large, while the limit for other files is 100MB. This limit will be good enough for most standard files but sending long hi-res videos will likely be impossible.
While the telegram app for PC will be the best solution for anyone that needs to coordinate a team, none of these two apps shines in this field.
Signal vs Telegram: Customization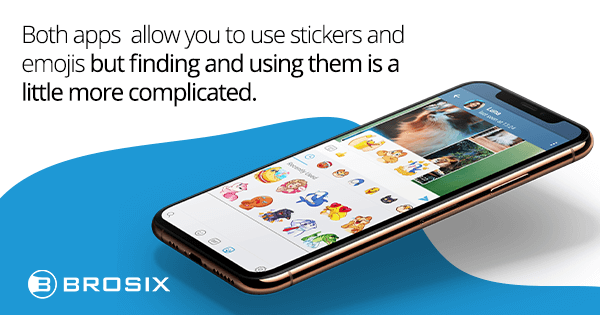 When it comes to switching things up, changing colors, and using stickers, both apps are less advanced than Viber or Messenger. They both allow you to use stickers and emojis but finding and using them is a little more complicated than on more popular messaging apps.
For example, there is no centralized marketplace on Telegram where you could buy or download stickers. You have to have a sticker pack sent to you by another user or visit public links to find Telegram bots. Once you do get them, Telegram has some weird and interesting stickers. It also allows you to create your stickers and change your chat appearance.
Signal also has some interesting stickers and all the standard emojis but the color scheme isn't as fun and bright as Telegram.
Signal vs Telegram: Customer support and reviews
Upon inspecting their websites, you can tell that both Signal and Telegram care a great deal about their users. The Signal app has an FAQ section filled with useful answers and Telegram goes one step further and includes even more answers to questions ranging from "How do I use emoticons on iOS" to "Why should I trust you?"
Telegram's app reviews also highlight its reliability and a sense of community that's achieved through Channels.
Signal also has a vibrant community and online reviews appreciate it for its transparency, open-source code, and attention to detail when it comes to security.
Brosix: an instant messaging alternative
Signal and Telegram are solid alternatives to more popular messengers, especially if you care about data safety.
However, if you need something more from your messenger, you'll hardly find it here. If you need a better way to organize a team or a messenger that combines safety with more efficient, simple communication, Brosix may be what you're looking for.
Why Brosix?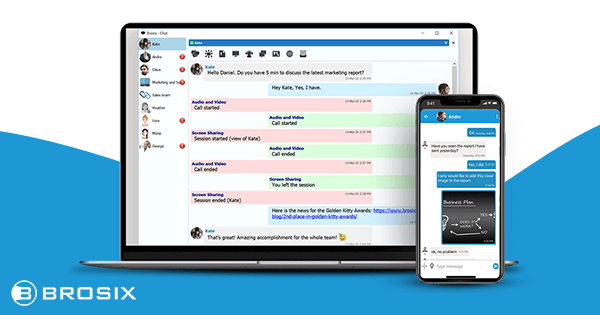 At its core, Brosix looks like a regular team chat app that delivers the most basic functions of an instant messenger: you can send and receive messages, create groups, and have a voice or video calls.
But it's when you look under the hood that Brosix starts to shine. It's a team collaboration tool that focuses on delivering industry-leading safety measures and a streamlined communication experience.
Increased security and control
With Brosix, you're in total control. This means that, as an administrator, you manage your internal communication network by adding users, setting privileges, and customizing features. You also have full access to user activity history, which allows you to keep track of login/logout information, chats history, and file transfers.
In addition to advanced administrator controls, all communication is end-to-end encrypted, just like with the safest instant messengers.
Easy communication
Unlike other platforms made for team collaboration, Brosix focuses on making the chat experience as easy as possible, with the least distractions.
For example, Brosix lets you search your chat history not only by keywords but also by date, which can be useful if you don't remember the details of the chat but you know when it happened.
You also get a lot of advanced features like screen sharing and the whiteboard feature that adds a new dimension to your video calls with additional room for explanation.
Signal vs Telegram vs Brosix: conclusion
All three of these apps offer their own set of features that you or your team will find useful.
If you're looking for a social network that has a sense of community and a worldwide audience, then your best choice is Telegram. However, if you want the maximum level of security available, Signal's open-source code and end-to-end encryption protocols make it a better option.
If you find that both of these messengers are lacking advanced features, especially in the team collaboration and admin control departments, then you should consider Brosix. It offers the same high level of security and data protection combined with a better, team-oriented communication experience.
Request a demo and find out how Brosix can help your team more efficiently!
Request Demo