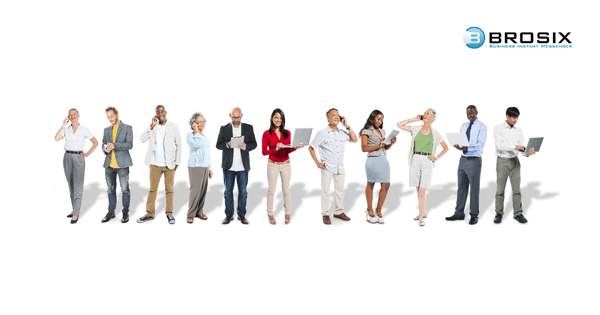 IM Returns to the Forefront as a Compelling Messaging Solution for Business
December 20, 2016 Instant Messaging


Messaging solutions are better and forefront communication solutions for the businesses
With the addition of tablets and smartphones to most company computing environments, better communication would seem to be in hand for most organizations. Greater analysis shows, however, that although you may have mobile voice and e-mail solutions handled with your new hardware, instant messaging has again become a very intriguing option to handle live communications that voice and e-mail can't touch.
Have you ever been in a meeting with a client and found yourself missing information that a colleague could provide quietly, thereby enhancing your overall efforts? Voice won't help you and e-mail is not an instant option. Adding a company-wide instant messaging system bridges that gap so that your team can work together to make each other look better.
Brosix is a business messaging application, which allows instant communication with text, video and voice chat
Brosix offers the complete package of features for more productive and secure team communication like screen sharing, unlimited file transfer solution, private network with users management and control.
Sales people fielding calls can also get technical or procedural help within the company without having to skip a beat.
Softphone dialer solution is another important feature of Brosix collaboration tool. For custom centers with bigger volume of phone calls
Of course, when looking at Instant Messaging systems for your company, there has always been a problem finding one that will meet company standards. Many of the off the shelf packages that are available are geared towards consumers, putting your firm in the awkward position of potentially archiving conversations that your people are having with their personal friends in addition to the work related messaging.
A company system should therefore have additional options such as greater encryption and options that allow you to ensure that it remains a separate package for company use only should you choose to.