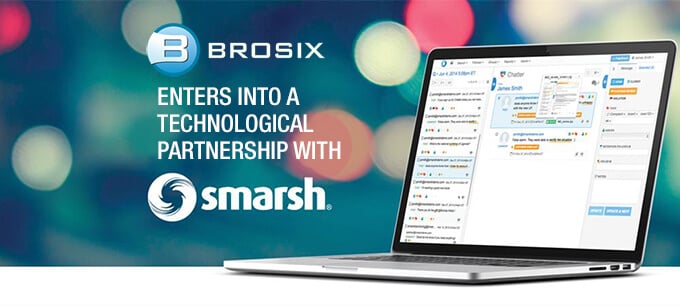 Brosix – Smarsh Developers Program
Brosix, a leading instant messenger provider is integrating its system with Smarsh well recognized archiving solution platform.
Brosix CEO Stefan Chekanov is excited about the integration, noting:
"The integration between Brosix and Smarsh will allow Brosix customers to conveniently and automatically transfer user activity logs for archiving by Smarsh. When it comes to convenience and security, there is no better solution."
The number of participants in the Smarsh Developers Program is growing, with Brosix one of the early adopters. Through this integration, Brosix can provide customers with the archiving tools necessary to support their customer-driven needs.
The Smarsh Developers program, launching with a Content Ingestion API and SDK, will make it possible for Brosix users to keep a record of all communication, which is conveniently stored in a safe and easily accessible environment.
This integration is especially useful for users who want to archive communication from different providers – such as email, social media, and text messages – all in the same place.
"Partners can now promote their products to a broader market with a solution for archiving that eliminates compliance roadblocks. Customers have more flexibility in choosing the communication and collaboration tools they want, paired with the compliance and e-discovery functionality that they need," said Steve Marsh, CEO, and founder of Smarsh.
By choosing Smarsh as their archiving solution, Brosix can automatically and securely send all user activity logs to the user's Smarsh account.