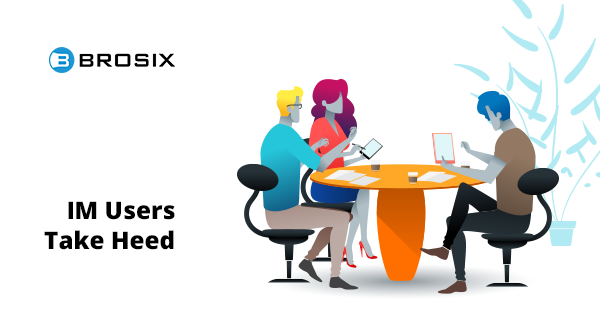 Best Practices to Better Focus Your Workplace Chats
When your workday centers around the computer, it's easy to get distracted, especially as more and more workplaces utilize instant messaging. The constant contact with your coworkers and peers, and with a smart phone and the internet at your fingertips, can be a recipe for time-wasting, misbehavior, and misunderstandings.
But let's be real for a minute. Every environment has its share of distractions if you look hard enough and the workplace is no exception, with or without smart phones and instant messaging. Still, how do you manage? Well have a look at these best practices – for employees and administrators alike – and better focus your workplace chats!
Keep It Short and Sweet
You've been trying to get the boss's attention all week and you finally have it… so what now? Get to the point! Ask your question and move on. Instant messaging is mainly meant for back and forth conversations and thus the best IM is a clear and concise one.
A good rule of thumb is to consider the length of a tweet. If you're approaching that limit then you might want to consider sending an email. On the other hand, if the content of your conversation is so important that you'd better not risk a misunderstanding, or if it seems like the conversation is persisting into overtime, then try a voice or video chat, or even an in-person meeting.
Play It Safe
With myriad instant messaging and chat app platforms popping up, businesses and professionals the world over have begun to take advantage. But more users ultimately means more risks – messaging the wrong person, workplace chats straying off topic, sensitive information and data ending up in the wrong hands, not to mention the increasing likelihood of security breaches.
For you and your enterprise's peace of mind, use a business instant messenger instead of a consumer-grade chat app. A private network keeps unauthorized users off the platform, while broad administrative controls and security features like end-to-end data encryption, peer to peer communication, and anti-virus software integration keep workplace communication focused and, most importantly, protected.
Keep It Suitable for Work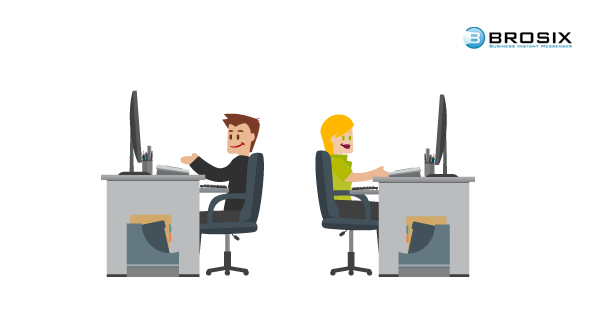 Your workplace communications should always be professional, even via text or group chat.
Ever try your hand at sarcasm with an IM? Or try to make a joke? Such attempts tend to miss their target, so in the majority of cases, just be frank. Emoticons can express a more jovial message, but can quickly come off as unprofessional. If you absolutely must lighten the mood, at the very least, be certain of the recipient's sense of humor. If there's any doubt, just avoid it.
When you're in a familiar setting around familiar people, conversations can easily wander off-topic. And unfortunately, that boundary isn't always clearly defined. Keep in mind, many instant messaging platforms offer chat histories and archives – fantastic tools which can be used for recalling or confirming important details, but which can also be used to monitor your chats. Save yourself the trouble, potential humiliation, and even legal ramifications, and keep those GIFS, funny pictures, flashy fonts, and non work-related topics for after hours.
Proper English Has Value
Your language has real value. And that holds true even in your text and group chats. When communicating via instant message, especially in a business setting, keep acronyms at bay and use proper English. Not only is it more professional, but it'll save you the time, embarrassment, and frustration of having to explain potential misunderstandings. What's more, if you're on top of your language in an IM, you'll likely be on top of your language in an email – where mishaps and misunderstandings can be even more costly.
Tips for Network Administrators
There's no doubt that technology has been a boon for workplace productivity and efficiency. But it often means we're contending with increasing workloads – juggling multiple projects, tasks, and therefore, chats, too. If you're the boss or an administrator, the last thing you need on your plate is a team struggling to focus and without the tools at their disposal to fully get the job done.
The right business instant messenger should have the administrative capabilities, security, and features to not only keep your team(s) on track, but also productive, efficient, and secure. And that should give you peace of mind.
User Controls Are There for a Reason
If your employees are using consumer-grade chat apps for work-related tasks, you're effectively surrendering your ability to manage that space, and possibly exposing your enterprise to costly security and data breaches.
Enterprise instant messengers, however, should offer you more expansive and customizable administrative controls. This isn't to say you must ban use of personal chat apps outright. But when it comes to your business, you ought to know what's taking place on your network – who's chatting with whom, who has access to which features, and who's utilizing these features and when. An individualized and regulated network is ultimately a more constructive one.
Utilize a Comprehensive Package
Many business instant messengers on the market today offer free versions for your personal use. But to more fully realize their potential, you should consider an instant messenger which offers your team the features to enhance communication and collaboration, but on a platform that's user-friendly and includes first-rate security. Brosix is one such example.
With Brosix, text and group chat and voice and video calls keep you connected, while unlimited size file transfers, screen sharing, co-browsing, and a virtual whiteboard allow you to streamline teamwork and showcase creativity; all on an interface that's easy to navigate.
What's more, Brosix not only keeps communications peer to peer, but encrypts all communications end-to-end using the AES 256-bit encryption algorithm. And with a strict user authentication process, administrative features control, and comprehensive user activoty archives – all on a private team network – you can sure that your data is secure.
In Conclusion
Instant messaging is here to stay. Unfortunately, so are the distractions. But by heeding these best practices and choosing the right business instant messenger for your team communication and collaboration, you can better focus your workplace chats.