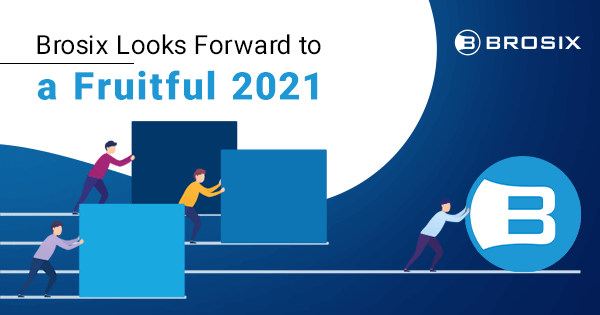 Brosix Looks Forward to a Fruitful 2021
At Brosix, we take great pride in providing each and every Brosix user with the best features and service in the industry. 
2020 was a challenging year. But it didn't stop us from striving to deliver on our primary objective of ensuring productive and secure team communication for each Brosix user. 
We released a WordPress plugin for our freshly rebuilt Live Chat feature, making it easy for Brosix customers to integrate Live Chat support into their WordPress website.
We released a Google Chrome extension to simplify access to our Web Client from the Chrome browser. 
We added file sharing and emojis to the recently redesigned Brosix Web App
We released a "Networks connection" feature that allows companies on separate networks to work together from within their own Team Network
Like many of you, however, we're also looking forward to a fresh start. With 2021 now under way, we're excited to share with you some of the great things we have planned for Brosix to improve teamwork even further.
For 2021, our plans include:
The addition of features to the Brosix Web App, including audio and video chats
The addition of features to the Brosix mobile app, including file sharing capabilities and the ability to send audio messages, video messages, and one-time geopositions 
The addition of "Message Info" to relay a message's sent, received, and viewed status
The ability to edit and delete sent messages 
The ability to mention users in a message, reply to a specific message, and forward messages 
The ability to mark messages with tags, such as a reminder to review at a later time
Enhanced graphic media such as new emojis, stickers, and GIFs
Extensions for other web browsers
Integrations with other apps
Efficient and secure communication and collaboration will be more important than ever in 2021. The Brosix Team is certain these enhancements will not only deliver a better user experience, but also make Brosix a more dynamic platform capable of meeting the demands of the changing workplace.