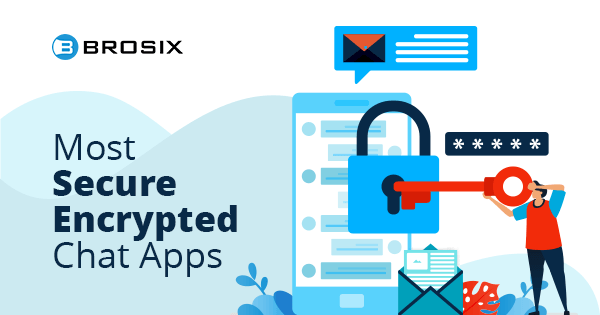 The Most Secure Encrypted Chat Apps (Private and Team Messengers)
Chat apps are in high demand. But as smartphones and cloud technology become pervasive and the amount of transmitted data soars, so too skyrockets the necessity of secure communication.
By now, you've heard of encryption. You likely use an encrypted chat app privately or even a secure team communication tool at work. And because instant messaging technology is so widely used personally and professionally, it's critical to take measures to protect your data, especially as governments, cybercriminals, and even big tech itself are all vying to get their hands on it.
Encrypted messaging is one of the best ways to safeguard yourself. But not all encrypted chat apps are the same. 
There are different types of encryption and encryption protocols
Each encrypted chat app features different capabilities catering to different use cases
Some free apps are encrypted, but it's not the default setting
Other free apps may be encrypted, but still feature ads and spam
The app(s) you ultimately choose will also depend largely on why you're chatting, such as for work and collaboration purposes, or for fun.
Not sure where to start? Here, we'll lay it out, including the lowdown on encryption, why you should use an encrypted chat app, how to get started with your app of choice, and most importantly, the best chat apps for encrypted private and team chat. Read on!
What is Encryption
In layman's terms, encryption acts as a lock. It seals off your data from anyone without the keys to access it.
Once you press "send" from your chat app or messaging software, your client dismantles the message for delivery – either via client servers or directly through a process called peer-to-peer (P2P) communication – to the recipient where it's reassembled and displayed just as you sent it.
However, encryption protocols vary. With encryption in transit, messages are encrypted on the sender's end, delivered to the server where they're decrypted and re-encrypted, and then delivered to the recipient and decrypted again. While this method protects information during transmission – indeed a dangerous part of the journey – it does allow the server to see the content.
End-to-end encryption, on the other hand, applies encryption to the entire duration of the journey. It guarantees your content can't be viewed by anyone other than the recipient, not even the client who may store your communications on their servers or those of third parties.
Why Use an Encrypted Chat App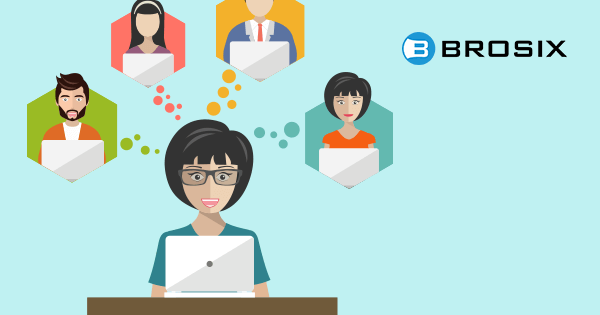 Encrypted messengers offer a more secure way to communicate. As real-time messaging grows in popularity, standard SMS messages aren't completely secure all the time.
What's more, with remote work fast becoming the norm, many teams are communicating and collaborating via chat apps that aren't suited to the job.
When choosing an encrypted chat app, you may find it useful to look beyond just encryption. In addition to top-notch security and privacy, some platforms provide granular-level control thanks to advanced features such as private networks and administrative control options.
1. Security
When it comes to security, the best offense is a good defense. While a fancy media response strategy can help mitigate the costs of data breaches for some large companies or public figures, it's much more sustainable to focus on eliminating such scenarios before they happen.
This holds especially true in the realm of online communications. Chat apps featuring end-to-end encryption and P2P messaging channels practically eliminate the threat of data not just being intercepted in transit, but falling into the wrong hands due to malfeasance or vulnerabilities on the side of the messaging client.
2. Privacy
Privacy and security go hand in hand. In addition to the value of encryption and P2P technology, private messaging networks keep information and data on-premises and out of the wrong hands.
Protecting you from prying eyes, potentially vulnerable third-party servers, and carelessness on the part of the user, an encrypted chat app on its own network is one of the best ways to guarantee your information flows between participants authorized to access that data.
3. Granular Control
A common issue associated with messenger apps is suitability in the workplace. Being online and available at all times for all of your contacts can be a huge productivity killer, leading to non-work-related conversations or worse, sensitive material leaving the work environment.
To combat this, many instant messaging apps for business provide more robust administrative control. With Brosix, for example, you can manage everything from user access to the platform to shared chat spaces, access to features on a user basis, and individual data security levels.
This granular-level control and contact management better focuses your team, mitigating instances where employees might wander in their communication and improving team collaboration.
Getting Started with an Encrypted Chat App
Getting set up with an encrypted chat app is easy. Just like other messenger apps, choose your platform, download the app to your device, and complete the verification process, usually by confirming your phone number or email address.
Many apps automatically sync your contacts who are also using the app. Once synced, just touch or click the contact with whom you wish to communicate, and you're ready to chat!
Still, not all encrypted chat apps are equal or equally secure. Some private chat apps are geared toward individuals and feature basic texting capabilities, but not much in the way of advanced features. At the other end of the spectrum, more robust communication platforms for business aim to streamline and safeguard enterprise communications.
What's more, many free instant messengers provide encryption, but they're fraught with other security and privacy risks, such as ads and spam.
The Most Secure Encrypted Chat Apps
As you'll see, there's no shortage of capable encrypted solutions. But regardless of whether you're securing a company team chat, the contents of a remote business meeting, or your personal group chatting capabilities, the platform must ensure safety and privacy without compromising the effectiveness of your communications. These 10 encrypted chat apps have you covered.
Brosix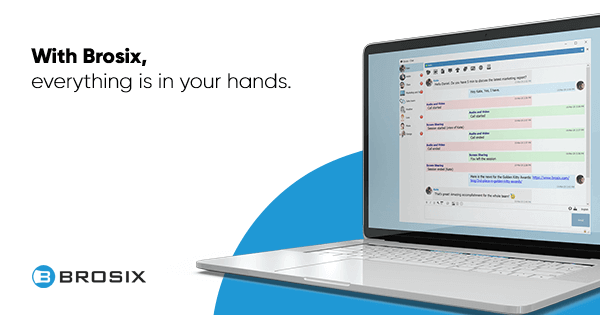 Available on: Android, iOS, Windows, macOS, Linux, Web
Brosix is an all-in-one instant messaging software featuring a Private Team Network that affords businesses complete control over the communication process.
Each Brosix Network is fully encrypted and packed with robust administrative features, making it one of the most secure and customizable options to protect team communication.
Brosix takes a multi-tiered approach to security. The AES 256-bit encryption algorithm encrypts communications end-to-end on established peer-to-peer channels, ensuring data and information flow directly between the sender and recipient. For added peace of mind, you can even integrate your anti-virus and malware software.
From the Web Control Panel, you can define your Team Network as you see fit. Manage on a user-level everything from access to the platform and features to contact lists, shared chat spaces, API integrations, and data security levels. You can even delegate admin duties for greater efficiency.
This puts you in charge of Brosix's rich communication and collaboration spaces. Text chat directly or in team chat rooms, broadcast messages to handpicked audiences, and make crystal clear audio and video calls. Share your screen and grant remote desktop access, safely transfer unlimited size files, and carry our dynamic virtual whiteboard presentations.
It all makes Brosix not only one of the best chat apps for business, but one of the most secure encrypted chat apps around.
Brosix pricing: Free Team Network for up to 3 users; $4 per user/month for Business; $6 per user/month Premium
Signal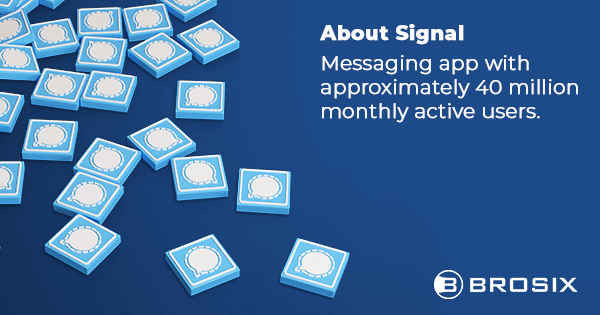 Available on: Android, iOS, Windows, macOS
Signal Messenger is a combination of two separate apps originally dedicated to encrypted voice communication and encrypted texting. Created by Whisper Systems and ultimately acquired by Twitter to enhance its own encryption and security protocols, Signal features (ironically) both Edward Snowden and members of the U.S. Senate among its ranks.
Signal not only encrypts chats end-to-end by default, but also makes its encryption and source code available to all for examination. The open-source encrypted chat app also hides virtually all metadata including the message sender. That means neither Signal nor anyone who intercepts the message in transit can tell who's sending you Signal messages or read the messages themselves.
Signal has been criticized for requiring you to register with a phone number. Despite this, the non-profit Signal Foundation recently received a $50 million investment from WhatsApp founder, Brian Action, boosting Signal's commitment to remain a totally free encrypted chat app – free of charge, advertisements, and web-tracking. It's one of the best private chat apps.
For more, check out our recent in-depth Signal review.
Signal pricing: Free
Viber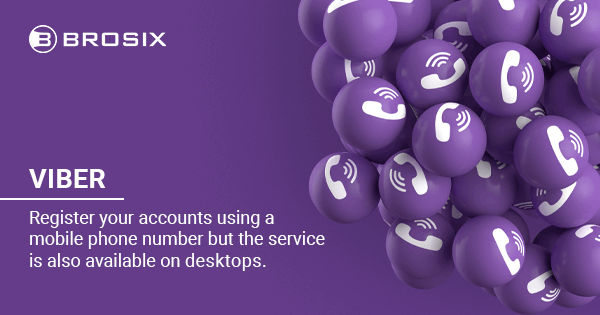 Available on: Android, iOS, Windows Phone, Windows, macOS, Linux
Keeping pace with the demand for encrypted chat apps, Viber recently joined the one billion user club, of whom 260 million are active monthly.
Developed by a former Israeli intelligence officer, with Viber you get a similar feature stack to WhatsApp – encrypted texting, group chats, voice and video calls, and the ability to send stickers, emojis, photos, files, and short voice and video messages.
For the security conscious, Viber offers a few nifty features. The free encrypted chat app color-codes chats to denote their level of protection – grey for encrypted communication with a trusted contact and red to signify an issue with the encryption key. For hiding messages on a shared device, Viber provides hidden chats with PIN access and self-destructing capabilities.
Viber pricing: Free; reduced rates for calls to non-Viber users
Telegram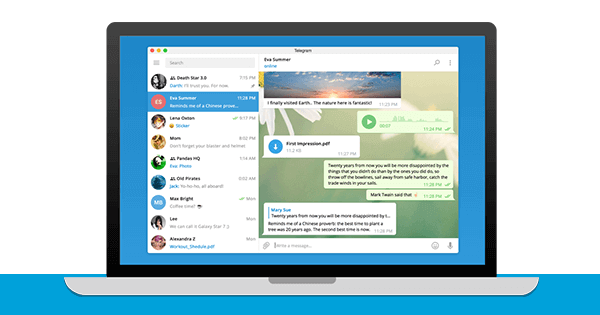 Available on: Windows, Windows Phone, macOS,  Android, iOS, Linux, Web
Telegram offers plenty for those in search of a secure private chat app.
For starters, there's a secret chatting mode and you can set messages to self-destruct. You can share unlimited photos, videos, and files. Cloud-based infrastructure lets you sync messages between multiple devices and means Telegram features are available wherever you log in.
That said, while there is end-to-end encryption, it isn't the default. You have to turn it on manually, and that could lull you into a false sense of security. What's more, while the client-side code is open-source, Telegram's encryption protocol is homegrown and unverified by experts.
If Telegram isn't secure enough for you, don't worry! We've got you covered with this list or one of these other Telegram alternatives.
Telegram pricing: Free
WhatsApp
Available on: Android, iOS, Windows Phone, Windows, macOS, Web
WhatsApp hasn't always been amongst the ranks of the most secure chat apps. The popular messenger added end-to-end encryption in 2016.
WhatsApp offers encrypted chats, group messaging, free voice and video calls, and the ability to leave short voice and video messages. You also get encrypted photo and file sharing.
For extra security, WhatsApp gives you the ability to verify each chat's security verification code. Android users get fingerprint verification and in 2020, WhatsApp plans to roll out dark mode, self-destructing messages, and more.
Despite sharing its encryption protocol with Signal, WhatsApp has exhibited frequent security flaws and vulnerabilities. What's more, links to WhatsApp group chats have been found on Google
Regardless, WhatsApp's ubiquity – it's used by more than 1.5 billion worldwide – makes it the most popular encrypted chat app around.
WhatsApp pricing: Free
Wickr
Available on: Android and iOS
Wickr offers both a private chat app (Wickr Me) and an encrypted solution for business. Wickr's federated messaging allows you to chat between Me and its business counterpart.
Wickr Me gets you encrypted private messaging, file sharing, and custom self-destructing configurations. A shredder permanently deletes chats and shared media content from your device. Video key verification adds an extra layer of security.
Wickr Pro adds on conference calls, screen sharing, larger rooms and file sizes, data retention and, admin controls on a private network. There's also an option to self-host, but keep in mind it'll run you more than $30 per month… not cheap for small to mid-sized businesses.
Wickr pricing: Free for private use and small teams up to 30 users; from $4.99 user/month up to $30.50 user/month
Threema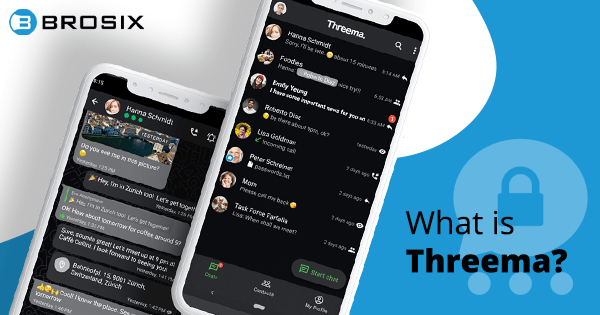 Available on: Android, iOS, Windows Phone, Web
Threema is another paid service, at $2.99 per user per month. But the encrypted chat app doesn't require a phone number or email address to get started. Instead, Threema provides a unique Threema ID, meaning you can use the app completely anonymously. Scannable QR codes let you verify other users and add contacts more securely and conveniently.
Threema fully encrypts texting, group chats, voice calls, and file transfers. Furthermore, upon delivery, Threema immediately wipes this data from the servers. There's even a polling system for feedback from contacts.
Threema also offers encrypted chats for work on a separate network. There's no video calling, though, which is a shame because video chats are a must for the remote workplace. Check out these video calling apps in case Threema doesn't meet your needs.
Threema pricing: $2.99
Wire
Available on: Android, iOS, Windows, macOS, Web
With both free and paid options, Wire is another secure service for you to try. Unlike apps such as Telegram, Wire's encryption is always on so your data is always protected.
An open-source platform, Wire's source code is available on GitHub for users to critique and improve. In fact, as a publicly audited app, you can even download audit reports from Wire's website.
Wire Personal lets you hold encrypted private or group conversations, share files, set messages to self-destruct, and make voice and video calls. Pro and Enterprise plans get you conferencing, API integrations, cloud-based or on-premises deployment, and secure guest rooms where you can communicate with outside clients and partners. For what it's worth, Wire doesn't require a phone number to get started.
All that said, Personal, or the free app, is buried so deep on their website that you may have to do a separate Google search to find it. What's more, unlike encrypted software apps for business, such as Brosix, Wire's business offerings don't afford you a high level of administrative control.
For more, explore our recent article on Wire.
Wire pricing: Free; from $5.83 user/month fro Pro; $9.50 user/month for Enterprise
Mattermost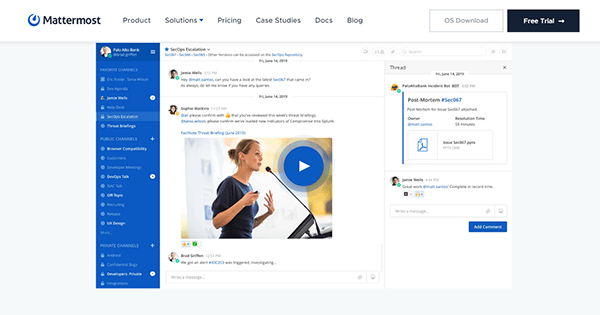 Available on: Android, iOS, Windows, macOS, Linux, and Web
Mattermost is an open-source encrypted chat app for business. When you deploy it, you can add encryption – in transit and at rest – on both the communication and server level. That means even stored messages and files are better protected from malicious hackers and data thieves.
Encryption isn't the only thing you can fumble around with, though. You can customize the languages in the UI, tailor the mobile app, custom-build emojis, and personalize the branding and login page.
Communication happens via direct messages or in groups through public and private channels. You also get voice and video capabilities, screen sharing, and a host of open-source integrations.
Mattermost pricing: $3.25 per user/month for small teams and startups; $8.50 per user/month for a scalable option geared toward large organizations
Voxer
Available on: Android, iOS
Voxer approaches chat similarly to Discord, the popular always-on voice chat app. With Voxer, users send encrypted voice messages similar to other push-to-talk devices.
The walkie-talkie app uses the same encryption protocols as Signal. But, like Telegram, it's only available on private chats and you'll need to opt in.
There's voice-to-text transcription and you can play back messages at your convenience, just like voicemail. In addition to one-on-one messaging, Voxer supports group chats for up to 500 people. You can also send and receive photos, videos, and location messages.
Voxer is a free app. But you'll need a Pro plan to unlock the walkie-talkie, while a Business subscription gets you admin-controlled chats, unlimited message history, and a private network.
Voxer pricing: Free; Pro from $3.99 user/month; Business from $8.33 user/month
Which Encrypted Chat App Should You Choose?
The number of encrypted chat apps on the market today doesn't make your choice easy. There's a lot to keep in mind. To recap, consider:
The nature of your chats – The basis of your communication will determine whether you go for an encrypted messaging software for business or a free, personal-grade app. For the latter, keep in mind where your contacts are chatting. An app is useless if your contacts aren't there.
The nature of the encryption – Encryption can't protect you if you don't know you have to turn it on, not to mention if your data at rest isn't encrypted. So consider whether you need to opt in, turn on the encryption manually, or the encryption is end-to-end.
Advanced features – Unlimited secure file transfers, screen sharing with remote desktop, and advanced control options enable processes such as team collaboration and remote tech support. Many free apps don't have these features.
Price – While consumer-grade apps are free, encrypted chat for business will cost you. But prices for self-hosting and advanced collaboration and control features vary. So weigh the features you need against the cost you're able to pay.
If you're looking for an end-to-end encrypted chat app for business, try Brosix. A highly secure and customizable platform, Brosix not only guarantees absolute data privacy and security, but affords you total control over the communication process.