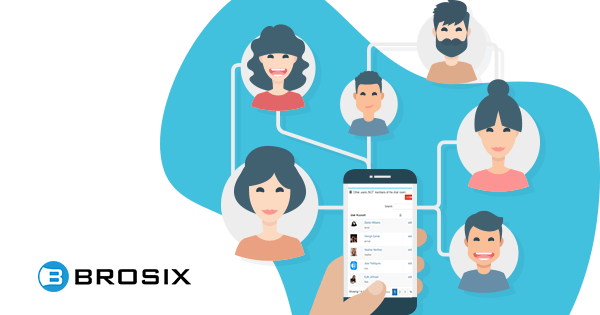 How to Improve your Team Efficiency with Chat Room Controls
At Brosix we were recently excited to launch yet another new feature for our Enterprise customers. Brosix customers on an 'Ultimate Plan' who have completed the latest 4.0 update now have access to Chat Room Controls, granting them greater control over the Chat Room feature on their networks. With this new feature, you now have the ability to more fully control and adapt the Chat Rooms, adjusting them to meet your team's needs. In short, the Chat Room Controls feature is yet another way for you to improve team efficiency through your private team network.
In order to help facilitate this process, we're sharing with you some ideas on how to use this feature in order to improve your team's better communication and collaboration. We hope that these ideas will get you started, and that with time you will discover even more ways to make use of your network's Chat Rooms. We are certain that in combination with other instant messaging features you will be able to take your team's internal communication to the next level!
Chat Rooms for Specific Projects and Purposes
With Chat Room Controls, network administrators can create new chat rooms and assign them to specific users in seconds. This allows you to more quickly set up a collaborative space for short-term team projects. Not only that, but you can also close and open an existing chat room at any time, allowing you to have a recurring chat room that is operational at certain times of the year, for example. In order to illustrate this function better, here are a few examples of situations where you can use it:
If you're in the tech industry, you could, for example, create a temporary Chat Room for your team to test out a new build of an application, closing it afterward and reopening it in the future for the next round of testing. In this way your team would have a dedicated space for collaborating on this specific build and testing, accessible at points in time that you define.
You could set up a chat room for your finance team to use for a set period of time at the end of each financial year. This would allow your finance team to take advantage of this online collaborative space for sharing information relevant to their yearly financial reporting.
If your business has a cyclical hiring season, you could create a specific chat room for your HR team members in order to facilitate the hiring of new employees. Your HR team could share leads, swap interview tips, or discuss any other HR topic in this space for the duration of the hiring process.
These are just a few examples, but there are certainly many more ways in which you and your team can make use of this specific Chat Room Control.
Focused or Flexible Team Collaboration
Chat Rooms are a great way for you to provide your team with an open and collaborative virtual space, but it may be a challenge to keep your team focused. One way to do this is by controlling who exactly is allowed to join or leave the chat room in order to guarantee that only users who have a specific reason to be there are in the Chat Room.
Through Chat Room Controls, you can do exactly this through the 'Room Lock' option, which allows you to predetermine the user composition of the Chat Room. This means that only the team members who really need to be part of the room will have access. Alternatively, you could select the 'Open Room' option to allow users to add users themselves. This option works well for collaborations that require a more flexible approach. Furthermore, when Chat Rooms are coupled with other collaborative features such as Screenshot and Virtual Whiteboard, your team will be equipped with the features it needs to ensure effective collaboration.
Engaging Remote Workers
Remote workers are ever more common in the modern workplace, and rightfully so as this way of working can bring you and your team a wide range of benefits. Apart from the numerous benefits, however, the challenges related to working with remote employees can be numerous. One of the most pressing challenge for the productivity of your remote workers comes from fully engaging them and connecting them to their teammates.
Chat Rooms are a great way for colleagues to stay engaged and connected, particularly when working from different locations. With the Chat Room Controls you could create an open Chat Room specifically for informal conversations where employees are free to join and leave on an ongoing basis. This freer Chat Room format could be just the right space for all of your team members to better get to know each other and connect.
In Conclusion
With the new Chat Room Controls, you can better take advantage of this collaboration feature on your team network. Our hope is that these ideas will help to get you going in your efforts to make the most of your Chat Rooms, and that this feature will now actively contribute to the benefits of instant messaging that you see in your team.
We're certain that there are even more ways that you can use the Chat Room Controls to further improve your team's efficiency, so please share with us any new approaches that you come up with so that we can help our community make the best use of their Brosix team networks!