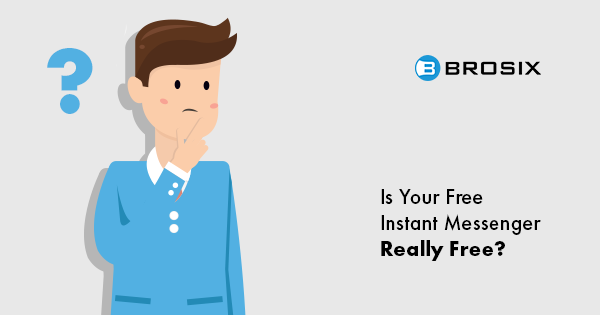 Is Your Free Instant Messenger Really Free?
Free instant messaging has exploded in popularity. With more than 7 billion instant messaging users worldwide, the technology – also known as IM – is the most popular way to communicate at the moment.
As mobile phone plans including talk, text, and data, not to mention international calling rates, continue to skyrocket, free instant messengers are a blessing for your wallet. What's more, thanks to voice and video calling and file-sharing capabilities, free messaging apps facilitate quick and efficient communication, as well as information and data sharing.
That also means they're popping up in workplaces as a solution to improve team communication.
Like most free things, it begs the question – what's the catch? Is your free instant messenger really free? More importantly, is it a secure option for your work communication?
Is Your Free Instant Messenger Really Free?
Click To Tweet
To find out, we'll dive deep into the world of free instant messengers, explore the real cost of using them in the office, and discover whether or not there's a better solution. Let's go!
The Most Popular Free Instant Messengers
There are loads of free instant messengers. Even if you're not an expert on IM, you probably use at least one of them.
WhatsApp
WhatsApp is the most-used instant messenger in the world. With more than 1.5 billion users, there's a good chance you use it yourself. The free IM client syncs with your contacts so you can easily find which friends use the app. To get started, you only need to confirm your mobile phone number.
All functionalities on WhatsApp are totally free of charge. You can send messages, chat in groups, place video calls, leave audio messages, and share media like videos, photos, and GIFs. There are desktop and mobile versions, but WhatsApp doesn't support outgoing calls so both you and your message recipient need the app to connect. WhatsApp's simplicity makes it one of the best free messaging apps.
Available on: Android, iOS, Windows, macOS, Web
Skype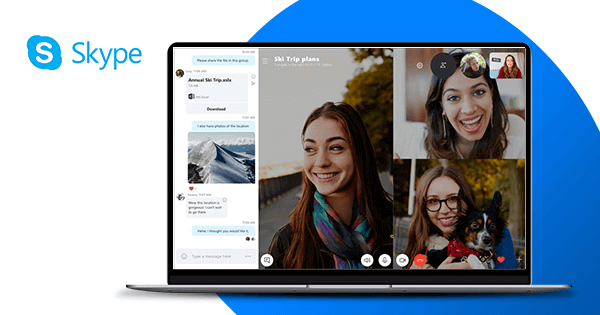 Everyone knows Skype. And for good reason. The free instant messenger has enabled smooth chatting capabilities for both individuals and small teams since 2003.
You can chat in groups or one-to-one. Skype also offers dependable video and voice calls. For the latter, you can call other Skype users for free. Or, for a small fee, you can call landlines and international numbers at seriously reduced rates thanks to internet calling technology.
Skype users can send photos, files, and GIFs, record calls, and even share their screen on desktop or mobile – rare for free messaging software.
Available on: Android, iOS, Windows, macOS, Linux, Kindle Fire, Xbox One
Facebook Messenger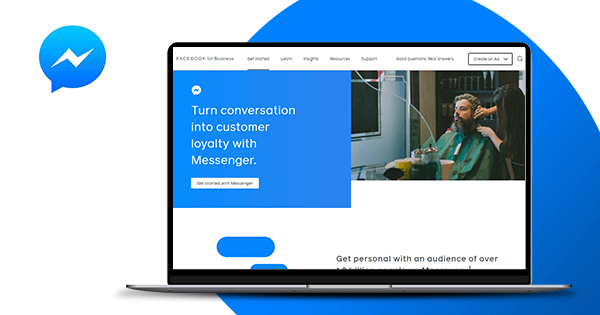 Messenger is Facebook's free instant messaging service. With more than a billion Messenger users, it's hot on the heels of WhatsApp.
On Messenger, you can chat one-on-one or in groups, leave recorded audio messages, place voice and video calls, and share your favorite photos, memes, GIFs, and videos. Messenger is optimized for mobile, but it also works on your PC. Though for the latter there's no standalone app – you'll need to access your messages and chats through a browser. Messenger isn't encrypted by default, though. For end-to-end encryption, you'll need to launch a secret chat.
Available on: Android, iOS, Windows, Web
Viber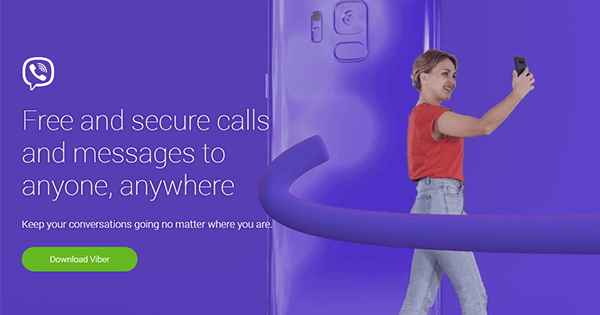 Viber is a popular chat software providing free instant messaging to more than a billion users (mostly outside the U.S.). Viber supports both desktop and mobile and seamless communication between the two.
Once synced with your mobile phone, the free messenger app combs your contacts to find other Viber users. Chat one-to-one or in groups, share files, photos, stickers, and GIFs, or play games. You can even search and share media through the YouTube extension. Best yet, it's all encrypted end-to-end. There's even the option to set messages to self-destruct. For a fee, Viber Out lets you subscribe to a local number in various countries so you can call non-Viber users and also receive calls and texts.
Available on: Android, iOS, Windows, macOS, Linux
Telegram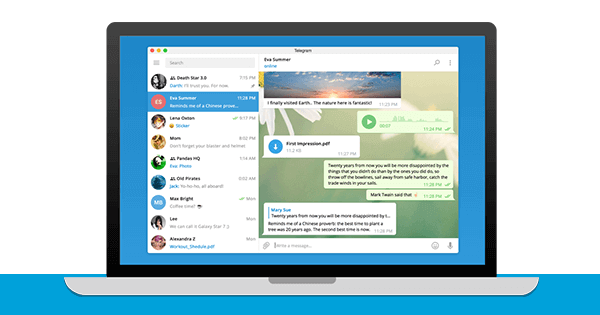 Telegram hasn't joined the one billion user club, but don't think that the personal instant messenger doesn't still offer plenty. Telegram's Supergroups support up to 10,000 members. You can also share unlimited photos, videos, and files. Secret chatting and self-destructing messages make it one of the most popular free messengers for privacy.
That said, Telegram could lull you into a false sense of security. While there is end-to-end encryption, it isn't the default – you have to turn it on manually. What's more, Telegram's client-side code is open-source, but its encryption protocol is homegrown and unverified by experts.
Available on: Android, iOS, Windows, macOS, Linux, Web
Signal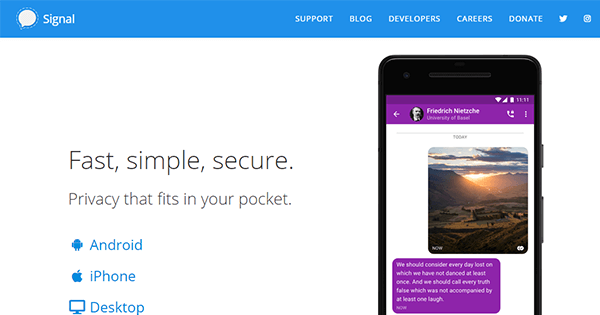 Developed by Whisper Systems – the same company that's partnered with Facebook to provide encryption on both WhatsApp and Messenger – Signal is an open-source instant messenger with an eye toward secure personal chatting. Signal's open-source nature means anyone can poke around and make sure the free IM client functions that way it's supposed to.
Signal is a bare-bones instant messenger. But everything you do get – one-on-one and group chatting, voice and video calls, and shared data – is free of charge and encrypted end-to-end.
Moreover, the app hides virtually all metadata including the message sender, meaning neither Signal nor anyone who intercepts the message in transit can tell who's sending you Signal messages or read the messages themselves. It's so secure that even Edward Snowden uses it. Just have in mind that Signal still requires a phone number to sign up.
Available on: Android, iOS, Windows, macOS
Is Free Instant Messaging Really Free?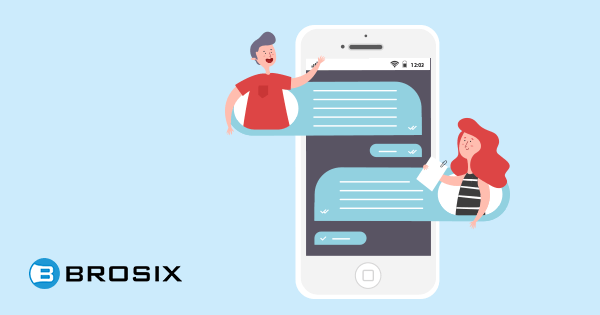 Free instant messaging is convenient. We at Brosix even have our favorite apps!
But there's no such thing as a free lunch. Using a free chat client often means a trade-off. At the best of times, you're facing a slew of ads, some of which are specifically targeted based on your individual data. Worse, your data could be mined for other nefarious purposes.
Then there's the risk of security vulnerabilities and privacy concerns, which – if you're using free messaging software for your work communication – could prove especially costly.
Advertisements
By now the experience is familiar. You google a brand or product. A short while later, you open Facebook or Instagram to see advertisements featuring the very product you were searching for. While WhatsApp has been mulling placing ads between user statuses, some tech companies have admitted to scanning users' emails and then targeting them with ads based on that data. While ads are harmless on their own, what else is being done with all that captured user data?
Lack of Security
The boom in users taking advantage of free instant messaging is a blessing for those looking to cash in on inadequate security protocols or user negligence. For example, WhatsApp has acknowledged multiple such security vulnerabilities. In one instance, accounts were able to be compromised by tricking users into answering video calls. In another, accounts were hijacked through users' voicemails.
Bugs
When it comes to tech, bugs are ubiquitous. Sadly, free instant messaging isn't immune. Facebook Messenger bugs have revealed private posts that you've liked, as well as who you've been instant messaging.
Recent WhatsApp vulnerabilities, on the other hand, have allowed cybercriminals to spread malware, phishing, or ransomware campaigns through seemingly harmless notification messages. In many cases, bugs can be wiped out with a quick update. But that still might not be quick enough to repair the damage done to you personally, or your business.
Disregard for Privacy
Amnesty International scored WeChat, China's popular free instant messenger with 1 billion users, 0 out of 100 for both surveillance and censorship. Privacy is a global concern, though. Up to 87 million Facebook users were affected by Cambridge Analytica's data-gathering scandal which surfaced in 2018. While Facebook's free Messenger app allows you to encrypt your chats end-to-end, you have to turn on the feature for each individual chat that you want protected. Even Signal, the so-called industry favorite, requires a phone number for free chatting.
What about Free Instant Messenger App Permissions?
Permissions are allowances that you, the user, agree to so that an app, such as an instant messenger, can fully perform its duties. With each permission, the app lays out the conditions which it may affect (or may affect it) while the application is installed or in use.
Requesting and granting permission should act as a show of transparency and good faith, indicating that the developer has nothing to hide while at the same time providing the user a more thorough understanding of how the app does what it does.
Moreover, the permission ensures that the app is given the data and system access needed to do its job. Logically, for example:
A song recognition app would need access to your microphone
A mapping application would need your GPS coordinates
An email application would need your address book to fulfill its duties.
The Issue with Permissions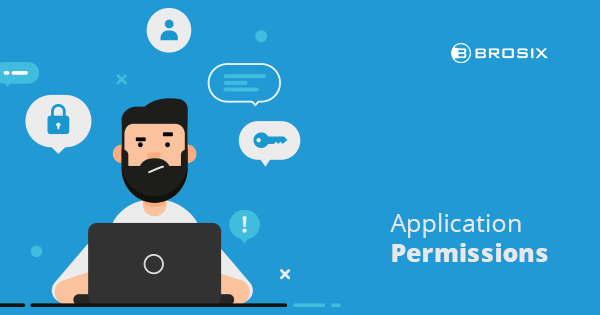 Permission protocols often vary across operating systems and can be confusing. Multiple permissions are either presented at once or one after another in quick succession, and the language may be vague or oddly worded. Even if the language is clear, the exact meaning behind the permission or why it's suggested often isn't. What's more, consideration of the consequences of freely granting permission is rarely given.
The Risk of Free Instant Messenger App Permissions
With the boom in popularity of free instant messaging, so too have increased the permissions that messaging apps request upon download and registration. Free IM clients can request access to:
Contacts
Photos and multimedia
Files
Camera
Microphone
Location
But just because a free messenger application asks for your permission doesn't mean they'll be straightforward about what they intend to do with your data.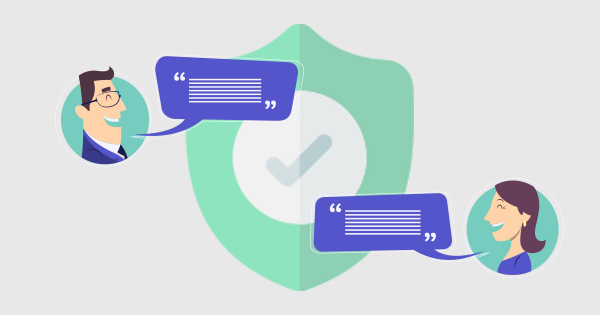 By permitting an app to freely access your hardware, features, location, and data:
You could be unwittingly spied on, eavesdropped, or tracked
Your photos and multimedia could be snooped and/or stolen
Your sensitive files and documents could be compromised
If it seems farfetched, consider that some free instant messengers, or their parent companies, have been some of the biggest violators of user data and information.
Facebook has harvested user data through a deceptive "Research" VPN, even paying users twenty dollars to use the application. Upon "Trusting," the app, users – many of whom were teens – consented to provide Facebook private social media messages, chats from instant messaging apps, emails, web searches, browsing activity, and location information.
Facebook isn't alone. Telegram users have reported instances of unsolicited remote camera access without having first provided permission, while WhatsApp provides parent company Facebook with users' personal information, including phone numbers.
While you shouldn't rush to delete all your free messaging apps, you should consider the ramifications of simply granting them permission – what data the apps can access, how they'll use this information, and what could potentially result from providing this access.
Moreover, if you're using free messaging software for your business communication, switch to a team communication tool.
Team communication tools provide the user experience of the best free IM apps, but add more robust security and control features to facilitate enterprise-grade messaging that's suitable for the office.
Free IM vs. Enterprise Instant Messaging
Good internal communication at work is critical. Free IM apps and enterprise instant messaging programs both enable quick and efficient communication, but the difference is in the details.
Free messaging apps typically serve as an alternative to costly phone and data plans. Platforms like WhatsApp, Viber, Facebook Messenger, and Skype boast user numbers in the billions, but their features are geared toward personal communication.
While enterprise instant messaging utilizes the same technology that's made free messengers so popular – quick text chatting, voice and video communication, and file sharing – its enhanced network, security, and control capabilities meet the demands of the office environment.
Closed Network
Free instant messengers are great for slinging memes and viral videos. But they're not built with effective workplace communication in mind. For that, you'll need a closed network.
A private team network ensures both the communication space and collaboration toolkit are only available to the users which you individually authorize. This way you can secure each communication channel, administer the network, and keep team communication focused and efficient.
Security
To safeguard company data and information, enterprise instant messengers approach security and privacy more holistically than your standard, personal-grade messenger.
Whereas end-to-end encryption is optional with many free services, it's the default on most enterprise instant messaging solutions, including Brosix. Peer-to-peer connections enable a secure communications flow that bypasses potentially vulnerable cloud databases and possible client misconduct. Anti-virus and malware integration ensure safe file transfers.
Control
Simply put, popular free instant messaging platforms lack the necessary control features to ensure efficient and productive teamwork.
Brosix, for example, equips you with rich administrative features so you can customize your team network and administer it to suit your team and business needs. Establish custom chat spaces, handpick administrators, allocate features on a user or team basis, and manage the space from the contact lists all the way down to individual data security levels.
Brosix isn't just great for in-house teams. It makes remote workers feel like they're in the office.
The Takeaway
Like most things, free instant messengers come with their share of pros and cons. But you don't need to ditch your favorite free messaging apps. Just consider these simple tips to keep chatting while staying secure and protected.
Share Cautiously on Free Instant Messengers
Consider what you're sharing via personal instant messengers, as well as what data you're sharing with the developer itself. And if an app or client has a dubious track record when it comes to trustworthiness, look elsewhere. There's no shortage of free messaging services!
Consider App Permissions Carefully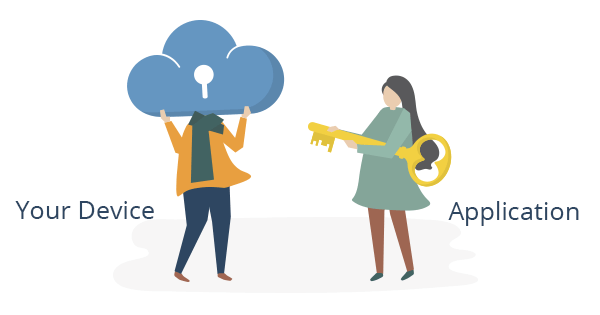 Don't just accept permissions so you can start using the app. Providing free personal messenger apps permission to access your device storage, multimedia, or files could enable them to steal, delete, or share your data, leaving you exposed.
Read the fine print. While a client or software may still collect your data, by educating yourself before you download and install anything, you'll know whether or not you want to proceed with the ensuing permission. This way, there won't be any surprises.
Go for an Enterprise Instant Messenger at the Office
Free instant messengers are great for keeping in touch, sharing your favorite photos, and avoiding skyrocketing phone and data plans. But they're not built for the office.
At work, go for an instant messenger that's built for the work environment. Enterprise instant messengers employ more robust security and privacy measures, offer fewer surprises regarding permissions and the data they inherently have access to, and afford greater control of the communication space.
Is Your Free Instant Messenger Really Free?
Click To Tweet
Better yet, many offer freemium versions and free trials so you can test drive the platform and its performance with your team. If you're not sure where to begin, start with Brosix! It's got all the network, security, and control features to improve your team communication today. Try it!