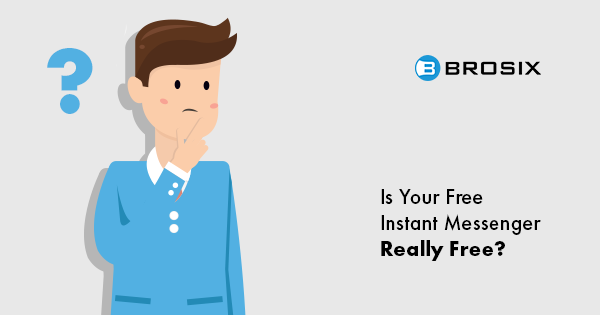 Is Your Free Instant Messenger Really Free? It May Not Be.
With instant messaging platforms boasting over 5 billion monthly users, IM is no doubt the most popular way to communicate at the moment. Apps like WhatsApp, Viber, Messenger, and others provide a convenient way to keep in touch with friends, family, and coworkers, as well as a platform for sharing media and information. But aside from the sheer volume of users and accessible communication features, these platforms have something else in common. They're all free – to both download and use.
As mobile phone plans, especially those featuring unlimited talk, text, and the necessary data and roaming packages, continue to skyrocket, these apps are a blessing for you and your wallet.
But is anything in life truly free? Sure, you can chat with whomever you like as much as you like and, in most instances, even voice and video chat. You can share emojis, gifs, media like music and videos, and even files, too. But what's the true cost of this convenience? By considering factors like your security, privacy, and well-being it begs the question:
Is Your Instant Messenger Really Free?
For all the conveniences your instant messenger offers – cost, or lack thereof, being the biggest – there's still room for concern. Consider, for starters:
Bugs – When it comes to technology, bugs are ubiquitous. Unfortunately, instant messaging is no different. Recently WhatsApp acknowledged a bug which has been deleting users old messages. In fact, one user reports dealing with the problem since June 2018 – losing a number of very important messages. While you may think it's just harmless old chats being deleted, if you're using WhatsApp for work communication, those deleted messages could contain important, or even sensitive, information. And considering a bug exists which is deleting old messages, who's to say current messages won't be deleted in the future?
Security – It's no secret that the boom in users utilizing free instant messengers is a blessing for those looking to cash in on inadequate security protocols or user negligence. Late in 2018, WhatsApp acknowledged multiple vulnerabilities which could lead to security breaches. In one instance, accounts were able to be compromised by tricking users into answering video calls. In another, accounts were hijacked through users' voicemails.
Privacy – Amnesty International scored WeChat, China's most popular instant messenger with 1 billion users globally, 0 out of 100 for both surveillance and censorship.



Privacy, however, is an increasingly worldwide concern. Up to 87 million Facebook users were affected by Cambridge Analytica's data gathering scandal which surfaced in 2018. While Facebook allows you to encrypt your chats end-to-end through its Messenger app, users must turn on the feature for each individual chat which they want protected. Considering Facebook's history, that's neither reassuring nor convenient.
Advertisements – By now the experience is familiar. You google a brand or product in which you're interested. A short while later, you open Facebook or Instagram only to see advertisements featuring the very product you were searching for. In fact, Google has admitted to scanning users' emails and then targeting them with ads based on that data. Now WhatsApp is joining the game, featuring ads sandwiched between user Statuses. While ads are harmless in their own right, what's being done with all that captured user data?
So What Can You Do?
Let's be honest. It's unlikely that you're going to stop using instant messaging. And that's not the point.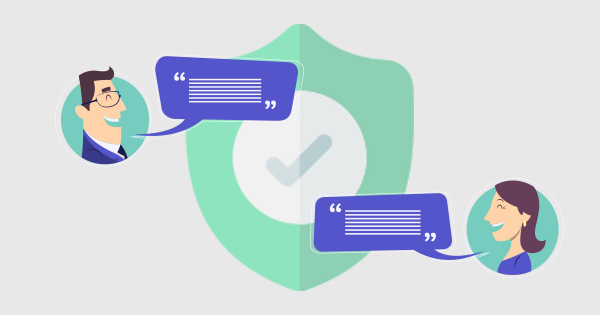 So to begin with, consider these tips:
Think about the nature of your communication – Are you chatting for work or pleasure?
Use strong passwords, change them regularly, and use two-factor authentication when possible
Choose an instant messenger featuring strong encryption
Don't share information which you wouldn't want publicly available
Consider an business instant messenger
On that last point, the benefits of a business instant messenger are multifold. Brosix Instant Messenger, for example, uses industry-leading security protocols to protect the security and privacy of its users and their data.
All communication is encrypted end-to-end and, furthermore, is peer to peer; meaning data never passes through third-party servers, nor is it stored in the cloud. Long story short – Brosix's powerful security measures better protect you from malicious outside threats. And while bugs are an unfortunate reality of technology, you'll never have to worry about the safety or security or your data, and you'll never face surveillance or targeted ads.
Better yet, Brosix offers multiple versions depending on the needs of each user and the nature of their communication. Like most personal instant messengers on the market, Brosix Personal is free to use and provides everything you'd expect from an instant messenger – text chat, chat rooms, and voice and video calls. Unlike the rest, however, added extras like unlimited size file transfer, a host of collaboration tools, and chat histories optimize even your private communication.
What About My Work Communication?
First and foremost, you should avoid using a personal instant messenger for work communication.
In addition to enhanced privacy and security features, business instant messengers provide a host of tools to maximize team collaboration, as well as the features to ensure efficient and productive communication. For example:
Halt outside interference and intrusions with a private team network
Customize your communication channels and user experience with comprehensive administrative features control
Monitor communication across your network and meet all compliance regulations with chat history archives
In Conclusion
Not all instant messengers are created equally. Simply put, you need to do your homework – regarding both the platform of choice and the nature of your communication. For both instances, however, consider the benefits of a business instant messenger.
Just like your favorite messaging app, business instant messengers enhance and ensure your real-time communication. What's more, added security and privacy features, team collaboration tools, and administrative controls streamline your communication and collaboration in ways that ordinary messaging apps just can't match.