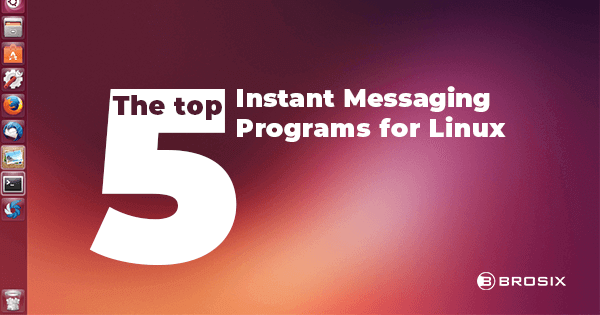 The Top 5 Instant Messaging Programs for Linux
The home computing world is dominated by Windows. While Apple has its niche of dedicated devotees, it doesn't come near the estimated 82% of desktops and laptops running Windows.
Where does that leave Linux? The truth is that Linux is more than a small-time operating system playing catch-up. It's powering not only the majority of supercomputers, but also web servers, various government platforms, consumer products like Smart TVs, and even Hollywood movies.
If you've wondered whether to try Linux for either your personal or business needs, there's never been a better time to give it go!
Consider, for instance:
It's free – You read that right. Linux is a no-risk try! If you're building your own PC, you won't shell out $120 on Windows. You can even test-drive Linux distros on your PC before installing them.
It's open-source – If free isn't an attractive enough option, consider this: Linux's open-source nature means that, along with the OS, you get access to the entire Linux community.
It's more compatible than ever – The days of widespread incompatibility with PC hardware are mostly gone. What's more, as open-source alternatives improve in functionality and usability, Linux now houses media players, Office alternatives, and Photoshop rivals. Plus, a host of compatible instant messaging programs for Linux means you'll never miss a message!
That last point is critical. Instant messaging has become one of the most preferred channels for communication, including seven billion user accounts and an ever-growing list of free and paid, personal and business solutions.
If you're already operating Linux or considering a switch, a Linux-compatible messenger is key.
The Top 5 Instant Messaging Programs for Linux
Click To Tweet
So what are the best instant messaging programs for Linux? Here's our Top 5!
Viber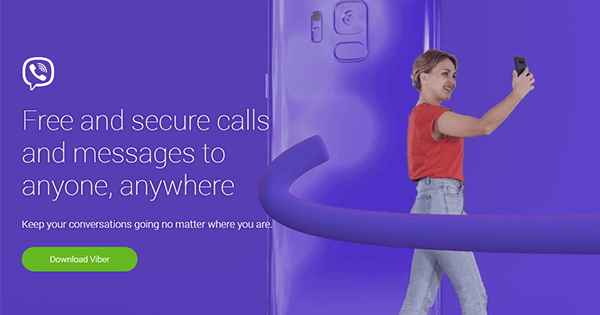 Viber is an instant messenger and voice over internet protocol application developed by a former Israeli intelligence officer. Launched in 2010, Viber recently joined the one billion user club, of whom 260 million are active monthly.
That makes Viber one of the most widely-used Linux-compatible messengers.
Over Viber, users can send text, voice and video messages, stickers, emojis, photos, files, and also make voice and video calls. It's all encrypted by default.
For a fee, Viber Out allows individuals to call non-Viber users. Recent versions support group chats for up to 250 users, as well as group video calls for up to five participants.
Notable Viber features:
Search and share media from your favorite websites like YouTube and Booking, without leaving the conversation.
Delete seen messages.
Verify the identity of your contacts by exchanging secret keys.
Viber's limited business version offers users groups with an unlimited number of members, chat histories, and the ability to transfer a mid-call conversation from mobile to desktop.
Viber is available across Linux, Windows, macOS, Android, and iOS platforms.
Signal
If you're looking for a secure Linux-compatible messenger, you could do far worse than Signal.
During an era where big tech companies make fortunes from mining our data, Signal does more than just encrypt chats end-to-end by default. Signal hides virtually all metadata, including the message sender. That means neither Signal nor anyone who intercepts the message in transit can tell who's sending you Signal messages.
Unlike Telegram, Signal is completely open-source, peer-reviewed, and non-profit. In addition to boasting Edward Snowden as a user, the U.S. Senate also uses the secure messenger.
Notable Signal features:
Signal offers one-on-one and group chat, voice and video capabilities, as well as document and file sharing.
Set messages to disappear and customize different intervals for each conversation.
In addition to being free of charge, Signal is free of ads, marketing schemes, and tracking.
Signal is available across Linux, Windows, macOS, Android, and iOS platforms.
Telegram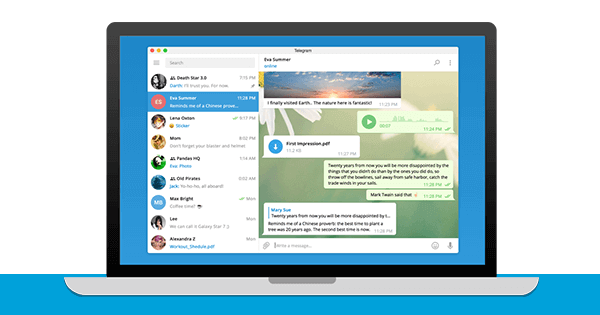 Telegram is a quasi open-source Linux-compatible messenger which made it's debut in 2013.
What's quasi open-source, you ask? Well, Telegram's client-side code is free and open, but backend infrastructure like the server-side code remains proprietary.
Telegram is available for both desktop and mobile operating systems. Its cloud-based infrastructure lets you synchronize between and access messages from multiple devices. With Telegram, you can share unlimited photos, videos, and files.
Have in mind, though, that Telegram doesn't encrypt chats by default. Secret chats and voice calls are encrypted end-to-end, but the former have to be manually turned on. That could lead users to a false sense of security.
Notable Telegram features:
Supergroups allow for up to 200,000 users.
There are no limits on file size or chats.
Secret chats prevent users from taking screenshots, and black out the screen-recording option.
You can self-destruct messages with a timer.
Telegram provides two-factor authentication.
Telegram is available across Linux, Windows, macOS, Android, and iOS platforms.
Trillian
Released back in 2000, Trillian is one of the earliest instant messaging programs for Linux.
Trillian offers encrypted communication for both individuals and businesses, as well as seamless management of email and social networking.
Individuals get simple texting, group messaging, voice clips, peer-to-peer file transfers, screenshots, and game chat. In addition to the individual features, businesses get centralized user administration, control over features and contacts, browseable public group chats, customizable data retention periods, and more.
Notable Trillian features:
Trillian offers businesses both the option to self-host or communicate behind Trillian servers.
Take advantage of numerous in-messaging text formatting options.
Integrate Trillian with Facebook, Twitter, and LinkedIn to stay on top of your social media.
Leverage in-game overlay to chat directly during full-screen games.
Trillian is available across Linux, Windows, macOS, Android, and iOS platforms.
Brosix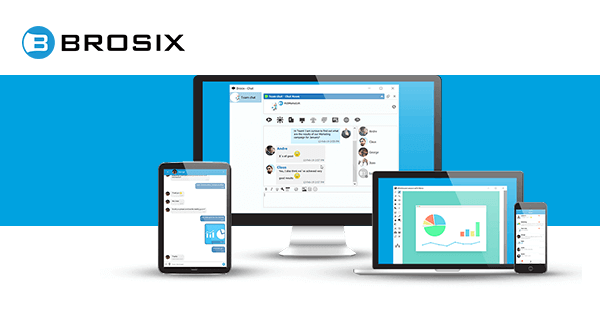 Brosix knows a thing or two about instant messaging. Since 2006, the all-in-one business instant messenger has afforded teams an exclusive workspace for communication and collaboration.
Brosix provides everything for efficient communication and effective collaboration. Chat features include texting, group chat rooms, and full voice and video capabilities. Unlimited size file transfers, screen-sharing and remote desktop control, instant screenshot, and a virtual whiteboard facilitate dynamic teamwork.
Brosix takes a multi-layer approach to security. To safeguard the network, Brosix provides a private team network and reinforces it with fully encrypted peer-to-peer channels and anti-virus and malware integration.
Robust enterprise tools allow you to tailor the network to suit your business, while also ensuring communication and collaboration remain on track and on-premises.
It all makes Brosix not only one of the most secure instant messaging programs for Linux, but rather one of the most secure instant messaging programs period.
Try Brosix for free today and boost your team messaging and collaboration capabilities!
Notable Brosix features:
A Brosix private team network guarantees only authorized users join the platform.
The enterprise toolkit affords contact management, full features and chat room control, chat history archives, and the ability to set multiple administrators and specific data security levels.
Broadcast messages let you reach groups of users while preserving workflows.
Pair the whiteboard with real-time communication to create whiteboard conferences.
Brosix is available across Linux, Windows, macOS, Android, and iOS platforms.
The Takeaway
There you have it – our top 5 instant messaging programs for Linux.
top 5 instant messaging programs for Linux
Click To Tweet
As instant messaging surges in popularity, it will continue to play a key role in effective and efficient communication. Unfortunately, not all instant messengers work across devices and operating systems, including Linux.
If you're a Linux user, or you're considering a switch, try one of these instant messaging programs and ensure your communication remains unhindered and uninterrupted.