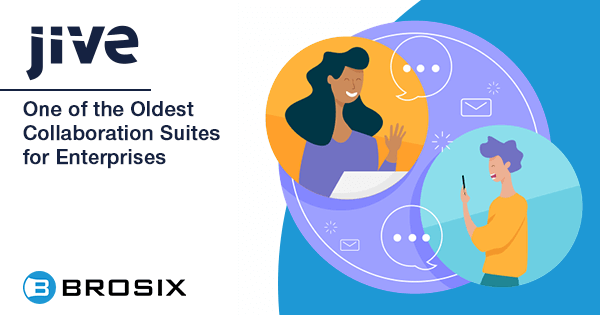 What Is Jive? Meet One of the Oldest Collaboration Suites for Enterprises
Do you know that the enterprise collaboration market is predicted to hit 45 billion dollars by 2025?
It's an ever-expanding industry whose growth has certainly been helped by the events that took place on the global stage in the past year. Players like Salesforce and Microsoft have been making big moves in the enterprise communications market with acquisitions and purchases that helped them achieve a better position going forward.
In this landscape, different players occupy different positions. So, you'll find productivity apps like Trello and Time Doctor that prioritize efficiency and task management but also team chat apps like Slack that facilitate group communication.
Jive finds itself in an interesting position among these different apps: it provides a set of solutions that range from connecting employees to creating IT support tickets across the organization.
So, what is Jive and how does it work? More importantly, how does it fare against other options on the market?
What Is Jive?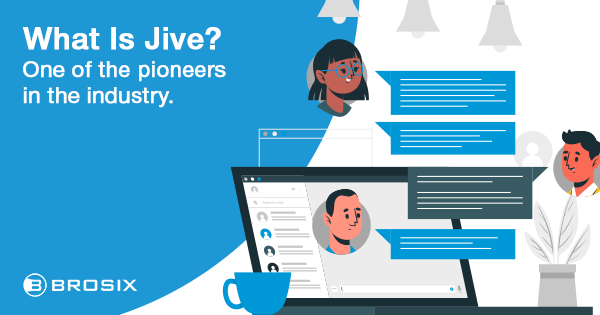 You might not be as familiar with Jive as you are with Slack or Microsoft Teams but this collaboration software is one of the pioneers in the industry.
Jive was founded back in 2001 in Iowa but its current headquarters are in Palo Alto, California. Its focus is on providing businesses with an all-encompassing solution that enables teams to communicate, collaborate, and get to know each other.
The year 2009 marked a big milestone for Jive, as it reported an 85% increase in revenue and secured a $12 billion investment from Sequoia Capital in Series B funding.
Several years later, in 2017, the app was purchased by Aurea and included in its Customer Experience Platform.
As a company, Jive Software is known for apps: Jive and Openfire (previously known as Jive Messenger). While the first one is a business solution, the latter is an instant messenger and group chat server completely owned by the community.
The Jive platform has a variety of solutions that can be split into five categories. Let's go through those now!
Jive solutions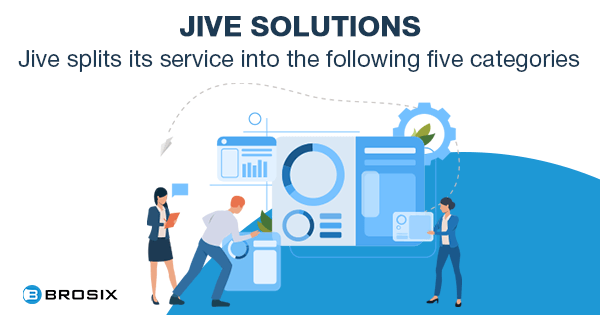 Jive splits its service into the following five categories:
IT: The IT solution aims to enable IT departments to reduce costs and increase employee productivity. It offers a virtual help desk, visibility into processes, and onboarding for all employees.
Collaboration: This is a typical team collaboration suite that allows employees to schedule meetings, share files, and plan tasks. You can collaborate across teams, departments, and even large, company-wide communities. It also allows collaboration with outside contributors in a secure, private way.
Corporate communication: Unlike the previous solution, corporate communication refers to announcements and important company-wide information that need to reach every single employee. There is a News page to keep employees informed, a social aspect that lets people comment and share things, as well as executive communication in the form of blogs.
Employee engagement: An HR portal developed to increase employee alignment and reduce administrative tasks. HR teams can use this solution for a variety of tasks, from employee onboarding to providing informal employee training. It also supports things like recognition and rewards to empower employees.
Enterprise social network: The Jive social platform motivates employees to stay connected and create a community. Much like Facebook, it allows people to have profiles where they can share status updates, post comments, mention people, and create groups. It also serves as a directory that makes it easy to find anyone, no matter how large a community is.
However, as we're about to see, the abundance of features and platforms might create some confusion. Jive tries to do so much without really excelling at anything in particular.
Interface and key features
The main navigation menu in Jive is already confusing and filled to the brim with options and choices.
In the Jive community platform, you can navigate to Activity, Content, People, Places, Tasks, Insights, Rewards, and Calendar.
The Content and Places sections are particularly confusing. Content seems to display any type of content posted to the platform: blogs, discussions, documents, polls, etc. Each activity is shown as a tile with activity (likes, comments, shares) listed below. Fortunately, you can filter the content by type to reduce some of the noise in this section.
The Places section is even less clear since it features Spaces, Projects, and Groups. It was probably intended as a way to keep things more organized but it shows information from different divisions and departments, along with company-wide information.
To post content, you can click on Create and you'll see a dropdown menu where you can choose which type of content you want to post. That's the issue—you can post any type of content, including Questions, Polls, Discussions, Blog Posts, FIles, Documents, Tasks, Messages, Events, Videos, etc.
In short, Jive offers so many spaces, places, and different types of content that it's easy for things to get lost. It's not clear what the app's primary use is and how it can facilitate collaboration. It's not hard to imagine missing out on an important piece of information because you didn't know where to navigate.
Its interface is reminiscent of Yammer, which is also an enterprise social network and a team communication tool all in one. However, it's a slightly more streamlined app than Jive, even if Yammer can get confusing as well.
Jive collaboration features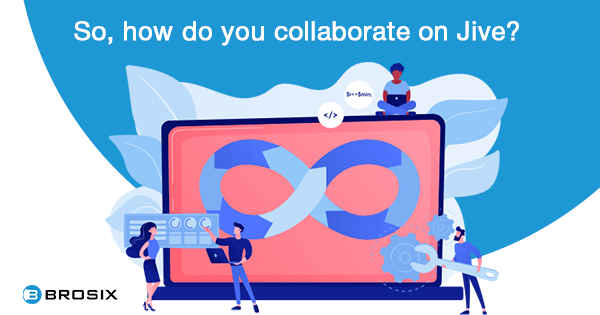 So, how do you collaborate on Jive? What are your options when it comes to task management or making team decisions?
Jive offers lots of features that empower teams to organize their workload and tasks. You can create Spaces and Groups that can include whole departments or small teams that are created on a project basis if you want to have a single place to share everything related to the project.
You can also create and collaborate on wiki-style documents without losing a step.
Perhaps the most ambitious feature in this area is task management. Allowing you to use things like to-dos and similar options for tracking outcomes, Jive attempts to compete with apps like Trello. Here, again, we can see how Jive introduces a feature to its already large pool of options without giving it enough attention or room to breathe.
In other words, if you need serious team collaboration tools, you're better off with apps that specialize in this particular field.
There are some neat features, however, that truly help team communication. One of those is the Polls feature that lets you get an easy overview of group opinions or choices. Scheduling events and sending invitations is also easy and quick.
Integrations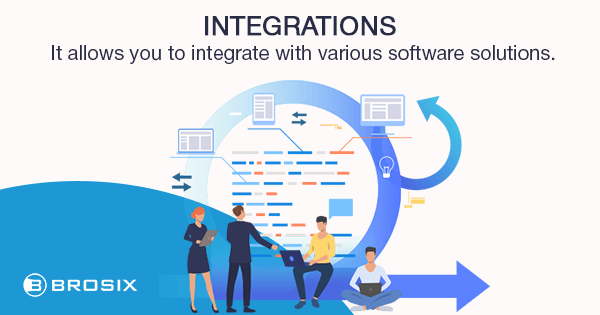 Like many team chats and organization apps, Jive allows you to integrate with various software solutions.
So, if you find anything missing from Jive tools, you'll probably find an app in their integration library that can help you complete the task.
Here are some integrations that Jive offers:
Email: using a collaboration tool that doesn't have an email integration can be challenging. You can convert email strings to discussions in Jive and even include attachments. You can also comment and take part in Jive discussions from Gmail.
Cloud storage: Jive allows you to collaborate on different types of content while storing it in Google Drive, Box, Sharepoint Online, and Dropbox. That way, you're in control of your storage space and you can use Jive with systems you're already familiar with.
Document collaboration: Create or upload content in Office 365 or Google Docs and then collaborate on that content in Jive's environment. You might be familiar with this integration as Slack allows for something similar.
Real-time communication: You can integrate with Skype for Business or Hangouts for a more convenient, real-time communication experience. This can come in handy if you want to hold large conferencing sessions with a familiar app.
You can also integrate with other famous software like Salesforce and Lucidchart but that's about where Jive's list of integration ends. It's far from Slack's elaborate list of literally hundreds of integrations.
Frequently asked questions about Jive
The Jive community has a lot of questions when it comes to how the app works and how some specific features are activated.
Here are some of the most common such questions.
How is Jive deployed?
The team from Jive is with you during the entire deployment, making sure that the solution fits your company's needs. A lot of the work is done from their side so your IT department won't be overloaded.
The deployment process consists of seven steps:
Kick-off call where you set up the process, introduce the team, and discuss next steps;
Data gathering to identify your needs in one-on-one sessions;
Intranet design where the Jive team proposes a design based on the agreed factors;
Design validation to discuss the design proposed in the previous step;
Intranet creation to create your network;
Training for your team to get familiar with the platform with help from Jive;
Success is helped with quarterly calls to make sure you're getting the most out of the app.
Is Jive secure?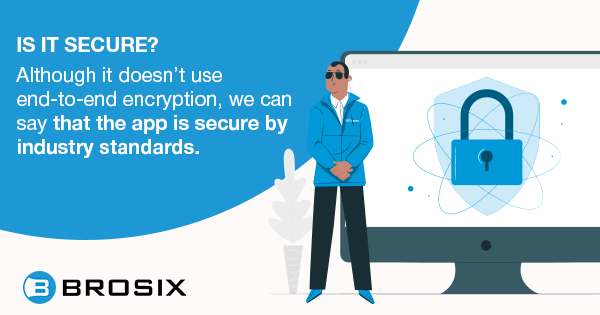 Although it doesn't use end-to-end encryption, we can say that the app is secure by industry standards.
It has all enterprise-level certifications like the ISO 27001:2013 and the Privacy Shield Certification. It's also compliant with the latest GDPR standards.
Jive also has a dedicated security team that tests application security with both manual and automated methods.
What is Jive pricing?
Unlike other similar communication tools, Jive doesn't have a fixed set of pricing plans that you can choose from. You can't compare features, limits, and service packs.
Because it's a tailored solution created for your team from the ground up, to get Jive pricing, you need to contact them and get a quote.
On one hand, that's slightly disappointing because you don't know what you're getting right from the start. On the other hand, it's always nice knowing that you'll be getting exactly the features you need—nothing more, nothing less.
Brosix: A streamlined communication experience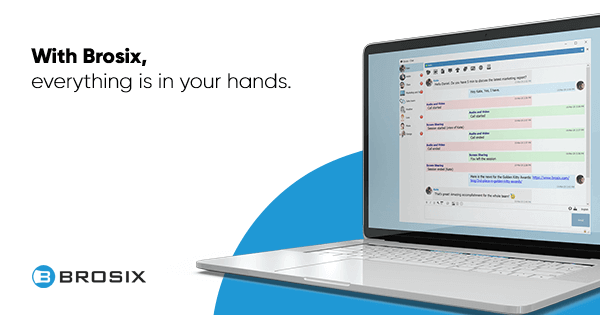 Looking at how Jive is set up, you might be thinking that enterprise communication shouldn't be that complicated. All you need is a tool that provides just enough collaboration features and makes communication easy.
You want an easy and efficient way to connect teams and individuals, making projects easier to handle in the process.
That's what we had in mind with Brosix—facilitating team collaboration and empowering teams to work effortlessly.
Effortless team collaboration
With Brosix, you have everything you need to help your team collaborate.
You have regular team chat rooms where you can communicate with entire teams or have one-on-one communications, like on Slack. There is an unlimited chat history so you can rest assured that all your conversations are saved and searchable—both by date and keyword.
There is also no limit when it comes to secure file transfer which means you can share all of your files, no matter how large.
Everything is enforced by complete admin control (through the Web Control Panel) and end-to-end encryption for guaranteed security.
Going the extra mile
But, compared to Jive, Brosix really starts to shine when you take a look at the advanced features.
For example, you have screen sharing with a remote desktop that allows you to give other people control over your screen—perfect for things like training and IT support. There is also the virtual Whiteboard feature that can help bring new life to your presentations and a live chat feature you can implement on your website.
All of these options are easy to find and fit naturally within the app's interface!
The final word
What is Jive all about? Is it a social network, a team chat, or a collaboration and project management tool?
The correct answer to this question would probably be "a little bit of everything". Therein lies the issue with Jive—you'll probably be better off with a team chat app if you need a team chat, a project management tool if you need one, and so on.
Jive does a little bit of everything but not enough to convince us that it's the right choice for any of these processes. It's also filled with features and the interface is so crowded that it can be difficult to navigate—something that should never be said about a work organization app.
If you find that you're still looking for that perfect solution for your organization, we suggest you explore Brosix. It's intuitive and simple, yet packed with all the features you'll need. It will also keep your data safe, which, when it comes down to it, might just be the more important thing.