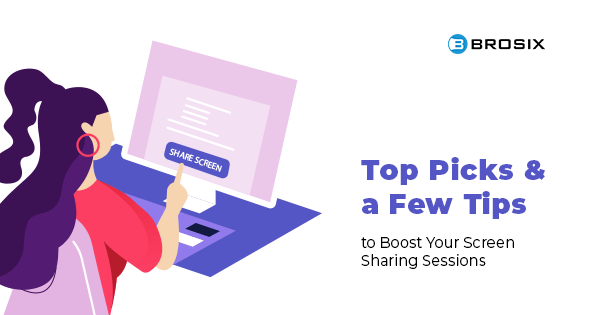 Top Picks and a Few Tips to Boost Your Screen Sharing Sessions
March 25, 2019 Instant Messaging



A picture's worth a thousand words. While in many instances, the cliche still rings true, a picture could also could drastically cut the time you spend explaining tasks, processes, and issues, and information.

Today, versatile screen sharing tools often come included as part of communication and collaboration programs and software. In addition, myriad stand-alone screen sharing applications exist on the market, each capable of providing your team collaboration a needed boost. So where do you turn?

In this article, we'll explore some of the top options on the market. We'll also share some tips on how you can maximize your screen sharing sessions and, as a result, optimize team performance. More on that in a bit, though.

But first,
What is Screen Sharing?
Screen sharing, also known as desktop sharing, is a process which consists of sharing a given computer screen; providing the other party remote access for instructional or collaborative purposes.
Screen sharing effectively allows the other party to see in real time everything that the first user sees, as well as what they're doing.
So What Are My Options?
Skype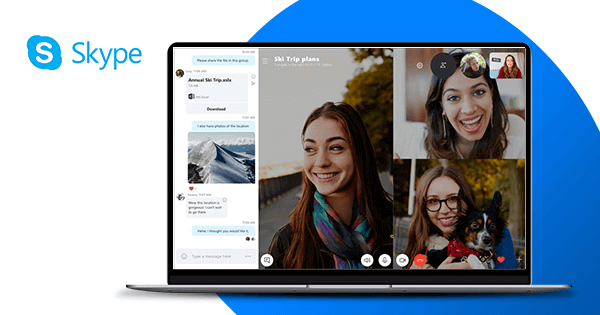 Skype is no stranger to the field of instant messaging. Released in 2003, it's been a household name ever since. But, the popular software also allows you to share your screen with friends, family, and/or coworkers. Access to the screen sharing feature used to require a subscription, but now Skype allows users on free accounts to share their screen. If you're already a Skype user, why not take your communication to the next level with this useful feature?
Google Hangouts
By now, most people already have a google account – providing users access to various Google applications like Gmail, Google Drive, Google Calendar, and Google Hangouts. Hangouts is Google's communication platform which includes messaging, video chat, and VoIP features. Importantly, when you start a Hangouts call, you have the option to choose a presenter and start a screen sharing session.
Splashtop
Splashtop's screen sharing solution stands out by way of its IT-friendly design. Splashtop makes computer and server support an intuitive process – certain to be a hit among IT and support specialists. Free for personal use within the same network, Splashtop does require a paid subscription for business and support teams.
Join.me
Join.me offers a variety of pricing tiers, but the free offering allows you to share your screen instantly. With the basic version, you get VoIP features and the ability to invite up to ten participants. You also get access to file transfer, sharing controls, and a mobile app. To access the mobile app, simply download the desktop version. Not only do you unlock access to the mobile app, but you get up to four whiteboards on the iPad app.
TeamViewer
TeamViewer is free for personal use and works across a variety of platforms including Windows, Mac, Linux, Android, and iOS. Available in more than 30 languages, TeamViewer comes with loads of bells and whistles. In addition to screen sharing, you can share audio and video calls. Uniquely, though, if you don't want to share your whole screen, TeamViewer allows you to share parts of your screen or specific programs. TeamViewer also supports file sharing, chat, and whiteboard functionalities.
MingleView
Another free service, MingleView won't hassle you to upgrade each time you launch the app. With Mingleview, you get unlimited meeting hosting and participants, as well as secure peer-to-peer connections without registration, complicated installation or firewall configuration. The only drawback is that the service only works on Windows, so if you're a Mac user you'll have to look elsewhere.
Brosix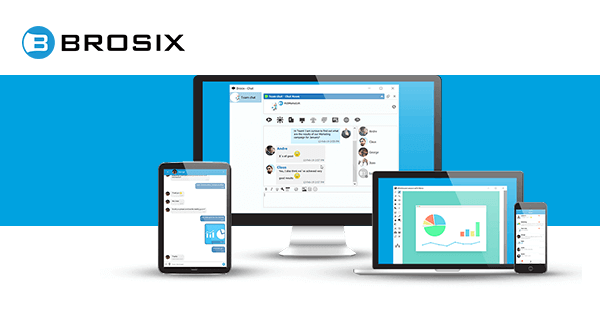 Brosix is an all-in-one enterprise communication and collaboration platform. In addition to text and group chat and voice and video on a private team network, Brosix provides a nifty screen sharing tool with multiple options. You can share your screen with a contact or let a contact view your screen. You can also grant a contact remote desktop access, essentially allowing them to operate your computer – ideal in instances where an IT or support team is operating remotely.
Though a paid service, the reasonably-priced platform offers industry-leading security protocols featuring peer-to-peer communication channels and AES 256-bit end-to-end encryption across all communications.
So I've Got Options. Now What?
Regardless of the solution you settle on, leveraging the power of screen sharing will help you bring teams closer together, better engage them, and bring about:
More active participation – It's one thing to share an idea with colleagues. Providing appropriate visuals, however, boosts engagement and inspires more proactive participation among participants. What's more, screen sharing allows for real-time group feedback; making creating or updating presentations, editing documents, and preparing reports a truly collaborative process.

More compelling sales pitches – Providing prospective clients and customers the opportunity to see how your products or services can benefit them gives you a competitive advantage. Screen sharing allows for more focused questions, more detailed feedback, and ensures both parties are on the same page.
More effective presentations – Whether you've planned a presentation or need to improvise one, screen sharing is an ideal platform. When you allow the other party to visualize data, it's easier to reveal key insights, demonstrate goals, objectives, and metrics, and persuade others to come round to your point of view.
More efficient training and support – IT specialists will agree that one of the most effective ways to assist someone with complex configurations (when in-person isn't an option of course) is through a screen sharing session. What's more, via screen sharing, HR can walk a new hire through on-boarding material, training manuals, and company information.
More engaging project overviews – No matter the project – financial estimations, budget analyses, strategies and roadmaps, engineering or design plans, marking or ad campaigns – screen sharing not only makes it possible to inform stakeholders throughout a project, but more effectively engage them.
To Conclude
Screen sharing can save you time and effort, allow you to get more done more quickly and clearly, and boost communication across teams, departments, industries, and even locations.
Just remember, while the above-mentioned uses and benefits are by no means exhaustive, they're all for naught if you don't:
Double check your materials. Take some time to ensure the documents, slides, and software you plan to demonstrate are ready and accurate.
Plan what you're going to say ahead of time. You may have an eye-popping presentation planned, but not rehearsing it leaves you ill-prepared, dull, or repetitious.
Turn off notifications! Nothing distracts or disrupts your flow like a pop-up, email, or ill-timed message.
Clean up your desktop and browser tabs. A slew of folders on your desktop or open tabs to viral videos and social media is breeding ground for potential embarrassment.