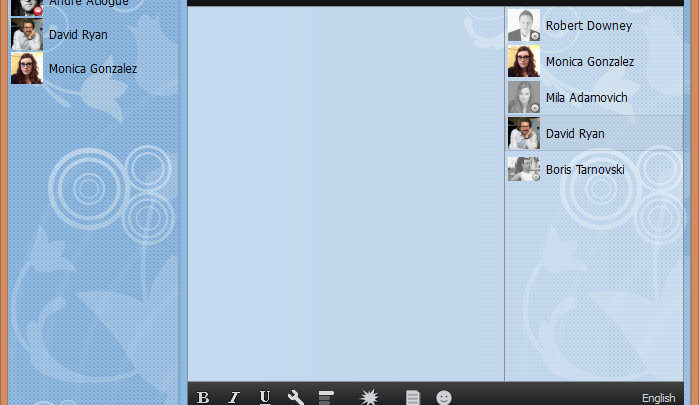 Chat Rooms – Dangers & Internet Safety Tips
There is no denying the fact that chat rooms are a big part of the enterprise communication landscape in today's day and age. However, there are many chatroom dangers that people are not aware of.
While this form of communication has quite a bit to offer in regards to benefits, there is something you need to keep in mind: danger is lurking.
If your company takes the wrong approach, it could lead to a situation in which you do more harm than good. Is that a risk you are willing to take? Definitely not.
The primary benefit of an online chat room is the ability to communicate with coworkers (among others) in a safe and secure environment. But what happens if your chat room is not as safe and secure as you thought?
At Brosix, we know that security is more important than anything else. This is why we strive to be the most secure enterprise IM on the market.
For example, here's what we have to say on our website:
"Strong encryption is applied to all data transfers. This makes Brosix safe for exchanging confidential and company-sensitive information."
With this in mind, it's important to better understand the dangers of online chat rooms. There are three things that stick out:
A lack of security means that information can be intercepted. Is this a risk you are willing to take? It shouldn't be. The last thing you want is for private information to find its way into the wrong person's hands.
This is why strong encryption, among other chat room security features, are an absolute must. It doesn't matter which IM client you choose, make sure you become familiar with the security features before signing up.
Saying the wrong thing. This has nothing to do with safety and security, but everything to do with the fact that conversations can be saved for future use.
If you are going to use an instant messenger at work, it's a must that you act with professionalism at all times. This means many things, including:
Using professional language.
Avoiding gossip.
You don't want to let something slip in a chat room, as this could cause a variety of problems for you and your organization in the future.
If you are in charge of training employees on how to use an IM application, make sure you discuss etiquette at some point.
Letting the wrong people into your network. There is no doubt that you can connect with a variety of people via an instant messenger, however, you don't want to let anybody and everybody access your network.
For example, it doesn't make sense to invite a prospect to a network in which you are discussing other clients with coworkers. This is a mistake that could harm all parties involved.
This is a big danger of chat rooms online, because it's easy to lose your way if you aren't paying attention to everything you are doing.
Tips to Follow Today
Since there are many dangers of chat rooms, you don't want to wait any longer to put the right plan in place.
Here are five tips that you can follow today:
Make sure that you choose a secure instant messaging application. If you are unsure in regards to the security of your current program, now's the time to learn more. Do you need to make a change to ensure that you don't face security issues in the future?
Training is essential. Maybe you know everything imaginable in regards to chat room safety and security. While this is a good thing, it doesn't mean that everybody else is in the same position. You need to train other employees to ensure that they avoid trouble down the road.
Monitor your team. This is the best way to determine if something has gone wrong in the past. Furthermore, it gives you the opportunity to better understand which changes you can make for the better in the future.
Note: if you need help with this, don't hesitate to enlist the assistance of a coworker who is up to speed on IM security.
Get serious about security. If security is important to you, don't wait around to take the right steps in stepping up your game. A few changes here and there can put you in a much better position.
Take action. If you realize that something is wrong in regards to the safety and security of your application, you can't sit around and wait for something to change. This could be the biggest mistake you make. If action is necessary you need to act without delay.
Conclusion
The benefits of a chat room online far outweigh any potential drawbacks, including security concerns.
As long as you are familiar with the dangers of using an IM service, you can prevent any issues from holding you back.
What do you think about chat room security? Do you have any additional tips to share?