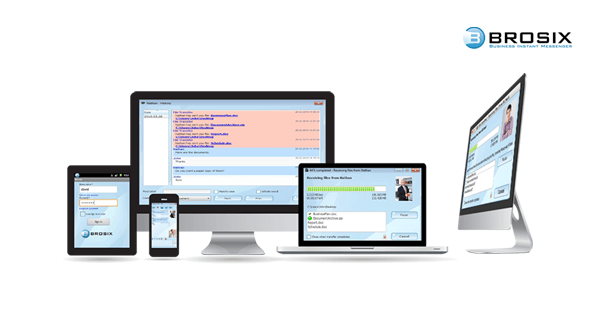 What Is Screen Sharing and How Does It Work?
February 3, 2017 Instant Messaging



Screen sharing is a very popular feature nowadays which is highly used in many companies who work in different offices, cities, states or countries. It allows you to share your screen by giving them a remote control.

Throughout the years the lack of this feature had a negative impact on remote workers, but hopefully now we can enjoy it thanks to Brosix.
Benefits of Screen Share for your office correspondence:
Regardless of its popularity, some people doubt the feature. Here are some points that would change your vision on the feature and will make you use it instantly:
The power to share your screen and whatever is on it, with your connections. All you have to do is launch the feature (more in this below) and let Brosix do the rest.
Save time. Even if you're sharing a screen with somebody in the office next door, the ability to do so can save you plenty of time. Why call somebody into your office when you don't have to?
With screen sharing, it's convenient to show somebody else exactly what you are looking at. Even better, while they are viewing your screen, they can complete tasks on their end with your direction.
As every feature in Brosix is highly-encrypted, Screen Share is not an exception. You can facilitate your daily obligations in the most secured manner.
While these are some of the top benefits of screen sharing, you won't truly understand everything about this feature until you give it a try.
Getting Started
Brosix screen sharing is easy to use, no matter if you're connecting with a colleague, prospect or client.
First things first, send a request for them to view your screen. From there, decide on the type of screen sharing session:
Send your screen to a contact.
Send your screen to a contact and give the person permission to work with your mouse and keyboard.
View your contact's screen.
View your contact's screen with the option to control his or her mouse and keyboard.
In simpler terms, here are the three things you need do to get started:
Select a name from your contact list.
Click on the "desktop sharing" icon located on the right side of your screen.
Select the type of session (see above).
From there you can instantly connect with the other party, thus finding yourself screen sharing in no time at all.
Why Brosix for Screen share?
If you are new to the Feature and the application of Brosix and need additional encouragement look below for more info:
It is 100 percent secured. It doesn't matter how long or how often you use the feature, it is before all end-to-end encrypted.
Ease of use. It only takes a couple clicks and a few seconds to start a screen sharing session.
Screen Sharing Examples
By now, you understand the many benefits of screen sharing. However, you may still have some questions about when this makes sense to use. Consider these circumstances:
You are having a technical issue and you need your IT department to take control of your screen.
You want to teach a coworker how to use a particular piece of software.
You want to share a piece of content or idea with a prospect or client.
While these are three times when screen sharing could come in handy, there are thousands upon thousands of situations in which it can work in your favor.
Conclusion
The feature Screen share available on Brosix may bring many benefits on your company and would definitely help you be more focused on your daily obligation.
There is no time for hesitation, go ahead and try it with now.