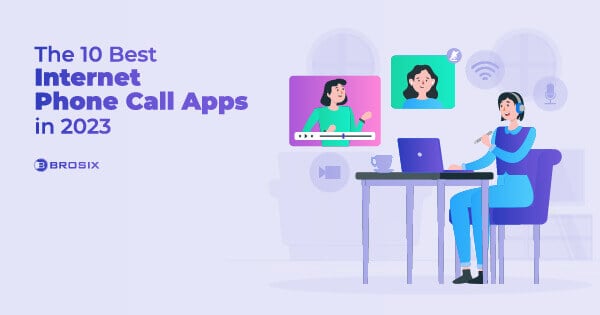 The 10 Best Internet Phone Call Apps in 2023
Technology is changing the way we communicate. Today, instant messaging is playing a crucial role – offering communication channels that are more effective than email and even replacing the need for traditional landline telephones.
As a result, there's no shortage of instant messaging solutions for business. But what about internet phone call apps? Thanks to advances in VoIP technology, some instant messaging apps double as apps to make free internet calls.
One thing's for sure – as business communication becomes increasingly global – security and reliability are top priorities when searching for the best calling app. In fact, 86% of consumers require security from their VoIP service provider, while 85% expect reliability.
Top 10 Best Apps for Making Internet Phone Calls
Whether you're using a PC or an app for your phone calls, calling another dedicated user or even a landline phone, these are the best internet phone apps.
1. Chatox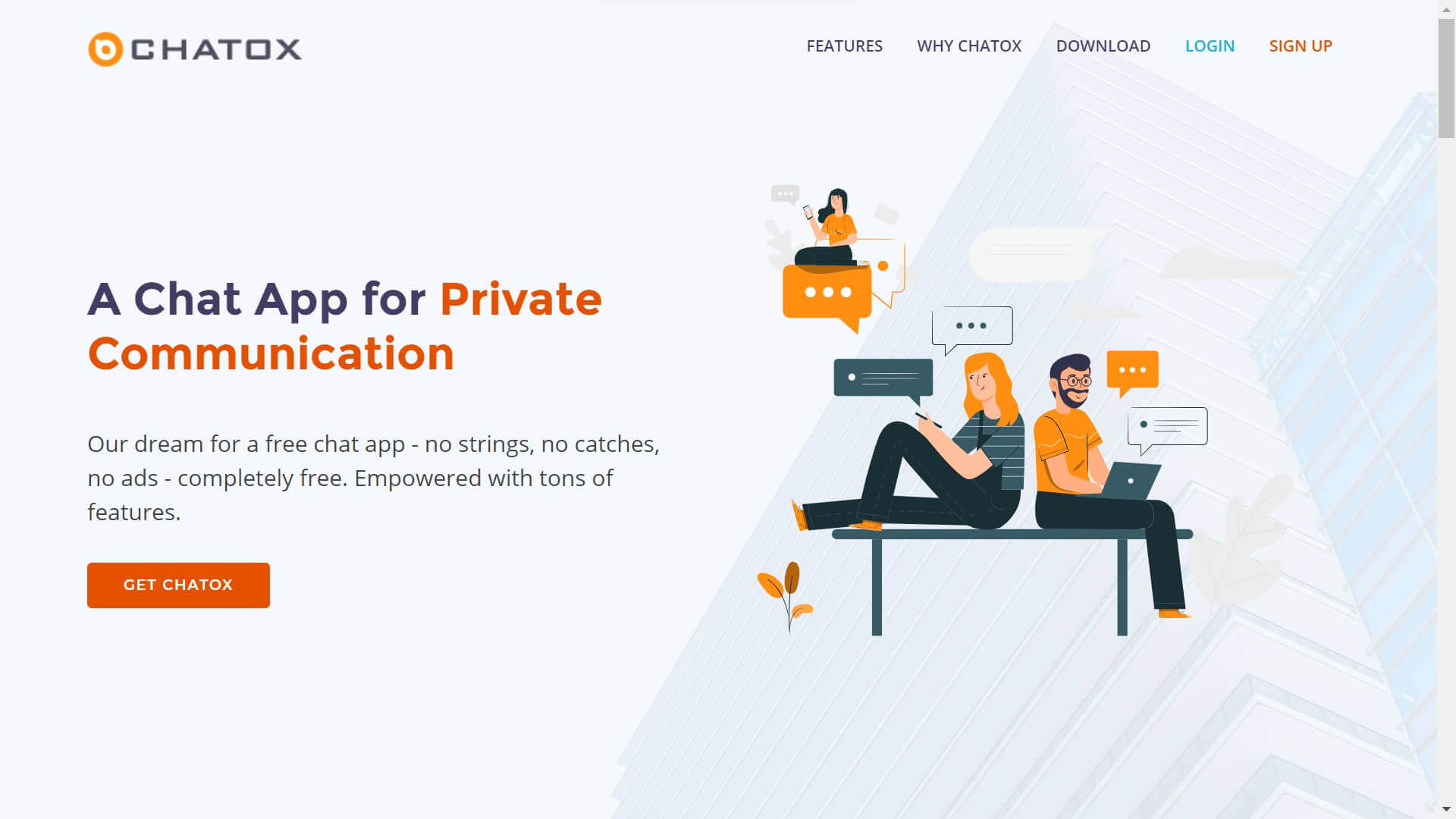 Chatox is one of the best apps for free internet phone calls. Is that because it's powered by Brosix? Of course! But not only that. How many other apps for calling afford you unlimited size file transfers, a native whiteboard solution, co-browsing capabilities, and screen-sharing? Go ahead, we'll wait.
With Chatox you'll get high-quality voice and video chat on a free-to-use and user-friendly platform. You also get real-time text chat, group chat rooms, and the rich feature stack we alluded to a bit ago. Better yet, all communications on Chatox, including calls, take place over fully encrypted, peer-to-peer channels.
It all makes Chatox not only a great free calling app, but a highly secure solution rich in features and collaboration tools. Check it out!
Available on: Windows, macOS, Android, iOS, Linux
But what if you're a team in need of a solution that's tailored to your organization's needs, but capable of ensuring teamwork and communication? That's where Brosix comes in.
Brosix is a highly customizable team messaging solution facilitating encrypted communication on a Private Team Network. Full control over contacts, communication channels, features, and network security increases team collaboration and efficiency while guaranteeing data privacy.
2. WhatsApp
WhatsApp is without a doubt the most popular app to make free online calls.
To get started, you just need to confirm your mobile phone number. WhatsApp then syncs your contacts so you can see which of your friends are using the app. Once synced, you can call your WhatsApp friends straight from the app wherever they're located, using your internet connection instead of your phone plan's limited voice minutes.
With WhatsApp, you also get the ability to send instant messages, chat in groups, as well as share your location, videos, photos, and other media. You can also make video calls. There are desktop and mobile versions, but both you and your call recipient need the app to make calls.
Keep in mind, WhatsApp messages backed up on Google Drive aren't encrypted and WhatsApp has exhibited major vulnerabilities to malicious spyware. And while you can't call landlines, with more than 2.78 billion users WhatsApp's online calling potential is unrivaled.
Available on: Windows, macOS, Android, iOS
3. Viber
Viber is an increasingly popular platform to make online calls. The free mobile calling app offers desktop and mobile versions and supports seamless calls and communication between the two.
Once synced with your mobile phone number, Viber combs your contacts to find other Viber users. Developed by a former member of Israeli intelligence, Viber offers end-to-end encryption on all calls, texts and group chats, as well as photos and files sent on the app.
For a fee, Viber Out lets you subscribe to Viber for a local number in various countries that you can use to call non-Viber users as well as receive calls and texts.
Available on: Windows, macOS, Android, iOS, Linux
4. Telegram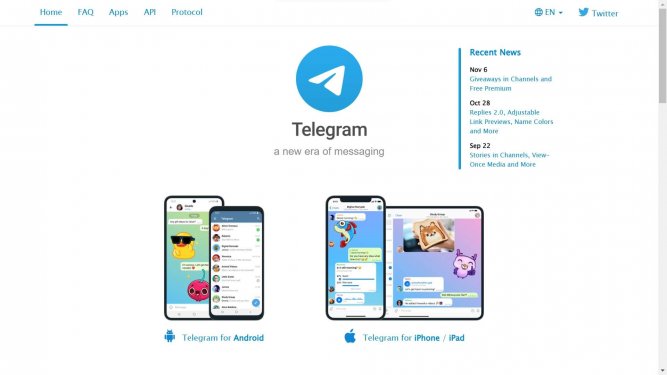 Telegram is another internet phone app that's growing in recognition. Telegram allows you to call for free other Telegram users, as well as send text messages one-on-one and in groups.
Telegram is available on desktop, mobile, and web versions. You can share unlimited photos, videos, and files. Telegram features are available anywhere you log in and you can even make internet calls through the web. Cloud-based infrastructure lets you sync messages between multiple devices.
Telegram has risen in popularity for a few reasons. For starters, its client-side code is free and open-source. Telegram also offers encryption, but keep in mind it doesn't encrypt chats by default. Secret chats and voice calls are encrypted end-to-end, but the former have to be manually turned on. That could lead users to a false sense of security.
If Telegram isn't for you, the other apps on this list should suit you fine. Or try one of these capable Telegram alternatives.

Available on: Windows, Windows Phone, macOS, Android, iOS, Linux, Web
5. Vonage
Vonage is one of the best VoIP apps to make online calls. To access Vonage, you'll need to sign up for any number of plans that start at $14.99. Plans cater to individuals, small and medium-sized businesses and large enterprises.
With Vonage, you get reduced rates to international landline phones and mobiles. Once you sign up you'll get a Vonage box which you'll connect to your router and phone. You'll then get voicemail, 911, call waiting and forwarding, and even access to weather and traffic information. For a fee, you can add another line or a fax, for instance.
The mobile app syncs your existing contact list and Vonage users will appear in a dedicated section of the app.
Available on: iOS, Android, Windows, macOS, Web, and a browser add-on for Firefox, Chrome, Microsoft Edge
6. Messenger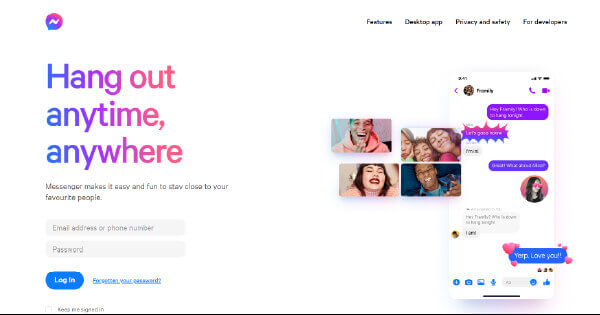 Facebook began life as a social network to connect students on university campuses in the U.S. Not only has it become the most popular social media platform, but you can also use its Messenger app to make free online calls.
To make a call on Facebook Messenger, both users need the Messenger app. Messenger automatically syncs with your Facebook friends, so it's easier if you and the other party are friends there. Or you can search for users through the search feature.
Messenger doesn't support phone calls to landlines, but you can make free internet phone and video calls desktop to desktop, desktop to app (and vice versa), and app to app. Messenger works from any web browser.
Just consider the risks of free instant messengers for team communication. Try a workplace messenger instead. Many workplace messengers, like Brosix, provide the ability to make calls.
Available on: Windows, macOS, Android, iOS, Web
7. Google Voice
Google offers a few internet phone apps for free calls. One of those options is Google Voice. With desktop and mobile versions, you can call desktop to desktop, desktop to phone, and desktop to landline. Google Voice is more than that, though.
By allowing you to route incoming calls to a free phone number provided by Voice to any other phone you have, Google Voice helps you manage the phone numbers in your life. What's more, you also get SMS messaging, conference calls, and free voicemail capabilities.
That said, free calls can only be placed to the U.S. or Canada. And Google Voice limits calling time to three hours. The business phone plans are paid and start at $10 per user/month.
Available on: Web, Android, iOS
8. Google Meet
With Google Meet, you get high-quality audio and video calls. The connection is user-to-user only so there's no possibility to call landline phones. There is also an instant message option when you're on a call. It is a part of Google Workspace – a suite of productivity and collaboration tools by Google.
Google Meet is designed to facilitate virtual meetings and video conferences, allowing people to communicate with each other, whether for work, education, or personal purposes. It can also be integrated with Google Calendar to schedule meetings and keep appointments on track.
Users can invite up to 100 participants to a meeting for free. They can also present documents, slides, and spreadsheets by sharing their entire screen or specific windows.
Available on: Android, iOS, Web
9. Skype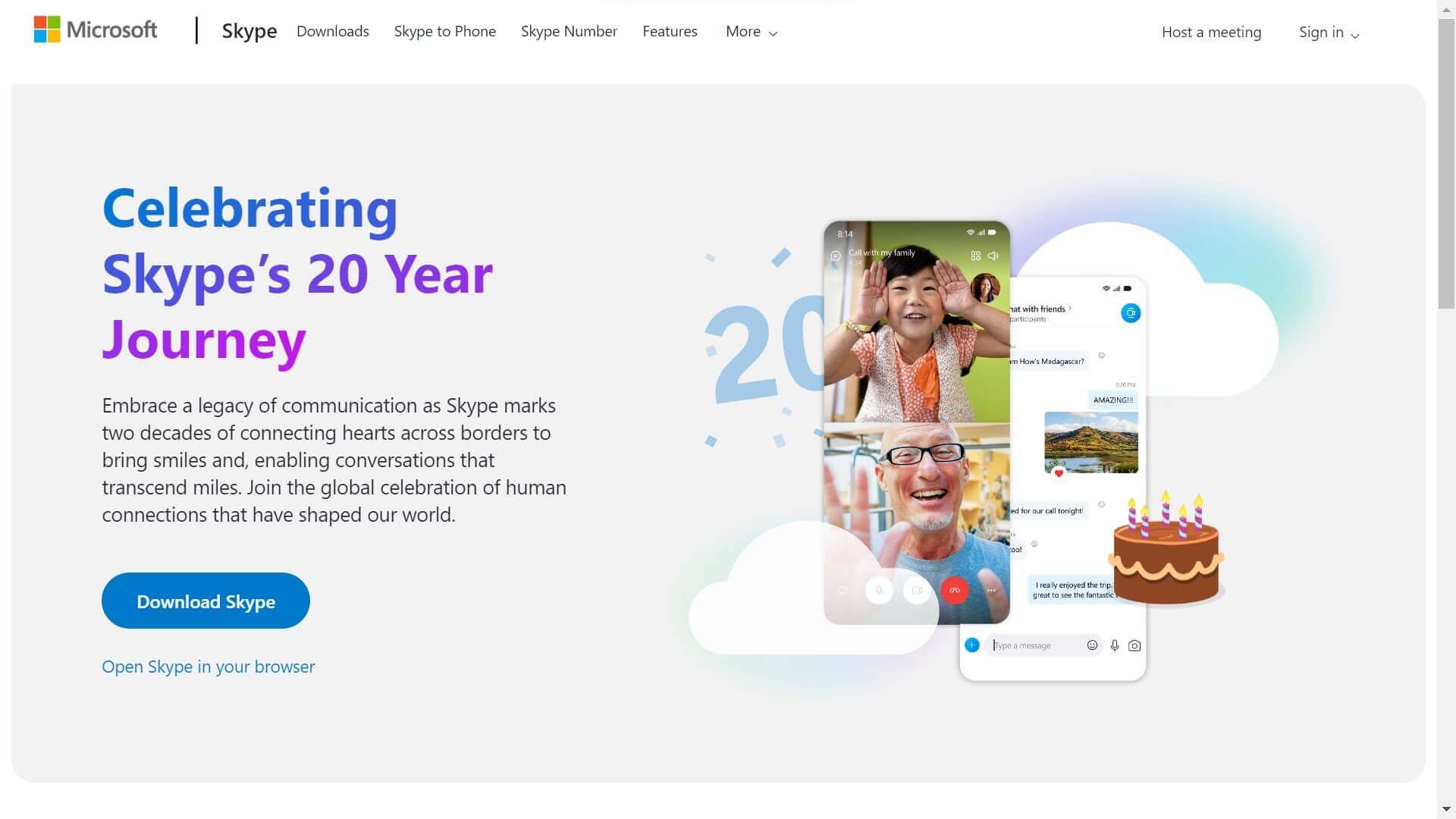 When it comes to making free internet calls, there's no bigger name than Skype. Born in 2003, it's one of the original internet calling apps.
With Skype, you can make user-to-user phone calls from both desktop and mobile. You just need to create a Skype account and then you can search the public directory for contacts using their phone number, email address or specific user name.
What's more, with the purchase of Skype credit, you can call landline phones and send instant messages at reduced rates. You also get screen-sharing, file sharing, and video calls – making Skype a versatile option for your internet phone calls.
If you're looking for a team communication tool for your business that includes phone calls, consider Brosix! Brosix is a secure team messenger featuring fully encrypted voice and video calls. Try it today!
Available on: Windows, macOS, Android, iOS, Linux, Kindle Fire, Xbox One, and more
10. TextNow
TextNow is a free calling app that gives you an actual phone number to call and receive calls from other users. For the latter, you'll need to buy or earn redeemable credits.
In addition to being able to call for free, TextNow lets you send instant messages, even while actively on a phone call. You can also share photos, drawings, emojis, and your location.
To set up TextNow, all you need is an email address. That means TextNow works with devices like Kindle. You can also customize the voicemail greeting, set different alerts for different contacts, and get email alerts when you get messages.
TextNow also keeps track of your call history, which you can access on multiple devices simply by logging into your account.
Available on: Windows, macOS, Android, iOS
Internet Calling App Considerations
Believe it or not, there are many more apps for making internet calls. Hopefully, we've helped you narrow your choice! At the end of the day, you need to consider:
Price

– Not all apps for making calls over the internet are free. What's more, adding international calling plans can increase the price.

Features

– Some apps are for making calls only, while others, like Brosix, provide

rich collaboration features and administrative tools

to enhance teamwork and productivity.

The calling destination

– With some apps, you can only call the U.S. while others provide a range of international calling options.

Security

– Will your phone calls be fully encrypted over peer-to-peer channels on a private team network? These measures greatly enhance your data security and privacy.
There are many benefits of instant messaging, including the ability to make internet phone calls. If you're having trouble settling on a solution, try Brosix! It's a highly capable and customizable solution for encrypted phone calls, messaging, and teamwork. Try it today!
Final Thoughts
The world of internet phone apps is continually evolving. Whether you prioritize security, cost-effectiveness, or features, there's likely an app that meets your needs. As technology continues to advance, the ability to make internet calls has become an integral part of our daily lives. Such apps not only connect people across the globe but also help with business communication and information sharing.
We've provided you with plenty of options to choose from, so explore them, weigh your priorities, and select the app that will be most effective for you.
FAQ
What is Wi-Fi calling?
Wi-Fi calling is a feature that allows users to make phone calls over a Wi-Fi network instead of using a cellular network. It is especially useful when you are in an area with poor cellular coverage but have access to a strong Wi-Fi network. Wi-Fi calling is also a great option for international calls, as it eliminates the need for expensive roaming charges.
What are VoIP calls?
Voice over Internet Protocol (VoIP) calls are phone calls made over the internet instead of using traditional phone lines. Internet calls are often cheaper than traditional phone calls and can be made using various devices, including computers, smartphones, and dedicated VoIP phones. They also offer additional features, such as video calling and screen sharing, that are not available on traditional phone lines.
Do I need a phone number to use internet phone apps?
Some apps require your phone number to use them, so you may need to provide it to make phone calls. However, other apps offer a virtual phone number or allow you to call without a phone number.
Can I make international calls for free using internet phone apps?
Yes. Some apps offer free calling to other app users who have the same app installed, regardless of their location. Other apps allow you to make calls to both landlines and mobile phones in other countries at a fraction of the cost of traditional phone services.
Can I get a local phone number when using internet phone apps?
Yes. Some VoIP apps offer the option to choose a local phone number when setting up your account. This feature allows you to have a phone number with a local area code, which can be especially useful for businesses or individuals who want to appear local to a specific area or region.