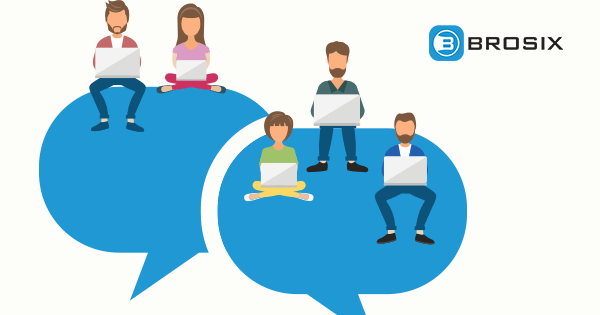 7 Reasons Why Instant Messaging is Better for Collaboration than Email
March 22, 2018 Instant Messaging



Team collaboration is an essential aspect of any thriving organization. The ability of team members to work together towards common goals, leveraging each individual's unique skills and experience, can drive a business forward. Yet despite the increasing importance of collaboration, it continues to be a challenge in the modern workplace due to an overreliance on ineffective collaboration methods, such as email communication.
In order to have a truly collaborative team, businesses need the right tool. Business Instant Messaging (IM) Programs such as Brosix Instant Messenger are just that. Brosix is specifically designed for team communication and collaboration, with various features focused entirely on this area. This makes IM a better option for team collaboration than email for a number of reasons.

Email may have its place in the work place, but team collaboration is not its strongest aspect. Slow response times, limited file transfer features, and lack of collaborative online spaces are just a few ways in which email can hold back collaboration in any team. In fact, some companies have decided to ban email outright, leading to positive increases in productive and a reduction in stress levels.

In order to help businesses make the right choice for their team collaboration tools it's necessary to explore in detail the strengths IM has over email when it comes to collaboration. While not an exhaustive list, here are 7 ways that Instant Messaging is more effective for collaboration than email:
Provides Virtual Collaborative Environments
An increasing number of businesses work with remote employees for a wide range of reasons. As with any approach, however, there are specific challenges associated with remote workers, the biggest being how to provide team members with collaboration spaces that simulate them being in the same physical environment. This is simply not possible with standard email.
IM has an answer to this challenger with several different features for online collaboration: chat rooms and group chat for discussions, virtual whiteboards and screen sharing for presentations, and much more. Not all IM programs offer the full range of these features, so businesses should be careful in their choice.
Saves Time
Quickly getting in touch with team members can increase the speed and efficiency of any collaboration. Sending emails and waiting for responses can be a time consuming endeavor, taking up to 23% of employees' time every single day. With IM, this time can be dramatically reduced through chat functions with near immediate response times. The fear that colleagues will bother each other at inopportune moments with instant messages can also be eliminated through specific online statuses.
Increases Productivity
Building and maintaining momentum on a project is crucial. Unfortunately, this is difficult to do when only using email, as team members often have to wait for responses. IM can increase the speed at which information is shared by allowing colleagues to send and receive information quickly. This helps to keep team members' engagement levels high and reducing any slowdowns in work due to waiting to receive email responses, both central elements to overall productivity. In fact, better use of IM and other social technologies, as opposed to only email, could lead to a 20-25% increase in productivity.
Increases Overall Communication
The more ways team members have to communicate with each other, the better, especially when it comes to collaboration. When relying only on email, colleagues can be hesitant to reach out for quick consultations or to share some recent news. With IM, businesses can increase the overall communication in their teams by providing team members with several communication channels: team and department chat rooms, direct messaging and group messaging are just a few of the main channels. With the ability to choose the method that works best for them, team members are more likely to share with each other and collaborate on an ongoing basis.
Builds Relationships
Truly collaborative environments are built on a foundation of close personal relationships. This can be difficult in the modern work environment when team members spend most of their time in front of a computer. Unfortunately, email doesn't do much to change this situation, as it can be rather impersonal and standardized, not allowing team members to truly demonstrate their personalities. With IM, however, team members can easily build relationships by taking advantage of different chat options for informal conversations and getting to know each other.
Sends Larger Files Faster
A crucial part of collaboration is efficiently sharing files, whether it's for feedback or simply informative. However, some email clients have strict limitations on the size and amount of file attachments. This can also be a challenge present in some IM programs, but with Brosix, team members can send unlimited, in terms of size and quantity, files to each other. These files
Secure Communications
Any collaboration should focus not only on being efficient, but also on being secure. This is especially important in the modern workplace, where cybersecurity threats are on the rise. It's an unfortunate reality that many email clients have been subject to largescale data breaches in recent years.
Through IM programs that give businesses private and secure internal networks, such as Brosix, businesses can provide a completely safe collaborative environment with total data encryption. It's important to note that the level of security entirely depends on the IM program, as not all offer the same protections. Businesses would be wise to choose a program that puts safety at the center of its business.
In Conclusion
Businesses are in a constant search for ways to increase team productivity through collaboration, yet many still rely on basic email for much of their internal communication and collaboration needs. By taking advantage of instant messaging, businesses can dramatically improve their collaboration in a number of ways.
In complete honesty though, not all IM programs are created equal, and therefore offering different features and levels of security. However, everything mentioned above, and much more, is available on Brosix Instant Messenger, making it an excellent choice for any business looking to increase its team collaboration. Equipping employees with the right tools will allow businesses to thrive. For businesses serious about increasing their team collaboration, Brosix is just the right partner.