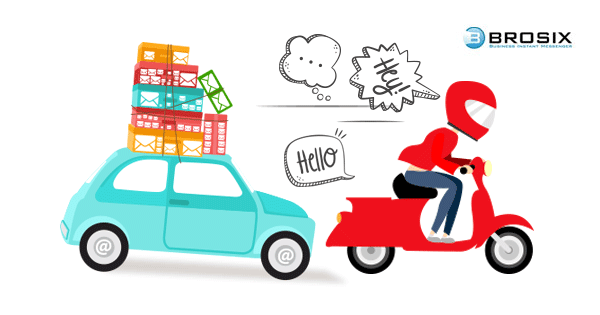 Forget Email: IM Me
July 28, 2017 Instant Messaging



Using email – which can be a blessing and a curse – is a given in the modern workplace. Spam, a crowded inbox, and the time spent managing email make it a task unto itself. The newest communication solutions are encouraging employees to IM (instant message) rather than email. What are the benefits of using IM instead of email?
A Leaner Inbox
Because workplace email isn't limited to workplace matters, most workers have received emails that weren't necessarily wanted. These may have been from solicitors or from colleagues.
While an occasional joke or story is appreciated, these can turn into long conversations when a colleague, or several colleagues, hits 'reply all' to follow up to a message. Using IM instead of email can encourage more one-on-one communication, whether it's water-cooler talk or something serious.
More Time
Because the usage of IM can create a leaner inbox, this reduces the time spent reading email and deciding to delete or save it. This frees time for more important tasks.
Time is money in the workplace, and there is no bigger time drain than communication methods that don't lead to an efficient conversation. This is why so many companies are cutting back on email and working in a powerful instant messaging application. It's also the reason many companies are doing away with daily meetings.
Quicker Communication
An IM response can state: "Too long to type, please call me." Alternatively, it can quickly explain the answer to a question. Unfortunately, the nature of email doesn't tell us if the recipient has received the message or when to expect a reply. IM removes these barriers from communication.
Taking this one step further, there is nothing more frustrating than waiting for a reply via email, never really knowing if it's going to arrive at any point in the near future.
With instant messaging, you know that real time communication is at your fingertips. This can take a lot of stress out of your day, while also making it easier to quickly conduct and move past a conversation.
More Features, too
With email, you pretty much have the ability to send and receive messages. This is helpful in some cases, but there are times when you are looking for something more than this.
A business instant messenger can give you everything you need in regards to features, plus much more. Brosix, for example, is loaded with high level features such as:
Video chat
Voice chat
Screen sharing
Co-browsing
Chat history
Text conference
Whiteboard
File sharing
On top of all this, Brosix is more secure than email, which gives you added peace of mind as you communicate with your network.
So, while there is nothing wrong with using email as a form of business communication, you don't want to get stuck in this rut.
There are other options, with instant messaging at the top of the list. When you use this tool to your advantage, you'll find it much easier to communicate in an efficient and productive manner, day in and day out.